Every Marvel Cinematic Universe superhero, ranked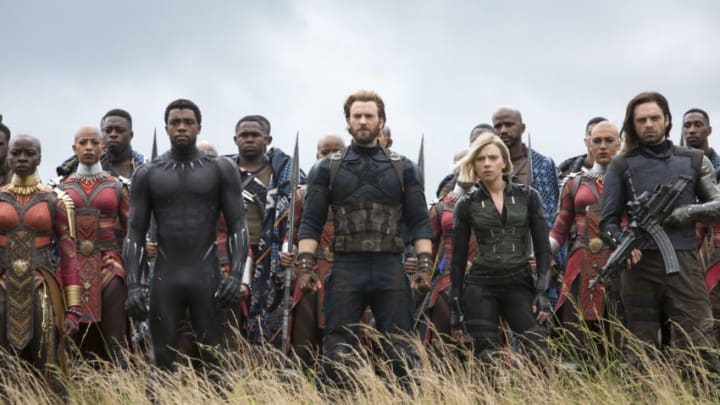 Marvel Studios' AVENGERS: INFINITY WAR. L to R: Okoye (Danai Gurira), Black Panther/T'Challa (Chadwick Boseman), Captain America/Steve Rogers (Chris Evans), Black Widow/Natasha Romanoff (Scarlet Johansson) and Winter Soldier/Bucky Barnes (Sebastian Stan)Photo: Chuck Zlotnick ©Marvel Studios 2018 /
Marvel Studios ANT-MAN AND THE WASP..Ant-Man/Scott Lang (Paul Rudd) ..Photo: Ben Rothstein..©Marvel Studios 2018 /
7. Ant-Man
Whoever came up with the phrase size doesn't matter was definitely referring to Ant-Man. The hero that can shrink to the size of a Tic Tac at a moments notice with the help of Pym Particles is a valuable asset, to say the least, and not just to get to those hard to reach places. He can also, for reasons that are never really quite explained, control, and communicate with ants.
Armed with the ability to move undetected while also having a massive army of various breeds of the worker insect at his disposal meets all the qualifications to earn an Avengers membership card. The fact that he can grow into a giant doesn't hurt either.
While Scott Lang may not be the sharpest hero in the Marvel toolshed, he is definitely one of the MCU's more clever individuals. It takes a real creative mastermind to come up with the Vistacorp job and a snap-reversing time heist, let alone execute them successfully. The Quantum Realm time-traveling ex-con, may not be the best fighter, smoothest talker, or smartest explainer, but his heart is always in the right place. This lovable goofball is a solid superhero as well as a loving father, which for some, is enough to stand out among all of Earth's Mightiest Heroes.