Every Marvel Cinematic Universe superhero, ranked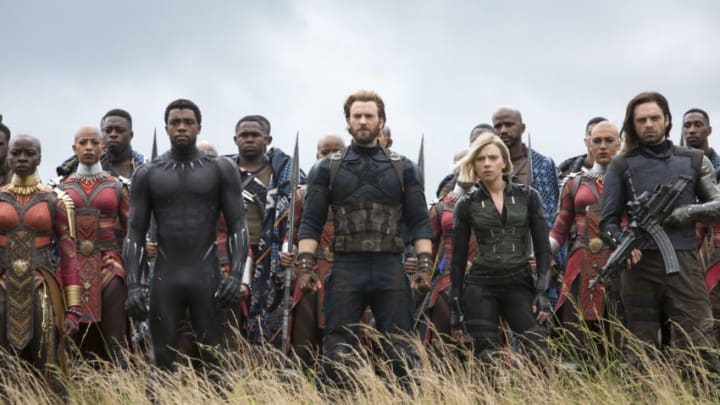 Marvel Studios' AVENGERS: INFINITY WAR. L to R: Okoye (Danai Gurira), Black Panther/T'Challa (Chadwick Boseman), Captain America/Steve Rogers (Chris Evans), Black Widow/Natasha Romanoff (Scarlet Johansson) and Winter Soldier/Bucky Barnes (Sebastian Stan)Photo: Chuck Zlotnick ©Marvel Studios 2018 /
Marvel Studios' AVENGERS: ENDGAME..L to R: War Machine (Don Cheadle), Rocket (voiced by Bradley Cooper) and Pepper Potts in Resue Suit (Gwyneth Paltrow)..Photo: Film Frame..©Marvel Studios 2019 /
23. Rescue
No MCU superhero list would be complete without the beautiful, talented, and intelligent, Pepper Potts. Tony Stark's former assistant has seen a criminally underrated rise in her tenure with the franchise. Not only has she been an integral part of both Iron Man and the Avenger's start, but she also did this while successfully running Stark Industries, a major corporation as its Chief Executive Officer.
She is anything but powerless as Pepper has demonstrated great heroics saving Tony from the Mandarin on more than one occasion. Once donning Tony's suit and the other as an extremist-powered badass, who takes out Killian in the closing moments of Iron Man 3.
But out of all her impressive Marvel Cinematic Universe accomplishments, none are more spectacular than seeing her take flight as Rescue on the big screen. Arguably the sleekest design of any of Stark's creations, the purple-clad armor really agrees with Pepper, and after witnessing her next-level ability at navigating this sophisticated outfit, there really isn't anything this lady can't do. Running a major company, raising a daughter, dealing with an ego-driven narcissus for a husband, and suiting up to take down the Mad Titan Thanos makes Ms. Potts undoubtedly MCU Hall of Fame material.