Kentucky basketball: 5 Wildcats who didn't live up to the NBA hype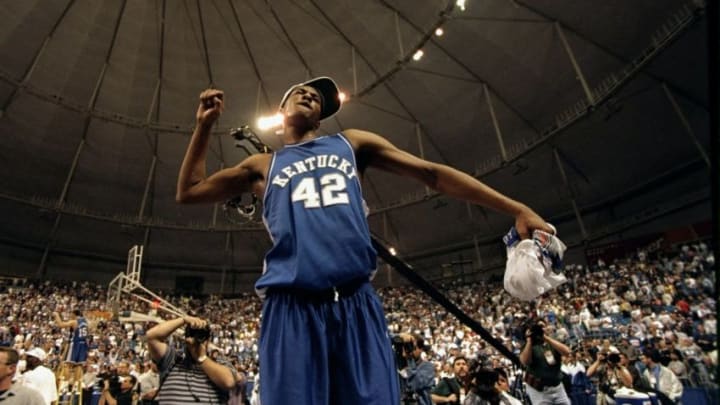 Credit: Andy Lyons /Allsport /
(Photo by Ronald Martinez/Getty Images) /
2. Kentucky basketball NBA busts: Michael Kidd-Gilchrist
Let's stick with the 2012 national champions as we look at another player who underwhelmed in the NBA, Michael Kidd-Gilchrist. For most of his freshman year, Kidd-Gilchrist served as the Robin to Anthony Davis' Batman, an arrangement that resulted in a title for the Wildcats.
Kidd-Gilchrist also took home his share of hardware at Kentucky, being named to the All-SEC First Team and a Second Team All-American for good measure. Like five of his teammates, Kidd-Gilchrist declared for the NBA Draft after winning the title for the Wildcats.
The Charlotte Bobcats, who had the NBA's worst record but fell to the second pick after the lottery, took Kidd-Gilchrist after Davis was selected first by the New Orleans Pelicans. That gave Kentucky the first pair of teammates to be taken with the top two picks in the NBA Draft, but their careers went in completely different directions.
Davis emerged as a superstar in the NBA while Kidd-Gilchrist struggled to produce enough offense to justify a spot in the starting lineup. Kidd-Gilchrist became an elite defender, which all the scouts expected of him, but his shooting form was simply anemic.
The Hornets displayed extreme patience with Kidd-Gilchrist, starting him for six years before bringing him off the bench in the 2018-19 season. Kidd-Gilchrist was waived by Charlotte this February, where he was picked up by the Dallas Mavericks to serve as a bench piece for their playoff push.