NBA Players Association believes fans may be barred for 2021 season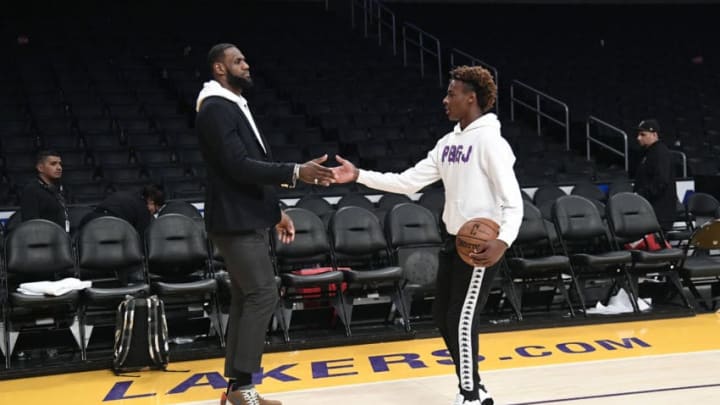 LOS ANGELES, CA - DECEMBER 28: LeBron James #23 of the Los Angeles Lakers and his son LeBron James Jr., on the court after the Los Angeles Clippers and Los Angeles Lakers basketball game at Staples Center on December 28, 2018 in Los Angeles, California. NOTE TO USER: User expressly acknowledges and agrees that, by downloading and or using this photograph, User is consenting to the terms and conditions of the Getty Images License Agreement. (Photo by Kevork Djansezian/Getty Images) /
The NBA Players Association anticipates no fans in arenas for the 2020-21 NBA season.
Could fans seated at live NBA games be a feature that goes away for quite some time?
While the NBA restart will feature no fans with the league moving to a bubble in Walt Disney in late July, the no-fans-in-attendance policy may linger into the following season.
The NBA Players Association believes this to be true, according to a report from The Athletic.
"The NBAPA's leadership state it believed no fans will be permitted into games for the entire 2020-21 season," Shams Charania reports in The Athletic.
While there's no timetable for when the 2020-21 NBA season will begin, the NBPA anticipating there won't be fans allowed is eye-opening. This could be a trend for all major professional sports. After all, the NBA took the lead when it came to postponing play when the COVID-19 pandemic hit.
It is possible the 2020-21 season could run into the summer of 2021. With no fans being allowed in arenas for that entire duration, many things could come into play.
With NBA organizations handicapped by not being able to cash in on ticket sales, there may be deductions when it comes to player salaries. If that is the case, there may be changes to the league's Collective Bargaining Agreement. That would present the risk of players going on strike if they won't play at a reduced rate.
There's also the salary cap to consider. Without fans and the financial benefits that come with their attendance, the threshold will undoubtedly take a significant hit. All these issues are going to weight heavily on NBA commissioner Adam Silver if fans are indeed locked out of arenas.
This news comes shortly after reports stated nearly 50 players are deciding against participating in the NBA restart that would conclude the 2019-20 season. With more details to come, the number may be higher as the start date approaches.
For now, the possibility of no fans being able to return in '21 is another blow for fans and season-ticket holders.