Serie A restart preview: Everything you need to know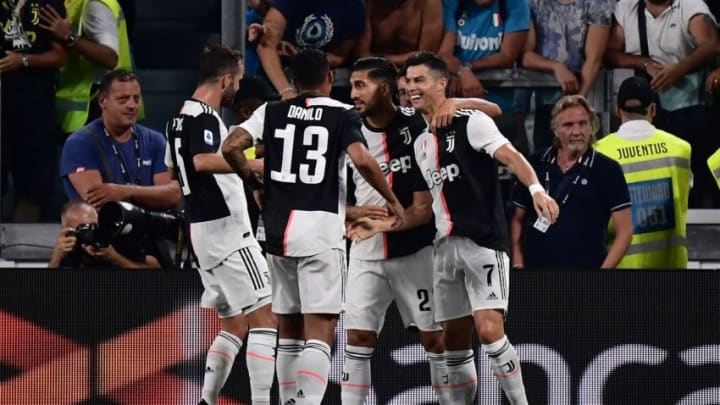 Juventus' Portuguese forward Cristiano Ronaldo (R) is congratulated by teammates after scoring a goal during the Italian Serie A football match Juventus vs Napoli on August 31, 2019 at the Juventus stadium in Turin. (Photo by Marco Bertorello / AFP) (Photo credit should read MARCO BERTORELLO/AFP via Getty Images) /
Serie A action returns this weekend after a three-month hiatus. Here's what you need to know ahead of the league's restart.
Now that coronavirus safety protocols have been agreed on and the Coppa Italia this past weekend highlighted the return of soccer in Italy, the country's top flight is scheduled to return this weekend after the season was paused back in March.
The three-month pause will likely have a huge affect on the remainder of the Serie A season, which includes 12 matchdays and a make-up round of games scheduled to conclude on August 2. Should the season have to be halted again because of players testing positive, playoffs would be implemented to decide a champion or no winner crowned.
The pause and the possibility of a new ending, in order to finish the season this summer, means that Serie A's resumption could be filled with surprises. Teams also come into the restart rusty after only a few weeks of team training.
The momentum teams had back in March could fail to carry over to June. In reverse, teams that were struggling midway through the season could pull off some shockers. If anything, the Coppa Italia semifinals revealed that teams, even ones like Juventus, will be off their game for the next few weeks.
But even a three-month hiatus may not be enough to stop Juventus from winning another league title. It's the same story for the team that's captured the last eight Serie A titles. For the Bianconeri, another title would be great, but not necessary.
After all, the Turin-based club acquired Cristiano Ronaldo two years ago to win the Champions League, not another scudetto. That doesn't mean this team won't win the title again. With 12 matchdays remaining, Juve hold onto a one-point lead over Lazio. That is a thin margin that could mean a tight title race that stretches through until the very last day of the season.
Juve, of course, have been here before in recent years and prevailed. In 2018, Juventus seemed to cede ground to Napoli, who had been in first place 21 out of 38 matchdays. Napoli had even defeated Juve 1-0 in a key match down the stretch. Instead, Juventus won the title in the end by four points.
Juventus, despite their years of winning, have plenty to prove. First-year manager Maurizio Sarri, who had coached that Napoli team back in 2018, is looking to win his first-ever scudetto. He knows what it's like to be on the losing end of an epic title race. He will want to make sure history doesn't repeat itself as far as he's concerned.
It's also true that Juve, like all 20 Serie A teams, are a bit off. How else would you explain Ronaldo's missed penalty kick against AC Milan this past Friday in their first match since the lockdowns? The game ended scoreless, and Juve managed to reach the Coppa Italia final nonetheless, but errors like this can be worrisome once the league gets started up again.
"The risk of injury is very high since there has been muscle decline for everyone," Sarri told reporters. "We have opted for a system of increasing loads, but lower than what we usually do in the summer. The next unknown will be next season, given that we could not make big preparatory calls."
ROME, ITALY – FEBRUARY 29: Ciro Immobile of SS Lazio in action during the Serie A match between SS Lazio and Bologna FC at Stadio Olimpico on February 29, 2020 in Rome, Italy. (Photo by Marco Rosi/Getty Images) /
Lazio, meanwhile, could learn a lot from that 2018 Napoli side. How can Lazio avoid the pitfalls that usually come with challenging Juve for the title? It's hard to say this time around given the pause. No one knows what months of inactivity, individual player training followed up with a short window of team sessions will do to momentum teams had before the pause.
The Rome-based club had plenty of momentum heading into March. Interestingly enough, Lazio have never been in first place. That honor, of course, goes to current leaders Juventus (14 times since the season began) and Inter Milan (12 times and now currently in third). But Lazio's insurgent run to the top, spearheaded by league top scorer Ciro Immobile, has been impressive. His 27 league goals, six more than Ronaldo, coupled with Felipe Caicedo's eight has made for an impressive scoring tandem.
Indeed, Immobile needs just nine more goals to equal Gonzalo Higuain's goals record for a single Serie A season (36 back in 2015-16). Lazio coach Simone Inzaghi has done a great job tactically, while making sure the Italian star gets the ball. He's even showed Immobile some tough love when needed.
"Fights can help," Immobile admitted following a dust-up with his coach earlier in this season. "Those are things that reinforce the relationship."
Lazio, early on in the season as far behind as ninth in the standings, defeated Juventus 3-1 back in December. The sides meet for a second time on July 20 in Turin. The game could very well determine this season's title race.
Further down the standings, Atalanta has been the most-talked about club in Italy the past few years. The team with a small budget and wonderful academy has been churning out talent, and posting impressive results, for the last six years. To think, it was just a decade ago the team had earned promotion back in Serie A.
VALENCIA, SPAIN – MARCH 10: (FREE FOR EDITORIAL USE) In this handout image provided by UEFA, Atalanta pose for a team photo during the UEFA Champions League round of 16 second leg match between Valencia CF and Atalanta at Estadio Mestalla on March 10, 2020 in Valencia, Spain. (Photo by UEFA – Handout via Getty Images) /
But the team that has never won a league title could very well be the side most neutrals cheer for once the season resumes. Not only did the team finish third last season (their best finish in league history), but Atalanta gained new fans this season with their impressive run in the Champions League. Currently fourth in Serie A, the team isn't likely to win any trophies this season, but have proven once again that they are a bright light in Italian soccer.
Atalanta also hails from the city of Bergamo, a place hard-hit by the coronavirus this year. Indeed, the team's success this season turned to grief once the death toll started to mount.
"Every two minutes, an ambulance would go past, as there's a hospital near the training ground," Atalanta manager Gian Piero Gasperini said in a recent interview, admitting that he may also have had COVID-19 this past winter. "It sounded like a war zone."
Atalanta aim to finish strong and in the top four as their continue to be one of the most consistently success club in Italy of the past few years. They may not come up with the title this season, but there is enough talent there for a serious run next season.