Zack Wheeler torches Mets when asked about Citi Field memories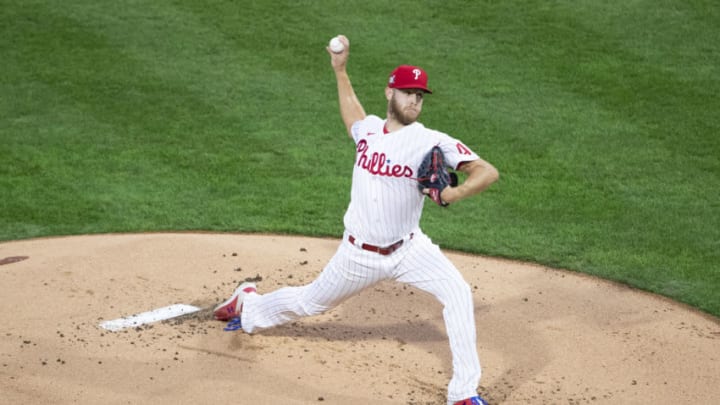 PHILADELPHIA, PA - AUGUST 28: Zack Wheeler #45 of the Philadelphia Phillies (Photo by Mitchell Leff/Getty Images) /
Zack Wheeler wasn't crazy about his time in New York.
Originally brought in by the New York Mets in a deal with the San Francisco Giants centered around Carlos Beltran, Zack Wheeler left them for a hated division rival, signing a five-year, $118 million deal with the Philadelphia Phillies. The Phillies have been white-hot of late, and Wheeler has been a major contributing factor in that surge, winning four of his eight starts.
Wheeler took the mound in Citi Field against his old team for the first time today, allowing three runs in six sharp innings in a game that the Phillies eventually won 9-8. When asked about the memories he acquired during his seven-year stint in Queens, Wheeler couldn't recall one major moment that stood out. If that isn't an indictment of the Mets, nothing is.
Zack Wheeler has been dominant for the Phillies in 2020
Wheeler and Aaron Nola have formed a lethal 1-2 punch at the top of Philly's rotation. Wheeler's 2.47 ERA and Nola's 2.74 mark are evidence of two young pitchers finally starting to hit his stride. After Wheeler missed two consecutive seasons due to arm injuries, Philadelphia might be getting the best version of Wheeler we've ever seen.
On the flip side of that coin, Jacob deGrom is doing everything he can to carry a Mets rotation that is struggling with injuries to their above-average pitchers and inconsistency from their below-average ones. If the Mets don't kick things into high gear soon, their old teammate might be celebrating in the postseason while they are stuck at home.
Even after just one truncated season away from the constant dysfunction of the Mets, Wheeler seems secure in the knowledge that he made the right choice for him. However, this won't do much to make Mets fans forgive him for bolting in free agency.