Bam Adebayo stuffs Jayson Tatum at the rim with game-winning block (Video)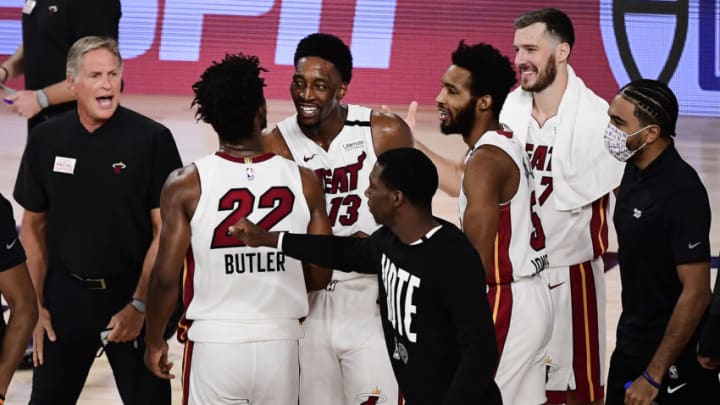 Photo by Douglas P. DeFelice/Getty Images /
With Game 1 on the line, Bam Adebayo stuffed Jayson Tatum at the rim.
Where does one even begin in retelling the epic slugfest that was Game 1 of the 2020 Eastern Conference Finals?
Well, you'd probably have to start with Bam Adebayo's legendary, game-saving block on Jayson Tatum's dunk attempt in the waning seconds of an impressive overtime victory for the Miami Heat.
In a back-and-forth affair between two incredibly resilient, well-coached teams Tuesday night, the Boston Celtics came up just short in the extra period, falling 117-114 in Game 1. A nasty Kemba Walker step-back jumper had put the Celtics up 114-113 with 23.6 seconds left. Then, a ridiculously tough 3-point play from Jimmy Butler put the Heat back in front, 116-114.
But when Tatum drove the lane past Butler on the switch and launched himself sky-high for the potential game-winning dunk with 3.7 seconds left, Adebayo rose to meet him, and, well, we wouldn't blame you if you blacked out bracing for impact:
Bam Adebayo saved Game 1 for the Heat with his epic block on Jayson Tatum
Game 1 was a clash of titans in the East, even with the 1- and 2-seed already getting sent home in the conference semifinals. Both the Heat and the Celtics are capable of giving whoever comes out of the West hell in the NBA Finals, so it was only fitting that their first meeting was a constant barrage of punches and counterpunches being thrown all night long.
When Adebayo met Tatum at the rim as he prepared to leave this mortal plane and ascend to Valhalla, the Heat's All-Star center blasted him back down to earth with the might of Thor's hammer Mjolnir.
The basketball gods must have been pleased with this offering, and we can only hope they reward all of us mere mortals with another six games of what we just witnessed.
Bam Adebayo won Round 1 in unforgettable fashion. We can't wait to see what Tatum and the Celtics have in store for Round 2.