On the cusp of an NBA dream, Tyrell Terry continues to work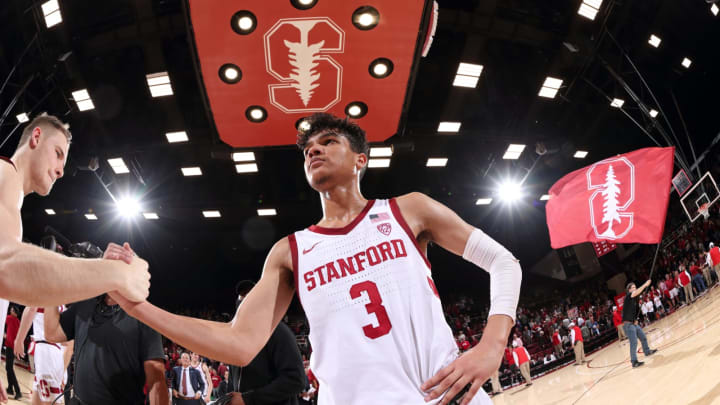 Photo by Lizzy Barrett/Getty Images Stan Szeto-USA TODAY Sports /
Former Stanford basketball star Tyrell Terry is weeks away from hearing his name called during the NBA Draft. It's the culmination of years of work.
In May 2018, Tyrell Terry was a 17-year-old high school junior, prepping for an AAU practice ahead of a weekend tournament in Chicago when his phone rang. On the other end, his father, speaking through tears, conveyed a heartbreaking message. Terry's newborn brother, Tyshon, had died in his sleep of Sudden Infant Death Syndrome (SIDS).
Now crying, Terry broke the news to his mother, Carrie Grise. He bypassed the tournament to prioritize grieving and recovery. Already a self-described introvert, he grew increasingly sheltered, sharing his loss only with close friends, and needing weeks and months to open up. After teachers denied his request to delay upcoming exams, he cycled through the motions of a daily routine, aiming to prepare for those tests, aware of the importance he and his mother placed on academics.
Years removed from this family tragedy, Terry is more candid and transparent about the gravity of losing a loved one. He is quick to relay the teachings learned and perseverance absorbed, entirely willing to discuss the experience. Navigating through his basketball journey has given him wisdom, made him aware of life's brevity and the value of seizing moments. Advancing and carrying Tyshon's legacy means, to Terry, being the best person and player he can. Gratitude and hard work became his defining response.
"You're going to come up against adverse situations," Terry says. "But if I can recover and bounce back from that, I can pretty much bounce back from anything."
To some extent, all of this is why he chose to leave Stanford after one season and keep his name in the 2020 NBA Draft, where he stands as a potential first-round pick. A year ago, that didn't seem conceivable. But the bedrock for such a trajectory was built well before his breakout as a collegiate freshman.
Travis Bledsoe, Terry's head coach at DeLaSalle High School in Minneapolis, describes one of these foundational days, also from spring 2018. Weeks prior to Tyshon's death, Terry and the Islanders endured a buzzer-beating loss in the state tournament semifinals. The setback snapped DeLaSalle's six-year title streak.
Minutes following the loss, situated in the depths of Target Center, Terry authored a motto that reverberated through his training regimen for the off-season: Alright, I'm not gonna let this happen again. Days later, he returned to the gym, priming himself for the AAU circuit, with the failures of a week earlier still present in his mind, stationed there prominently to guide and invigorate him.
Over the ensuing year, he focused on strength maturation and skill development, emerged as one of the nation's top high school guards while playing for D1 Minnesota and reclaimed DeLaSalle's spot atop the state's basketball scene with a state championship his senior year.
In the title-winning game, Terry rebounded from a first-half saturated with hurried, ill-advised jumpers, which drew the ire of Bledsoe, to dominate the second half on both ends, leading his team back to the summit. The Islanders went undefeated that season, the result of a determined leader who, after junior-year shortcomings, never missed a chance to hone his craft.
"From that day, he just was working like I've never seen him work before," Bledsoe says. "He basically made it a competition to see who's gonna work the hardest. And then, if you didn't work hard, he will call you out on it. … If our best player's working this hard, you're going to have to work hard."
Together, he and Bledsoe spent the summer ahead of his senior season morphing him into a player who toggles on and off the ball, exactly the archetype that has piqued the interest of many NBA teams.
Film study, a passion of Terry's cultivated by former DeLaSalle head coach Dave Thorson, was — and is — a mainstay in his schedule. Past and present guards enjoy appearances. Stephen Curry. Mark Price. Trae Young. CJ McCollum. JJ Redick. Bledsoe even implemented popular NBA sets, such as Hammer and Floppy Actions, tailored for snipers like Curry and Klay Thompson.
Curry's patented give-and-go triples emphasized the threat of relocation after a pass. From Price and McCollum, he gleaned tips as to how to create time and space for his pull-up. As a fellow small guard, Young's floater package and pick-and-roll precision carried value. The release speed of Redick's jumper, along with his footwork maneuvering around screens and ability to square his body toward the basket while sprinting full throttle intrigued Terry. Bits and pieces of each shooter's game were borrowed and applied.
On the court, Bledsoe tested and sharpened Terry's stamina and shot prep, ensuring he was ready for a future involving constant motion and off-ball screen navigation. They'd watch Thompson or Curry flow through an action before Terry emulated it himself. Once. Twice. Thrice. Until he executed the drill to Bledsoe's standard. He needed to be primed to launch off the catch, feet and hands at the draw.
Certain habits and release speeds succeeded in high school, but they wouldn't moving forward. Bledsoe broke down film of these examples. In his current context, Terry was really good, a star even. But on the margins, holes demanded patching to sustain success among the collegiate ranks.
"We repped flare screens, down-screens, had him setting back screens, popping out. Just whatever way possible you could get open. … Basic, simple stuff, but we repped it out so much that it was like second nature to him," Bledsoe says. "It was a hard workout, it's a lot of movement. Being able to shoot when you're tired was very important, especially being able to guard and then come out and having to run off screens, it takes a lot of energy. He ended up being in great shape because he would run off three, four screens, sometimes in a possession."
Terry captured the attention of Stanford men's basketball head coach Jerod Haase through a broader lens, however. One frigid evening in Minnesota, Haase, lacking a jacket amid sub-zero temperatures, scurried across a parking lot and settled into a gym to watch Terry play. Minutes into the viewing, Haase, captivated by Terry's shooting, facilitating and basketball smarts, had found his preferred point guard of the 2019 recruiting class.
Every time Haase saw Terry during AAU ball, he considered him to be his team's most valuable player. Others may have been situated higher on national recruiting boards, but Terry's style and impact were the connectors tying everything and everyone together to achieve success.
Haase's and the program's pitch was straightforward. The Cardinal presented a platform for immediate playing time at one of the nation's most esteemed academic universities. Terry considered himself the "key piece" on a team searching for a true point guard. A starting gig was not promised because that is not part of Haase's coaching creed.
When Terry started each game of Stanford's preseason overseas tour, it became apparent that the point guard responsibilities were his. Nobody else could replicate his blend of shooting, intelligence and passing savvy — the last of which Haase, during the recruiting process, labeled as Terry's preeminent skill, rivaling anyone in the country. He and junior guard Daejon Davis would share ball-handling duties, but Terry was the conductor and the orchestra ran through him.
"Their offense was definitely a big part of why I chose to go there because I know they had a ball-screen continuity offense," Terry says. "Being in that many ball screens on a daily basis, I figured I could be successful."
Photo by Lizzy Barrett/Getty Images
Terry led the Cardinal to a roaring 11-1 start, punctuated by five 20-plus-point outings. Soon, he became part of draft conversations for scouts and analysts. Midway through Pac-12 play, in February, Terry awoke to a text from a friend. Attached was a Bleacher Report mock draft, which listed him 22nd overall. It was a glaring contrast to being excluded altogether from ESPN's mock draft back in late June 2019 or The Athletic's from early November 2019.
Internally, gears spun, generating self-confidence. Whoa, I didn't really expect this to be happening, he thought to himself. Finally aware of and invested in the opportunity, he started asking his inner circle how to proceed.
When Stanford's season concluded, it had nabbed 20 wins for the first time since 2014-15 and ranked among the top 50 on KenPom. Terry garnered Pac-12 All-Freshman honors, averaging 14.6 points, 4.5 rebounds, 3.2 assists and 1.4 steals on 58.9 percent true shooting (.441/.408/.891 split). After entering college unsure as to whether he would start, he concluded his time as the Cardinal's star with a chance to log NBA minutes months later.
To Haase, Terry's success and poise as a freshman guard were reminiscent of guys such as Kirk Hinrich, Aaron Miles and Ty Lawson, all of whom Haase witnessed up close as an assistant coach at Kansas and North Carolina earlier in his career.
'I've seen it happen before, so I don't know if that sounds bad," he says. "I wasn't necessarily surprised that it could be done, but I do think it was impressive."
Such a rise was powered by the conviction forged years earlier through Bledsoe's mentorship designed to ignite a fiery persona Terry did not previously tout. When Terry departed for Stanford, Bledsoe was, perhaps inarguably, his most vocal proponent, telling him his stay could be brief and a one-year springboard for the NBA.
Bledsoe wanted his former star to establish lofty goals. Be one of the best point guards in the country. Win Pac-12 Freshman of the Year. Earn an all-conference nod. While Terry willingly acknowledges he thought college would be a multi-season experience before jetting to the big league, Bledsoe's supreme belief made an impact.
"He has a confidence — it's a quiet confidence, but I think he has an inner confidence that really sets him apart," Haase says. "I think that's something that often separates the good from the great."
Inner confidence did not lead to contentment. Since committing himself to the draft, Terry has been working out in Indianapolis with NBAers such as Jeff Teague, Glenn Robinson III, Kelan Martin and Edmond Sumner. Playing against them is a litmus test for the strength and physicality thresholds he'll encounter at the next level. He's heard from scouts and teams who offer feedback about his areas of improvement: strength, ball-handling and assist-to-turnover ratio (57 assists, 49 turnovers at Stanford).
During the pre-draft process, starting in mid-March, he's packed on 19 pounds, going from 155 to 174 pounds. Each week, he hits the weight room five times for a lifting session, addressing his legs, arms and core. His diet has been revamped, too, promoting an abundance of good calories and emphasizing the nutritional habits of a professional athlete.
A personal chef cooks four meals every day for him and there is a targeted amount of calories he must consume from sunrise to sundown. A typical day may begin with pancakes, eggs and sausage or a breakfast burrito before he heads to the gym around 10 a.m. Following a lift session, he guzzles down his first of three protein shakes for the day. Lunch could be steak, vegetables and mashed potatoes or a plate of spaghetti. Worthwhile carbohydrates remain the theme. Following that, a second protein shake is engulfed between meals. Dinner may be another round of steak, vegetables and mashed potatoes. The night ends with one final protein shake.
While there was some dietary guidance at Stanford, this sort of regimented structure and plan, featuring constant sustenance has been an adjustment. Early on, back in the spring, Terry struggled to adapt. A 6-foot-2 19-year-old does not hover around 155 pounds riding a diet like the one recently introduced. Months later, 19 pounds heavier and completely immersed in basketball as a full-time pursuit, he cannot turn back to the ways of old.
"It was a lot more calories and a lot more actual food than I was used to on a daily basis, but I just trained myself, took me a couple of weeks, but just trained myself to eat that much," Terry says. "It became a lot easier. And so now, if I don't get that many calories in me, I'll be very hungry. It took a lot of adjustment to do, but I got there."
During scrimmages, the thoughts of keeping the ball low and close to his body, in his dribbling pocket, regularly flow through Terry's brain. The goal is to retool his handle and subpar assist-to-turnover ratio, two of the blemishes he's heard about his game. An increasingly functional handle will spawn more on-ball creation and expand his versatility of deployment.
To become a more proficient dribbler, the ball must live as an extension of his body. Terry is actualizing this concept, with a ball consistently nearby. Chances to enhance dribble moves are never squandered. There is no magic spell, no singular drill or exercise that will make the difference. As canned and unglamorous as it may sound, focus, familiarity and time are his pillars of greater dexterity.
Deemed a "quiet perfectionist" by his mother, Terry will continue grinding away however long it is necessary to weaponize his handle to the degree he seeks. Grise's upbringing taught her nothing is given, so she passed the sentiment along to her son, a tradition in which Terry's family is embedded into his basketball persona.
As a young child, he attended his father's collegiate games at the University of Texas-San Antonio and North Dakota State University. Once the action wrapped up, a 2-year-old Terry often darted onto the floor, ball in hand, attempting to dribble, pretending as though he were the star of the show. Perhaps that embracement of a self-made spotlight was the origin of someone whose coaches note has never backed away from the pressurized in-game moments.
Together, he and his mother watched games on television, cultivating a shared appreciation for North Carolina. Grise was a Chicago Bulls fan. Tape delayed viewings to imprint Michael Jordan and Scottie Pippen's NBA immortality upon her son took place as a retort to his budding Los Angeles Lakers fandom.
"Kobe Bryant was his idol, favorite basketball player, and you couldn't unglue him from the TV when those games were on," Grise says. "Once Kobe came, that was it, he's the best player and mom was like, 'No, Michael Jordan!' So I had to show him the games."
Both parents stressed the importance of athletic success being paralleled by academic success.  If he did not receive As and Bs in school, sports were not permitted, which spawned an appreciation for education and extended to the hardwood, where Terry strives to compensate for any athletic deficiencies with an elevated basketball intelligence.
When Terry begins his official NBA journey in a few weeks, all of this tutelage gleaned from his parents, along with Bledsoe's training, will be evident. The off-ball shooting mastered over hours in the gym. The composure during important situations. The heady awareness on both ends.
And whenever he endures a jolt of adrenaline to scoot by a defender or an intangible pick-me-up, that, too, will stem from his inner circle, which helped actualize his NBA dream.
"He always attributed it to his brother that had power," Grise says. "He carries his brother's spirits with them every game that he goes out and plays in."