NCAA basketball: 5 things college basketball fans need to know this week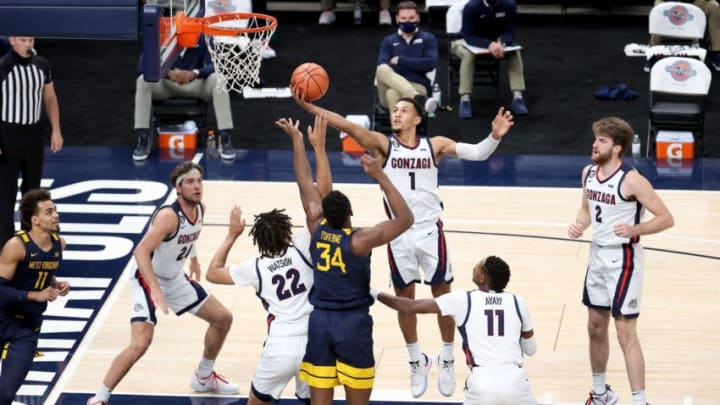 INDIANAPOLIS, INDIANA - DECEMBER 02: Jalen Suggs #1 of the Gonzaga Bulldogs shoots the ball against the West Virginia Mountaineers during the Jimmy V Classic at Bankers Life Fieldhouse on December 02, 2020 in Indianapolis, Indiana. (Photo by Andy Lyons/Getty Images) /
A big week for Jalen Suggs and Gonzaga and a slate of Christmas Day games in the Big Ten headline NCAA basketball stories this week.
The week of Christmas is usually a light one for college basketball. In a normal year, most teams head home for the holidays, but 2020 is unusual in the sense that a number of key non-conference matchups remain to be played. There are even Christmas Day hoops in the Big Ten, which is highly unusual.
Let's take a look around the world of college basketball with the five things NCAA basketball fans need to know this week, beginning with a look at the clear cut top team in Gonzaga.
Team of the Week: Gonzaga Bulldogs
We didn't get to see No. 1 vs. No. 2 due to a COVID issue with the Bulldogs' program, but they did schedule a game against No. 3 Iowa last Saturday. The matchup was Gonzaga's first game back from a two-week pause and they demonstrated little rust, beating up the Hawkeyes 99-88 on a neutral floor in South Dakota.
Gonzaga demonstrated an interesting approach to slowing down Iowa, letting Luka Garza get his points while focusing on shutting down the rest of the Hawkeyes. The tactic worked as Garza racked up 30 points on 13 of 18 shooting while his teammates contributed 58 points while shooting just 38.5 percent from the floor.
Seeing the Bulldogs put up 99 on Iowa is a warning shot to the rest of college basketball and Mark Few added another marquee non-conference matchup against Virginia on Saturday, giving Gonzaga a test against a rugged defensive team.
Freshman of the Week: Jalen Suggs
Despite the presence of Garza, the best player on the floor in the Gonzaga-Iowa matchup was Jalen Suggs, a five-star freshman guard from Saint Paul, MN. These kinds of players usually end up at Duke or Kentucky so the fact that Suggs is playing at Gonzaga is a game-changer for college basketball this season.
Suggs dominated the Hawkeyes, racking up 27 points, seven rebounds, four assists and three steals as he made plays all over the floor. Cade Cunningham has been the presumptive top freshman in college basketball this season but Suggs definitely has the skills to give Cunningham a run for his money.
Player to watch: Ron Harper Jr
There have been plenty of star turns in college basketball this season, but none may be more surprising than what we've seen from Rutgers guard Ron Harper Jr. The son of former NBA Champion Ron Harper, the 6-6 junior has nearly doubled his scoring average from a year ago, contributing 23.2 points per game and seven rebounds a night for the Scarlet Knights.
Harper has stepped up in a big way for Rutgers, which has seen star guard Geo Baker appear in just two of its first five games due to an injury. This tremendous backcourt gives Rutgers a chance to be a contender for the Big Ten's regular-season title and make some noise in the NCAA Tournament.
Story to watch: Big Ten Hoops on Christmas Day
Christmas Day is usually a dark spot for the college basketball world but 2020 is different. Perhaps sensing a unique situation due to the fact most players would be staying on campus for the holidays, the Big Ten has scheduled a quadruple-header of games for the holiday, beginning at noon with a matchup of heavyweights when Wisconsin travels to Michigan State.
Maryland-Purdue, Michigan-Nebraska and Iowa-Minnesota are the other games on the docket for the conference. If these games do well in the ratings for FOX, FS1 and the Big Ten network it will be interesting to see if more games get scheduled on Christmas in the future.
Cinderella watch: Furman Paladins
This week's Cinderella watch goes to the SoCon with a look at the Furman Paladins. It has been 40 years since the Paladins went dancing but Furman stands an excellent chance to get out of the tricky SoCon this year thanks to a tremendous offense that averages over 83 points per game.
Junior guard Mike Bothwell has led the Paladins in the early going, racking up 18.1 points per game as Furman has played hard against non-conference foes like Cincinnati and Alabama. Make sure to keep an eye on the Paladins as the year moves forward as a potential bracket buster in March.
For more NCAA basketball news, analysis, opinion and features, check out more from the FanSided college basketball section to stay on top of the latest action.