Houston Rockets finally find a deal, trade James Harden to Brooklyn Nets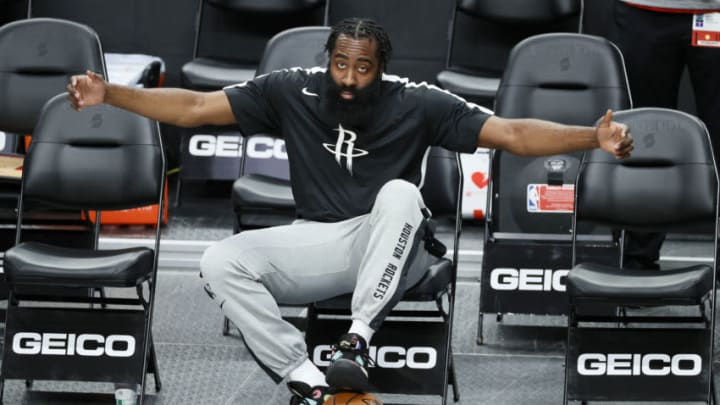 Photo by Steph Chambers/Getty Images /
After weeks of discussion, pivots and listless basketball, the Houston Rockets have traded James Harden to the Brooklyn Nets. 
The Rockets did what they could to salvage their future with James Harden, but ultimately it wasn't to be. Trade rumors began popping this fall when Russell Westbrook requested a trade, citing frustration with the organization. It was assumed Harden would be traded quickly as well but the Rockets couldn't find a deal they liked and carried him into the season, hoping to make it work.
After a 17-point loss to the Los Angeles Lakers on Tuesday night, Harden spoke briefly with the media, saying, "I love this city. I've literally done everything I can. This situation is crazy. I don't think it can be fixed. Thanks."
That seemed to be the breaking point and less than 24 hours later, the Rockets have agreed to trade Harden to the Brooklyn Nets in a three-way deal that also involves the Nets.
Adrian Wojnarowski has the details of the Harden trade package.
Additionally, the Rockets are sending Caris LeVert to the Indiana Packers for Victor Oladipo.
A James Harden trade was inevitable for the Rockets
As much as the Rockets would have liked to repair what was broken with James Harden, it clearly wasn't working. As of Wednesday, the team was 3-6 and getting outscored by an average of 2.0 points per 100 possessions. To add insult to injury, they were significantly better with Harden on the bench so far this year, a testament to how poorly he'd been playing.
With Harden gone, the last real vestiges of the Daryl Morey will have been cleared away. The Rockets have consistently been one of the better teams in the league for more than a decade. Now they embark on an attempt to rebuild the organization from top to bottom, with a new front office and a new roster that's focused on the future.