2021 FanSided Baseball Mock Hall of Fame: Our experts pitched a shutout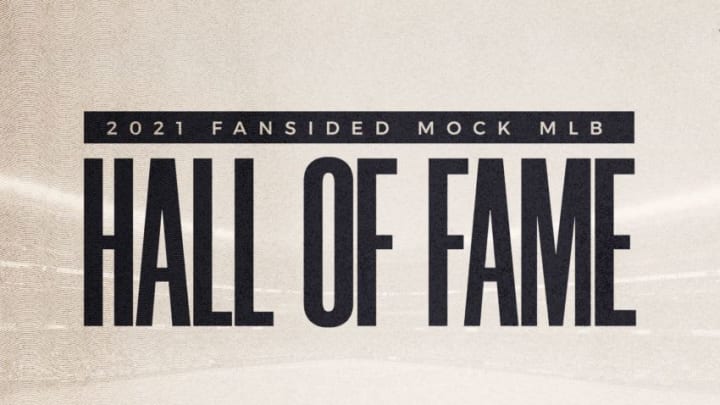 Experts from FanSided's MLB sites put their collective wisdom together this month, and their consensus was clear: no one on the 2021 ballot belongs in the Baseball Hall of Fame.
This outcome probably isn't unexpected. The IBWAA recently announced the same, and results at Ryan Thibodaux's Baseball Hall of Fame tracker show the BBWAA is unlikely to elect any new members to the actual National Baseball Hall of Fame in Cooperstown either.
This year's group of candidates features a combination of controversial figures whose numbers make a strong argument for inclusion but who fall short in other ways; very good players who just didn't do enough to make their inclusion a no-brainer; and some big names of the past 20 years who just don't belong.
For every good argument to be made, there is an equally good counterargument. That's great for baseball debates but bad for reaching the 75 percent required to receive baseball's highest honor.
Robert Murray's summary of his mock vote really captures the feel for many voters: "This year was difficult, and I'm thankful I don't have a Hall of Fame vote yet. My votes were based on who I believed were Hall of Fame worthy players. Some of these players come with off-the-field concerns and it makes me feel icky about selecting them. I saw Ken Rosenthal say that he hated his ballot. I feel the same about mine."
FanSided 2021 MLB Hall of Fame voting results /
FanSided Mock Baseball Hall of Fame vote totals: Bonds, 25/39 (64%); Jones, 23/39 (59%); Clemens, 23/39 (59%); Rolen, 22/39 (56%), Wagner, 20/39 (51%), Helton, 20/39 (51%); Schilling, 20/39 (51%); Manny Ramirez, 13/39 (33%); Sheffield, 12/39 (31%); Abreu, 9/39 (23%); Sosa, 8/39 (215); Pettitte, 8/39 (21%); Kent, 7/39 (18%); Buehrle, 7/39 (18%); Hunter, 6/39 (15%); Vizquel, 5/39 (13%); Hudson, 4/39 (10%); Burnett, 2/39 (5%); Aramis Ramirez, 2/39 (5%); Zito, 1/39 (3%).
Barry Bonds, Roger Clemens, Andruw Jones lead FanSided Mock Baseball Hall of Fame vote
Among 39 FanSiders, Barry Bonds came the closest at 64 percent. Roger Clemens and Andruw Jones followed at 59 percent apiece.
Scott Rolen (56 percent), Billy Wagner (51 percent), Curt Schilling (51 percent), and Todd Helton (51 percent) each cleared the majority marker.
There were some interesting trends this year, and we'll let our experts tell the story on why later. The first:  Bonds, Clemens and Schilling each lost support vs. our 2020 mock Baseball Hall of Fame vote.
The first two, whose careers are most closely linked the steroid era, both surpassed 70 percent in our inaugural vote in 2020. Bonds came just a ballot short of induction at 73.8 percent and Clemens followed him at 71.4 percent.
Schilling, whose issue seems to be his mouth — both during his playing career and especially after — dropped from 57 percent.
"Look, I understand that several of the guys I've voted for carry either the suspicion of PEDs or have outright confessions attached to their resume," Jacob Misener of Cubbies Crib wrote. "That being said, you can't have a Hall of Fame without a Barry Bonds or a Curt Schilling. Sammy Sosa, obviously a big name with Cubs fans, is the only player ever to hit 60 home runs in three separate seasons and ranks ninth all-time in long-balls – but is absent from Cooperstown. It might not be popular – but the best players belong in the Hall, period."
Chris Brown of Motor City Bengals agrees on the trio: "I have no problem with other people considering a player's suspensions or unsavory character, I just feel somewhat hypocritical railing against the moral turpitude of modern candidates when so many vile men are already enshrined."
Our other trend: Jones, Rolen, and Wagner each moved a little bit closer toward induction. The three were incredibly good during their playing careers but none were the kind of lock Derek Jeter was with his near-unanimous induction by our writers and the BBWAA writers last year.
Barry Bonds and Roger Clemens, 2021 mock Baseball Hall of Fame /
FanSided voters just can't overlook Barry Bonds' and Roger Clemens' steroid ties
Neither Bonds nor Clemens really need an introduction. Bonds' accolades run a mile long, led by seven MVP awards, eight Gold Glove awards, and the home runs, walks, and intentional walks all-time records.
Clemens owns seven Cy Young Awards, an MVP award, 354 wins and 4672 strikeouts. He was a World Series champion twice and earned the pitching triple crown (strikeouts, wins, ERA) twice.
The pair would have been easy Hall of Fame inductees if not for one obvious blemish on their careers.
For many experts, the Hall of Fame is missing two busts without them. For others, steroids just cannot be overlooked.
Adam Weinrib, Dodgers Way and Yanks Go Yard
"The Steroid Era happened! It happened. And based on the way the Hall's voted in recent years, they're tacitly acknowledging that by admitting accused users like Jeff Bagwell, Mike Piazza and Ivan Rodriguez while ignoring more skilled accused users like Barry Bonds and Roger Clemens."
Seth Carlson, Nolan Writin'
"Almost half my votes went to guys whose numbers where obviously inflated due to PEDs. However, I'm a believer in placing people and places in their respective times. First off, the numbers are what they are for guys like Bonds, Clemens and Sosa, like it or not. They're prolific. Second, PEDs don't make it easier to hit or throw a baseball. You still have to know how to time your swing and produce fluid motions. On the mound, you still have to have good command of your pitch arsenal and have proper grips. PEDs don't affect those aspects of the game. Third of all, this was the Steroid era. And for as much as this period in baseball was controversial (and many wrongs don't make a right) you could not write a history of baseball without mentioning these players who put up monstrous numbers. To me, that's important."
Aaron Gershon, Away Back Gone
"I personally cannot bring myself to vote for the steroid guys; thus, this class is small in my opinion but feel personal/political views should be overlooked and Curt Schilling should be rewarded for his HOF career on the mound and Andy Pettitte, baseball's all-time playoff win leader deserves to be in the hall with several of his Yankee teammates."
Drew Koch, Blog Red Machine
"I refuse to vote for any player linked to PEDs. If we're going to keep Pete Rose out of the Hall of Fame for something he did that didn't affect the game, then in no way can the Hall of Fame allow admitted cheaters into Cooperstown. The integrity of the Hall of Fame will be tarnished forever if the likes of Barry Bonds or Roger Clemens are enshrined."
Brendan Mizgala, BoSox Injection
"When I look at this list there are a handful of names that should be no-brainers. Unfortunately, a few of them have the PED cloud hanging above them and will likely never get inducted. Did the PEDs help, sure. But they still had to hit the ball, they still had to place their pitches, and the drugs didn't turn them into super humans. Get over the PED hurdle and induct those that truly belong whether they have that stigma or not."
Curt Schilling, FanSided 2021 Mock Baseball Hall of Fame /
Curt Schilling's mouth hurts his borderline case
Curt Schilling, too, is a divisive player. On the field, he finished a 20-year career (1988-2007) with a 3.46 ERA (good for 127 ERA+, or 27 percent better than average). He picked up six All-Star nods. His 3116 strikeouts are the 15th most in MLB history.
He might be remembered best for 2001, where he threw for an ERA of 2.98 across nearly 258 innings, then along with Randy Johnson led Arizona to a 4-3 World Series victory over the Yankees. The pair split World Series MVP honors. Schilling threw 7-1/3 innings in Game 7, allowing two runs. Johnson closed out the game.
He's also strongly remembered for the "bloody sock" game in Game 6 of the ALCS in 2004.
For his career, Schilling has a 2.23 ERA across 133 postseason innings. He has three World Series rings to show for the effort.
In the days after his career, he has been a controversial figure, with his video game company 38 Studios settling for more than $25 million with the state of Rhode Island after accusing the company of making misleading statements to earn a $75 million loan guarantee.
He also was fired from ESPN after posting transphobic remarks on social media.
In their voting, experts have given Schilling a bit of the Jack Morris treatment, seeing his regular-season numbers seldom shine bright compared to a few memorable postseason showings.
David Hill, Call to the Pen and White Cleat Beat
"I did not vote for Curt Schilling. He had seven or eight strong years interspersed throughout his 20 year career. His candidacy seems to be propped up by his postseason performance and the myth of the bloody sock. I never saw him as a Hall of Famer when watching him pitch."
Tim Boyle, Rising Apple
"I don't agree with a single thing he has ever said or probably thought. However, his postseason heroics and solid regular season stats are enough for me."
Andruw Jones, Scott Rolen, Billy Wagner, FanSided 2021 Mock Baseball Hall of Fame /
Andruw Jones, Scott Rolen and Billy Wagner post gains
Billy Wagner was a merciless reliever and seven-time All-Star who racked up 422 saves for his career, which spanned 1995-2010. In 2005, he finished 70 games for the Phillies, or about 43 percent of their games.
Dave Gasper, Reviewing the Brew
"If Lee Smith can get inducted with a 3.03 ERA and 1.25 WHIP, then Billy Wagner should be inducted with his 2.31 ERA and 0.99 WHIP"
Mike Gillespie, Kings of Kauffman
"Billy Wagner was an easy vote. His numbers and seasons of dominance speak for themselves. Too many fans simply don't appreciate how good he was."
A 10-time Gold Glove-winning outfielder (who played almost his entire career in center field), Andruw Jones was an above-average hitter as well (.823 OPS, 111PS+). He played 1996-2012.
By Jay Jaffe's JAWS statistic, which tries to compare players based on career and peak stats), Jones is the 11th best center fielder of all time.
David Hill, Call to the Pen and White Cleat Beat
"Andruw Jones was not only the best defensive outfielder in baseball history, but he was the second best defensive player based on runs saved in the history of the game, trailing only Brooks Robinson. Plenty of players are in the Hall for their gloves and do not have the numbers that Jones put up over his career."
Alan Carpenter, Tomahawk Take
"Andruw Jones is the best defensive CF in the history of the game and after Willie Mays, it's not even a close contest. He should be in for his glove alone — and by the way, we do vote in guys for just their glovework… and oh yeah, he hit great for 10 years. You'd think that would be enough."
Jake Mastroianni, Tomahawk Take
"For Andruw, I'm probably biased as a Braves fan, but I think it's a shame that one of the best defensive players off all-time at a premium position isn't in the Hall of Fame. Not only that, he was a force on offense for several years as well. If Ozzie Smith is in for his defense, then AJ should be in."
Scott Rolen, who also played 1996-2012, never won an MVP award but was a seven-time All-Star and eight-time Gold Glove third baseman, while racking up a career .855 OPS (122 OPS+). By the JAWS ranking, he is the 10th best third baseman of all time.
The only player with a higher JAWS score than Rolen (Adrian Beltre) will not be eligible for the Hall ballot until the 2024 class.
Drew Koch, Blog Red Machine
"This year's ballot doesn't have any slam dunk Hall of Famers, but two players should get in. Scott Rolen was one of the best defensive third basemen of his era, and he's incredibly under appreciated. An eight-time Gold Glove winner, Rolen's career power numbers should be enough to get him into Cooperstown. If Curt Schilling is not voted into the Hall of Fame, it's purely for political reasons."
(Photo by Doug Pensinger/Getty Images) /
Todd Helton remains a popular pick
Sitting just above the 50 percent line, Todd Helton divided voters, likely based on playing a majority of his games at batter-friendly Coors Field. In fact, he spent his entire career (1997-2013) wearing only the Rockies' uniform.
His supporters, however, are willing to look deeper. Kevin Henry of Rox Pile, for instance, noted every player who has had five consecutive seasons above 1.000 OPS, as Helton did from 2000-04 while just falling just below in 1999 and 2005, is in the Hall of Fame except Helton and several who are tied to steroid allegations.
Tim Boyle, Rising Apple
"Even if Coors Field played a factor, he was the best to take advantage of it. Look at his road numbers. The man is HOF worthy."
Helton had a 1.048 OPS at home and .855 on the road.
David Scharff, Kings of Kauffman
"Todd Helton got my vote as he brought the whole package for multiple season, providing an important presence both offensively and defensively."
Helton earned three Gold Glove awards at first base between 2001-04.
First-year eligible players, 2021 FanSided Mock Baseball Hall of Fame /
Mark Buehrle, Torii Hunter lead first-year eligible players.
Six players in their first year of eligibility collected votes, with five of them surpassing the 5 percent mark that would be required to remain on the BBWAA's ballot. Mark Buehrle led with 18 percent, followed by Torii Hunter (15 percent), Tim Hudson (10 percent),  A.J. Burnett (5 percent), Aramis Ramirez (5 percent) and Barry Zito (3 percent).
A few explanations:
Vinnie Parise, Southside Showdown
"Mark Buehrle was the type of pitcher who was clearly NOT cheating when it was easy to do so. He has a perfect game, another no hitter, some great regular season and postseason pitching numbers, and a World Series title. Facing many hitters who were on substances and shutting them down had to be tough, but he was one of the best pitchers of the generation."
Nick Caporoso, Rum Bunter
"Aj Burnett was a dominant pitcher during his peak while his overall numbers won't wow you, he was a part of numerous historical moments. He also helped bring a spark back to the Pittsburgh Pirates and made them a relevant team again. He has a similar career era to jack morris and a much better strikeout rate."
Drew Koch, Blog Red Machine
"Mark Buehrle and Torii Hunter are the best from a weak class of first-time eligible players on this year's Hall of Fame ballot. I don't expect either to survive the five percent minimum in order to appear on next year's ballot."