Myles Turner misses potential game-tying layup vs. Pelicans (Video)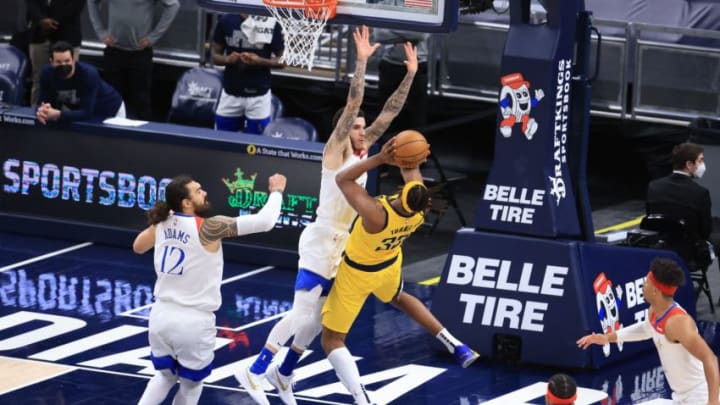 Photo by Andy Lyons/Getty Images /
Myles Turner couldn't get a tough game-winner to fall against the New Orleans Pelicans.
Football is usually classified as a "game of inches," but basketball — the "game of runs" — often isn't far off.
Case in point: the Indiana Pacers' one-point loss to the New Orleans Pelicans on Friday night.
With the Pelicans up by one and the game on the line, Pacers center Myles Turner saw an opening on the perimeter after the ball swung to him at the top of the key. He drove the lane past a recovering Steven Adams, but was cut off by Lonzo Ball.
Ball made some body contact but did a great job staying vertical as Turner looked to draw a foul. Unfortunately, no whistle came, and Turner's wonky layup attempt was just off the mark:
Myles Turner's potential game-winner just wouldn't fall
Even after awkwardly contorting his body to get the shot off, Turner had a good look near the basket; it just didn't fall. The Pelicans secured the rebound with 0.5 seconds left, and that was the game.
Turner, the league's leading shot-blocker, finished his night with 12 points, 6 rebounds and 2 blocks. Unfortunately, his rough shooting night extended beyond missing the potential game-winner, as he shot just 4-of-10 from the field, including 1-of-6 from 3-point range.
Indiana was led by a 22-6-4 stat line from Justin Holiday, while the Pelicans got 30 points, 7 assists and 6 rebounds out of Brandon Ingram (as well as a rim-breaking missed dunk from Zion Williamson).
Basketball can often come down to one final play that makes all the difference between winning and losing, and unfortunately for Myles Turner, Lonzo Ball's contest around the rim was just good enough to make a difference with the game on the line. It was still a makable shot though, and one the Pacers needed to have.