Dodgers fan who threw back Fernando Tatis, Jr. home run gifted another souvenir (Video)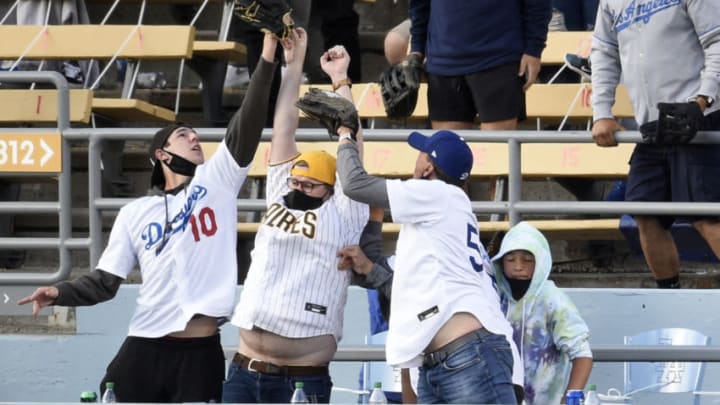 Apr 25, 2021; Los Angeles, California, USA; A San Diego Padres fan reaches up to vie for a home run hit by Los Angeles Dodgers second baseman Chris Taylor (3) between two Dodger fans during the sixth inning at Dodger Stadium. Mandatory Credit: Kelvin Kuo-USA TODAY Sports /
A Los Angeles Dodgers fan was gifted with a Chris Taylor home run ball after throwing San Diego Padres' star Fernando Tatis Jr's homer back onto the field during Sunday's game.
The most entertaining rivalry of the 2021 MLB season is undisputedly between the Los Angeles Dodgers and San Diego Padres. Their games so far have gone down to the wire, while also having the drama necessary for a sports rivalry. If this series taught us anything, it is that Dodgers fans are not too keen about Padres star Fernando Tatis Jr.
In the top of the fourth inning, Tatis hit a solo home run off Dodgers pitcher Dustin May, his fifth in the past three games. The ball landed in the right-center field stands and a Dodgers fan threw it back onto the field.
For those criticizing the individual for throwing a once-in-a-lifetime memento back onto the field, we would like to have a word. That same fan caught a Chris Taylor three-run home run in the bottom of the sixth inning!
Dodgers fan catches two home run balls in Sunday's game
Talk about some serious luck. Is this fan carrying a four-leaf clover around with him at Dodger Stadium?
Taylor's homer was an important one, as it extended the Dodgers' lead over the Padres to 7-1. It looked as though Los Angeles' lead was insurmountable, until San Diego tied the game up in the top of the ninth inning.
Catching a home run ball is a rare occurrence. But with this Dodgers fan, it happens frequently enough where he can choose which baseball to keep!