Fans drop the gloves in potential final Dodger Stadium fight of the season (Video)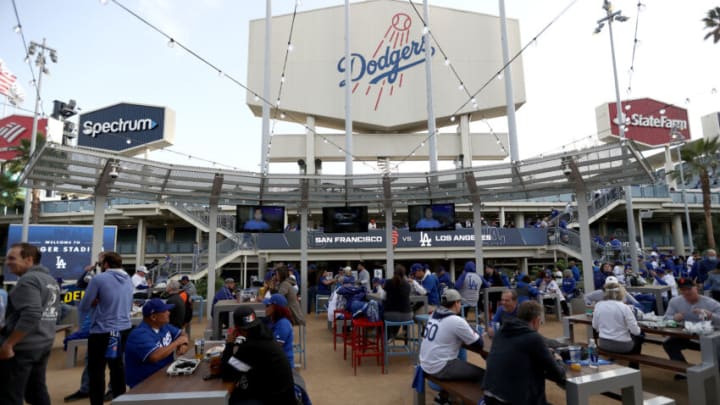 LOS ANGELES, CALIFORNIA - OCTOBER 11: Fans drink beverages before game 3 of the National League Division Series between the Los Angeles Dodgers and the San Francisco Giants at Dodger Stadium on October 11, 2021 in Los Angeles, California. (Photo by Ronald Martinez/Getty Images) /
In Game 4 of the NLDS, Los Angeles Dodgers fans got into a massive fight at the stadium in the middle of the showdown with the Giants. 
Can't we all just get along? That's got to be what the folks at Dodger Stadium were thinking Tuesday night in the showdown between the LA Dodgers and San Francisco Giants. While the local club was fighting to keep their World Series dreams alive, some dudes in the stands decided to go all out themselves.
That's right, with LA battling San Francisco, a big-time brawl broke out among Dodgers fans. This wasn't LA vs. San Francisco. A group of gentlemen rocking Dodgers gear decided to trade blows with one another in an absurd fashion.
Dodgers fans stole the show in the stands with another fight
Fans fighting at Dodgers Stadium is becoming way too common these days. Instead of cheering on the reigning World Series champs, folks are too busy trying to land right hooks on one another. It really is becoming a tired scene.
Fortunately for the Dodgers, they didn't let the off-the-field drama distract them, as they took care of business in Game 4 to force Game 5 at Oracle Park on Thursday night. The winner of that game will then move on to face the Atlanta Braves in the NLCS.
It's do-or-die time for both of these teams. It should be one heck of a contest, with so much on the line. LA fans are hoping that the Dodgers can get the job done so they can enjoy some NLCS clashes at Dodger Stadium. If that does happen, we can only hope people can behave and stop acting so childish in the stands. All of these brawls need to come to a stop.