Best college town in every state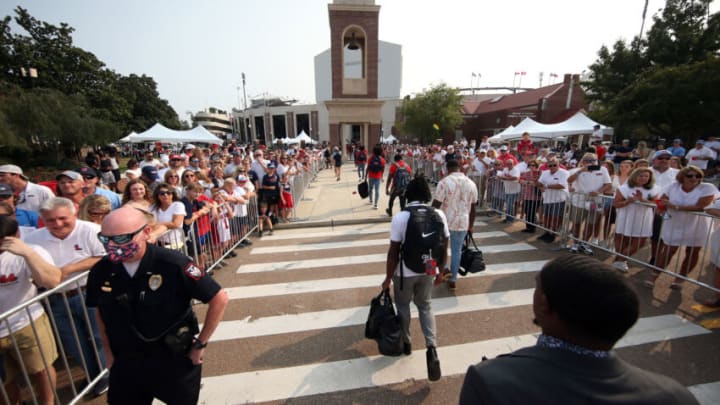 Mississippi Rebels players make their way down the Walk of Champions before their game against the Austin Peay Governors at Vaught-Hemingway Stadium. Mandatory Credit: Petre Thomas-USA TODAY Sports /
Auburn Tigers (Photo by Michael Chang/Getty Images) /
Best college towns in America: Auburn, Alabama (Home of Auburn University)
Let's start with one of the hardest choices on the list. Alabama is at the heart of college football mostly because Tuscaloosa has been the epicenter of great football since Nick Saban got there. He's the catalyst when it comes to on-field greatness, but Tuscaloosa itself is not the best college football town.
The campus at Auburn University is absolutely gorgeous. The giant clock tower on Sanford Hall overlooks everything, so if a walk through campus pregame is part of your routine, it's a treat to behold. Then, there's the Toomer's Lemonade. There's nothing like a tried and true recipe for one of the country's favorite drinks. This particular lemonade, which people can buy at Toomer's Drugs, has been around for 125 years.
One thing that makes Auburn famous is how nice people are. Holding doors open for people who are still absurdly far away, saying thank you for everything, and just generally making people feel good about being there.
Even on a non-game day, there's plenty of things to do in Auburn. The Lovelace Museum is a fun walk-through on any day. The main downtown area is right down the street from campus, so everything is within walking distance. The bars and restaurants are right there for anyone who needs a break from the routine.
The game-day traditions are unlike anything. There's nothing like the original Tiger Walk, where thousands of fans get together to follow the team to Jordan-Hare Stadium. The tailgates are fun and more lowkey than some of the more traditional party schools, so you can enjoy your time without having too many students crashing the party.