The Whiteboard: Power ranking the NBA's peskiest defenders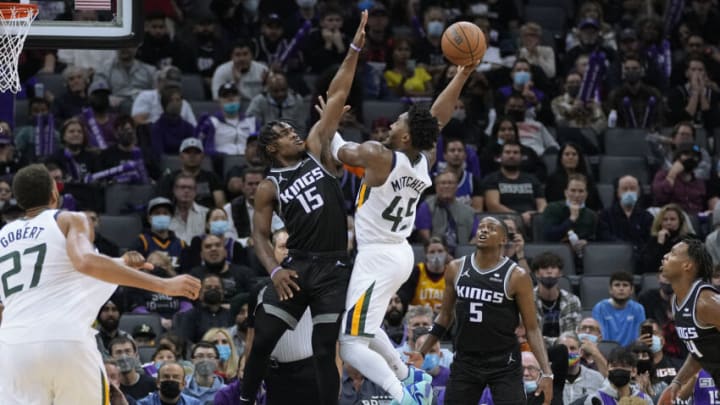 SACRAMENTO, CALIFORNIA - OCTOBER 22: Donovan Mitchell #45 of the Utah Jazz shoots over Davion Mitchell #15 of the Sacramento Kings during the fourth quarter at Golden 1 Center on October 22, 2021 in Sacramento, California. NOTE TO USER: User expressly acknowledges and agrees that, by downloading and or using this photograph, User is consenting to the terms and conditions of the Getty Images License Agreement. (Photo by Thearon W. Henderson/Getty Images) /
The Whiteboard is The Step Back's daily basketball newsletter, covering the NBA, WNBA and more. Subscribe here to get it delivered to you via email each morning.
On-ball pressure is just one piece of effective defensive play, and it can often be misleading — gambling and overly aggressive defensive at the point of attack can lead to a cascade of disadvantages for the backline. Still, there's something incredibly aesthetically pleasing about those pesky defenders who hound opposing ball-handlers, harassing them outside around the court and making everything difficult for the offense.
This kind of pressure isn't easy to measure, in quantity or quality, but I've done my best here, blending together subjective judgments along with a few related statistical indicators.
Who have been the peskiest defenders in the NBA this season?
5. T.J. McConnell, Indiana Pacers
McConnell has made himself invaluable to the Pacers' second unit with his relentless on-ball pressure over the past two seasons. He ranks 13th in the NBA CourtOptix On Ball Defensive Pressure Score (which measures 'how tight a defender is guarding his opponent by measuring inputs such as a defender's speed, distance to his opponent, and ability to disrupt passing lanes') and 16th in deflections per 36 minutes. He often brings pressure in the backcourt or halfcourt and even when teams try to counter with high screens he does a fantastic job staying attached to the ball-handler and maintaining contact right through a drive.
4. Gary Payton II, Golden State Warriors
Payton II has been a revelation this season, at age-29 finally finding a team that could leverage his incredible defensive strengths and compensate for his distinct offensive weaknesses enough to keep him in the rotation. Payton II leads the league in deflections per 36 minutes at 5.8, which would be the highest single-season mark since the NBA began tracking the statistic for the 2016-17 season. On the ball, he's constantly reaching and poking but is able to do it without fouling. Through 22 games, he's totaled 31 steals and 3 blocks with just 37 fouls.
3. Alex Caruso, Chicago Bulls
The four-year, $37 million contract Alex Caruso signed with the Bulls this offseason was mostly earned with his aggressive defense for the Lakers over the past four seasons. It didn't take long for him to impress his new teammates and DeMar DeRozan recently sang his praises, telling the Chicago Tribune, "He's a dog, man. The energy that he brings defensively, it triggers us. We try to live up to the standards that Alex is going to bring out on the court. It's big. It's incredible the things that he does defensively." Caruso is in the top five in both On Ball Defensive Pressure Score and deflections per 36 minutes and leads the league in steal percentage at 3.8 percent. He's not a guy you want to try and dribble around.
2. Matisse Thybulle, Philadelphia 76ers
Matisse Thybulle is such a defensive playmaker that he's actually inspired a Twitter account that does nothing but blast out Tweets anytime he records a steal or block. This season that's been incredibly often — 2.8 steals and 1.7 blocks per 26 minutes. If you want an idea of what it's like trying to work against Thybulle 1-on-1, check out the third clip here, where he picks up Damian Lillard fullcourt on the last possession of the third quarter and hounds him into a deep pull-up 3-pointer … which he blocks.
1. Davion Mitchell, Sacramento Kings
By a few of the statistical indicators we've mentioned, Mitchell doesn't quite measure up to the rest of this group. He doesn't rank in the top 40 in deflections per 36 minutes or steal percentage, and he has way more fouls (57) than turnovers forced (19 steals and 5 blocks). But he's also a rookie on a team with several other talented guards who really has the freedom to focus all of his energy on opposing ball-handlers. He ranks first in On Ball Defensive Pressure Score and of the 20 players displayed on the leaderboard, no one has spent a greater share of their defensive possessions on the ball. If you haven't seen much of the Kings this season, check out the possession below for a perfect example of the Davion Mitchell experience. He hounds Eric Bledsoe fullcourt, fighting through two screens and the only thing that prevents him from single-handedly forcing a 24-second violation is Bledsoe dribbling the ball off his foot with six seconds left on the shot clock.
#OtherContent
The Lakers not re-signing Alex Caruso this summer looked like a mistake at the time. It looks even worse now.
Get on the 'Fred VanVleet is an All-Star' train before all the seats fill up.