Melissa Reid smashes goals and glass ceilings to put British women's surfing on the map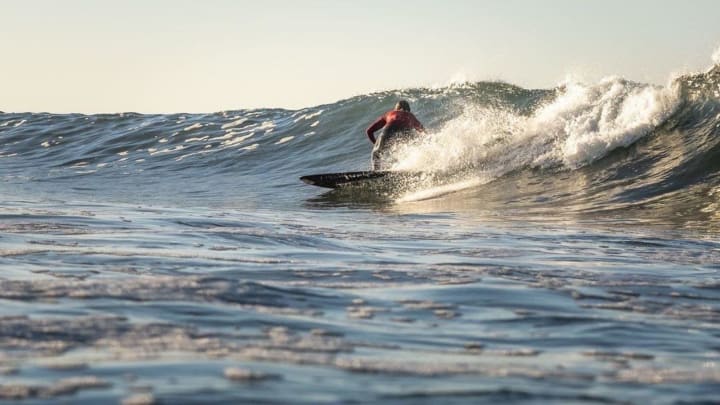 Melissa Reid is a Paralympic medalist in the triathlon but her accomplishments as a visually impaired surfer are just as impressive.
Although there hasn't been a British surfer that's made it to the top 50 on the World Surfing League Qualifying Series for over a decade, the UK does have a surfing world champion. But you might not have heard of her. With 1,084 Instagram followers and no brand sponsorships, Melissa Reid's sporting achievements include receiving a paralympic Bronze medal for triathlon in Brazil 2016, as well as three world titles in the International Surfing Association (ISA) World Para Surfing Championships — accomplishments that Reid has earned through sheer determination and grit.
"After a back injury in 2017, I was told I would never ride or run again, and I had to have a year out but I was allowed to swim and surf," explains Reid. "So I kind of just got back into surfing just for a bit of fun to keep stimulated and keep me from going insane. It came up that there was an adaptive team championship event in Newquay, [in Cornwall, the most Southwest county in England]. I contacted them and went along just thinking that I would find some people to go surfing with, because everyone that I had surfed with growing up had left the county and moved on. It was just the social side of things. I hope to make some friends. After the first heat I got out of the water and the team manager asked if I fancied coming out to California to compete in the world championships – and who would turn down California?"
In 2018, Reid made history at the ISA's World Para Surfing Championships in La Jolla, California, by becoming the first-ever Visually Impaired Women's world champion. This past December, she retained her title with her third win at that competition.
"It's been a pretty tough year so to come away winning the world championships for the third year in a row was just – words can't even describe it," says Reid. "I think some of the photos say it all. I hadn't actually decided that I was going out to the World's until I think the 17th of November, and booked my flight for the 29th. I was focusing on triathlon and went to the Tokyo Paralympics so my whole year was focused on that, and then coming out of that with an injury, I wasn't sure I would be ready."
What is most impressive about Reid is that not only is she a world-class athlete in multiple sporting categories, but that she is visually impaired, being blind in one eye, and partially sighted in the other.
Surfing involves correctly timing your paddle, positioning yourself in the right place, contending with different types of waves, tackling rip currents and avoiding other surfers. You then have to decide how to correctly paddle onto each wave to get yourself up and riding. Imagine how challenging it must be to do all of this without sight. Any surfer will tell you how terrifying it can be to end up paddling for a big wave that closes out and sends you into an underwater spin, so attempting to surf without sight heightens the stakes and risk of getting rinsed even further – A calculated risk that Reid is willing to take.
"I can't see it coming so it's fine," says Reid. "I used to be petrified of waves growing up. It's just the past couple of years that I've generally just thought, what's the worst that's gonna happen? The worst that's going to happen is I might break a surfboard. Well, you know, get a new one. They are not cheap but it's not the end of the world. Face planting into water certainly doesn't hurt as much as face planting into concrete, so I can do this."
Through dogged determination, Reid has paved the way for the next generation of visually impaired surfers to not only find representation in their sport but also have a high bar to aim their surfing prowess. There are a variety of tools that can now be used to assist visually impaired surfers, which are improving as adaptive surfing progresses.
Although surfing has officially made it to the Olympics, it has yet to become a Paralympic sport. But there is some speculation that its entry as a sport in the Paralympic Games may be on the horizon. The ISA is the world governing body for surfing and has held world adaptive surfing competitions since 2015. The organization has adopted nine eligible impairments from the International Paralympic Committee (IPC) Athlete Classification code so that its para-sports classification structure can be easily-adopted when surfing does become a Paralympic sport. To compete in para-surfing events, athletes must have an impairment that fits into one of their nine categories, two of which include vision impairment.
"It takes it from a solo sport to a team sport," says Reid. Visually impaired athletes are permitted to choose a surf guide to give verbal cues in the water. The surfer must relinquish their trust to their guide to be able to surf at an optimum level. Reid's surf guide is Matt Harwood, a top surfer and chairman of the Isle of Wight surf club, who has worked with Reid since 2020.
Photo Credit: Ben Reed /
"Your whole contest is in his hands," says Reid. "He is really close to me, and that's more so that no one else can hear what our tactics are, because everyone speaks English in the water. We paddle out together, he will tell me how far out a wave is, will give a countdown, tell me how it is breaking, whether it's steep or not. And we use "yes yes yes," if he wants me to go for the wave and "no no no," if he doesn't want me to go for a wave. And occasionally, he will send me down some closeouts just for fun, to see if I can make it or not. But on the day, he picked the best waves and it was mentioned several times that his wave selection was brilliant."
"There's no way that you can do it on your own," says Reid. "Especially for me, I don't drive, so the only way that I can go surfing is if someone takes me. So it is a full community. I mean, I've described the surf community as a family. Essentially, they are always there to help no matter what."
Adaptive surfing has gained momentum in recent years, and the UK has a variety of pioneering organizations that have helped to provide more opportunities for surfers with disabilities. In July 2021, the Wave, an inland wave pool in Bristol, UK, hosted the fifth edition of the English Adaptive Surfing Open, where some of the world's best para surfers competed in a range of categories. Charities like the Wave Project, based in the South West of England also provide easily-accessible opportunities for budding surfers with disabilities to develop their wave riding skills. But when Reid was growing up, the same opportunities didn't exist.
"I started surfing when I was about eight. I remember when I had my first lesson, my parents just lied and said that I could see and I'd be fine. Not having to lie nowadays, I think, is the biggest step forward. Surf schools and people having the knowledge and going, okay we know what to do. We know this is going to be fine. It's got its challenges but everything has its challenges at the end of the day. But just because someone has some sort of disability or condition doesn't mean that they should not be able to try it, and I think surfing is one of the few sports at the moment which is really open to allowing everyone to try."
"I would love to see more support in adaptive surfing. I mean, everyone who went out to California from the English team did it self-funded. There's no sponsorship at the moment. You know, I'm going to be funding two sports self-funded next year, which is going to be a huge challenge. If I was an able-bodied athlete with three world titles in surfing, I would have no end of sponsorship."
"Not everyone can afford to self-fund a surfing career. It takes it down to who can afford to get to the top level and that's not fair, either. When surfing with disabilities, the equipment costs a lot more. You have to take somebody with you. I mean, I can't compete without a set of eyes and luckily for me, this year, Matt was going out anyway regardless. Otherwise, I'd have to pay for somebody to go out."
Reid recognizes that adaptive surfing has come a long way since her first surfing lesson at age eight, but she understands that there's still a long way to go. Now, with three world championships under her belt, Reid intends to continue to use her platform as the first-ever visually impaired surfing world champion to create more opportunities for the next generation of visually impaired athletes.
"The next goal is to become a fourth-time world champion, for sure," says Reid. "That is definitely on the cards. I would love to be able to make a career out of surfing. But I also want to do the Commonwealth Games triathlon this summer, as well." Reid is also in the beginning stages of setting up a charity that supports athletes who are out of sight.
"It's hopefully in the pipeline at the moment," says Reid. "I want to help support anyone whatever their desires are who have an out of sight condition. Because I never had support in triathlon or surfing because it's not visible what's wrong with me. So funding, grants and sponsorships were always way more challenging. It's just to get rid of that stereotype that you have to see someone's disability for it to be there."
Why We Play features stories about the power of sports to bring us together, overcome obstacles, make positive change and reach everyone. Read more here.