Kwesi Adofo-Mensah's history gives Vikings edge with Jim Harbaugh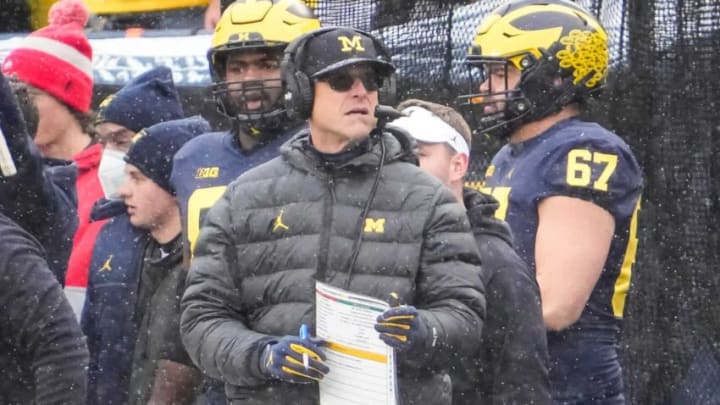 Jim Harbaugh, Michigan Wolverines. (The Columbus Dispatch) /
New Minnesota Vikings general manager Kwesi Adofo-Mensah's previous working relationship with Jim Harbaugh gives them the edge to hire the Michigan football head coach.
Jim Harbaugh could leave Michigan after all, as he has a previous working relationship with new Minnesota Vikings general manager Kwesi Adofo-Mensah.
The Vikings plan to interview the Michigan Wolverines head coach to replace Mike Zimmer in the Twin Cities. Though Harbaugh has had the bulk of his coaching success at the college level, he did lead the San Francisco 49ers from 2011 to 2014, reaching three NFC Championship Games and playing in a Super Bowl. Adofo-Mensah's time in San Francisco overlapped some with Harbaugh's.
While friction with former 49ers general manager Trent Baalke led to Harbaugh leaving San Francisco for his alma mater, there seems to be no issues between the Michigan head coach and the new Vikings general manager.
Minnesota Vikings may have the edge in prying Jim Harbaugh out of Michigan
While Chicago Bears and Detroit Lions fans will so hate this, it serves the Vikings to at least interview Harbaugh. He clearly still has an itch to go back to the NFL one day. Though Michigan is coming off its best season in decades, Harbaugh never stays anywhere for very long. The fact he has been at Ann Arbor this long is a bit astonishing. It is a great job, but Harbaugh is still Harbaugh.
While other franchises have either hired their next head coaches (Broncos, Bears, Giants) or have at least tipped their hands as to where they are leaning (Jaguars, Raiders, Texans, Dolphins), the Vikings have sat back and watched the madness unfold. Other candidates for the job are 49ers defensive coordinator DeMeco Ryans and Kansas City Chiefs offensive coordinator Eric Bieniemy.
As for who could replace Harbaugh in Ann Arbor, one would think Iowa State's Matt Campbell, Minnesota's P.J. Fleck, Cincinnati's Luke Fickell and even the Carolina Panthers' Matt Rhule may get a call.
Minnesota can go in a lot of direction for filling its head-coaching vacancy, but Harbaugh at least getting an interview with the Vikings is big news in Big Ten country.