Veteran wins a brand new home at halftime of Charlotte Hornets game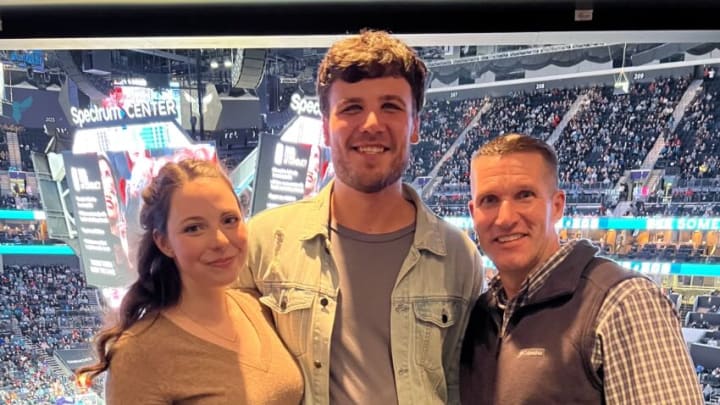 Photo Credit: Veterans United /
The life of an Army Veteran changed in a major way at the Charlotte Hornets game on Wednesday night. 
Talk about a night to remember for Army Veteran Forrest Severson and his wife Sarah. Severson, who will medically retire from the Army this month, was on hand for the contest between the Charlotte Hornets and Chicago Bulls. That's not the whole story, though.
Thanks to the team over at Veterans United Home Loans, Severson had the chance to win a new house in the middle of the Hornets game. All he needed to happen was for team legend Muggsy Bogues to drill a free throw at halftime. As you might have been able to guess, Bogues delivered.
https://twitter.com/ESPNNBA/status/1491595199998566408?ref_src=twsrc%5Etfw%7Ctwcamp%5Etweetembed%7Ctwterm%5E1491595199998566408%7Ctwgr%5Ehb_2_8%7Ctwcon%5Es1_&ref_url=https%3A%2F%2Fswarmandsting.com%2F2022%2F02%2F09%2Fcharlotte-hornets-veterans-united-muggsy-bogues%2F
Army Veteran Forrest Severson won a new house on Wednesday thanks to Muggsy Bogues
While there were most definitely some nerves after Bogues missed his first shot, he drilled the second attempt. As soon as the ball hit the bottom of the cotton, Severson had a huge smile on his face and understandably so.
"I feel like my life has been changed for the better," Severson said via a press release. "I feel excited for the next step in my life and as if I've been given a second chance after getting medically retired from the military. I feel like I actually have time to recover and figure out what I want to do."
Per the press release, Severson has the option for Veterans United Home Loans to either pay off his current home or give him $500,000 towards the purchase of a new one.
"I think we are really surprised and we're really excited for the opportunity to have this new
adventure," Severson's wife Sarah said. "We've traveled a lot and we've been all over the world and we've never had the opportunity to plant deep roots in one place. We can look at doing the things that we feel really passionate about, which is getting involved with our community. We are just really excited for that and to have that adventure together is the most incredible gift."
This isn't the first time Veterans United Home Loans has made such a difference for veterans. In November alone, the organization surprised 10 veterans with new homes as well.