Atlanta Braves: 5 moves to repeat as World Series champions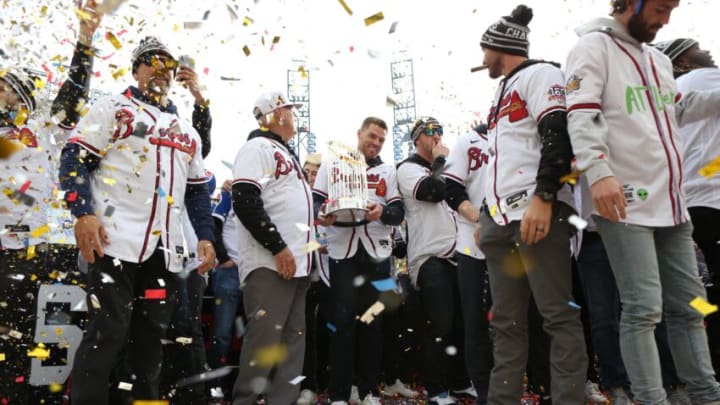 Nov 5, 2021; Atlanta, GA, USA; Atlanta Braves first baseman Freddie Freeman holds the Commissioner's Trophy during the World Series championship rally at Truist Park. Mandatory Credit: Brett Davis-USA TODAY Sports /
Nov 5, 2021; Atlanta, GA, USA; Atlanta Braves first baseman Freddie Freeman holds the Commissioner's Trophy during the World Series championship rally at Truist Park. Mandatory Credit: Brett Davis-USA TODAY Sports /
These five moves will help the Atlanta Braves repeat as World Series champions in 2022.
The Atlanta Braves will do something in 2022 that they haven't done for a long time: defend their championship. The 2021 World Series-winning Braves club may have dominated the National League for a good part of a generation yet they only came away with one World Series victory after winning it all way back in 1957 when they were in Milwaukee. This all changed with the club's recent win in 2021.
Defending a championship isn't easy. No team has won back-to-back World Series since the 2000 New York Yankees when they defeated the New York Mets for their third straight win.
The first step in defending your title is to make the right offseason moves to bolster the roster. The Braves, with some big decisions ahead, can repeat as World Series champions if they're able to execute a few of these moves.
The Braves can repeat as World Series champions if they bring back Freddie Freeman
The heart and soul of the Braves for the last few years, Freddie Freeman is now a free agent. Rumors have swirled all offseason long. A return to Atlanta feels about as possible as a deal with a brand new club.
Atlanta absolutely needs a big bat at first base. As much as they may not want to pay him what he wants, this is a talented player with an important role on and off the field. He's one of the mainstays of the franchise. Bringing him back feels natural.
Losing Freeman could have a huge effect on the team's morale. More importantly, it could damage where they finish in the standings.
The one is a more natural fit for the Braves than Freeman—a devil they have known for his entire major league career. Although I'm not a huge fan of "running it back," there's no denying how valuable Freeman can remain to their championship dreams.