How Aaron Rodgers' decision, Russell Wilson blockbuster reshape NFL, tag reaction, more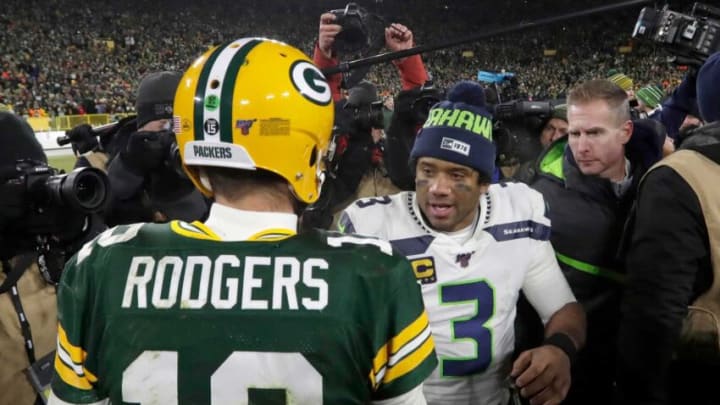 Green Bay Packers quarterback Aaron Rodgers (12) and Seattle Seahawks quarterback Russell Wilson (Image via Milwaukee) /
Aaron Rodgers' Green Bay Packers return and the blockbuster trade that sent Russell Wilson to the Denver Broncos shakes up the QB hierarchy, and alters the market, plus the franchise tag window sets the stage for free agency as a wild offseason begins
Tuesday will be forever be known as the day that shaped the 2022 NFL season. It also changed the quarterback hierarchy for years to come.
Just before noon, Aaron Rodgers, 38, announced that he is returning to the Green Bay Packers as the NFL Network reported the reigning MVP was finalizing a four-year extension worth $200 million to keep him in TitleTown until his 42nd birthday.
Rodgers had the spotlight to himself … for about all of three hours.
That's because Rodgers' former offensive coordinator turned head coach of the Denver Broncos, Nathaniel Hackett, stopped the presses and brought the AFC to its knees.
Denver acquired All-Pro and former Super Bowl champion Russell Wilson in a blockbuster deal with the Seattle Seahawks. Seattle waives the white flag ensuing it's time for rebuild. Broncos general manager George Paton kept his word for making sure there was "no stone left unturned."
"I think Russell is going to work really well in Nathaniel Hackett's offense," former NFL quarterback and current NFL analyst for The Athletic, Sage Rosenfels tells FanSided. "It's Russell Wilson running the Packers' offense, which obviously has done really nicely by Aaron Rodgers … It seems to help the quarterback play very well. Aaron Rodgers has always been a really good player, but towards the end of his career has been playing at an even higher level."
Seattle fetched a pair of first-round picks, two second-round picks, a fifth-round pick, rising tight end Noah Fant, quarterback Drew Lock, and defensive lineman and respected locker room presence Shelby Harris in a package to jumpstart a rebuild as part of a trade that shakes up the NFL's quarterback hierarchy.
The Packers negotiating a long-term deal with Rodgers combined with Wilson departing for the AFC seemingly ensures that the road to the Super Bowl will pass over the frozen tundra, at least for the foreseeable future.
Likewise, Tuesday's trade begs the question; if a 33-year-old quarterback who has just one playoff win since 2018 and hasn't made it out of the Divisional Round since 2014 can fetch that much, what might a 26-year-old Deshaun Watson's value be if cleared on any serious charges against his name?
"All along the asking price for Deshaun was three first-round picks and a couple of other players," former NFL Executive of The Year Randy Mueller tells FanSided. "If he's completely cleared, the price is a step up from what we just saw. This probably sets the floor, and the ceiling for that trade is to be determined."
The Packers are moving forward with Rodgers. The Broncos aim to make the Herculean climb to the summit of the AFC West which now houses Patrick Mahomes, Justin Herbert, and Derek Carr to go along with Wilson.
All three teams finished above .500 last season. If Daniel Carlson misses an overtime field goal, all three franchises are in the AFC Playoffs.
"More often than not, Super Bowls are won by Hall of Fame quarterbacks or at minimum, a Hall of Fame-caliber quarterback," Rosenfels says. "Russell Wilson is one of those guys. Obviously, Denver now has a great opportunity to do something that they haven't been able to do much since Peyton Manning retired. They have the right pieces, the right offense, and now they have the quarterback."
While the Broncos landed the prize of their offseason, several teams across the league are still looking for their long-term solution at the most important position in sports.
Teams like the Pittsburgh Steelers, New Orleans Saints, Carolina Panthers and Tampa Bay Buccaneers all promise to be big players as the quarterback carousel turns.
"A team like the Steelers, who have had a consistent franchise for a long time, I think that would be an unbelievable fit for Watson," Rosenfels explains. "It would be huge for Mike Tomlin and that group to get him."
Watson might well be the most coveted of the remaining passers, but he's far from alone and may not even be the most universally coveted veteran quarterback. Before anything, he must be cleared of any criminal charges against his name.
Watson is still facing 22 civil counts of sexual misconduct and sexual assault claims filed against his last year. Eight of the 10 women who filed criminal complaints also have a pending civil suit, and the Harris County district attorney will present a case to a grand jury that could present criminal charges.
Some scouts have hinted that Watson's situation will severely limit his market because even if he is cleared criminally, he still could face at least an eight-game suspension from the NFL.
Several teams have been monitoring Watson's status with the case. If criminal charges are presented against him, it would be hard to imagine the three-time Pro Bowl quarterback being moved this offseason.
As previously reported in this space, executives inside the league believe Jimmy Garoppolo could potentially return a second-round pick or a third-round choice plus a player to the 49ers this offseason.
Likewise, Mitchell Trubisky and Jameis Winston could be the next quarterbacks on the move.
There is a strong feeling inside league circles that Trubisky could be on the cusp of signing a long-term contract north of $10 million annually as teams cast a worried eye at the top quarterbacks in this and next year's NFL Draft classes.
Rosenfels believes Trubisky could be on the verge of a renaissance in the second half of his career, especially if he lands in a system that emphasizes bootlegs and play-action, and in a climate-controlled setting like the New Orleans Saints or Tampa Bay Buccaneers.
"Trubisky's interesting because he does have capabilities," he says. "A lot of coaches go 'I can get that guy in my offense, and help him play better. He's also older, and you get better as you get older … You're watching the game more, you're throwing more during more and more practices, he's not the same player that he was three years ago and he might be a guy who could be a pretty good quarterback for some of these teams who need one."
Trubisky, who owns a career 64.1 percent completion rating with a 29-21 record and has tossed 64 touchdowns to 38 interceptions, might have the potential of setting the free-agent market now that Rodgers and Wilson are unavailable to desperately needy quarterback teams.
"Perception is everything. The perception inside the NFL. When you look at what happened in Chicago, that's is playing in Mitch's favor right now," a former Bears coach tells FanSided. "The perception that our offense struggled the whole time Matt Nagy was there, you can say that from a success standpoint we struggled on offense for a myriad of reasons. So, there's a narrative that it was more Matt Nagy's fault than Mitch's. It's just the narrative. The narrative goes a long way in the NFL.
"It's the same guys you see in free agency every year; Andy Dalton, Jameis Winston, Marcus Mariota, Ryan Fitzpatrick, it's the same guys you evaluate every single year. Mitch is kind of the new name on that list this year, so there's probably some intrigue around the league about him right now."
For Trubisky, the question becomes, as one executive suggests, whether teams around the league view him as a long-term solution or simply the bridge to a rookie.
Given that Rodgers and Wilson are no longer available and the questions swirling around this year's draft class, Trubisky, Garoppolo, and Watson may be the biggest winners of all from Tuesday's earth-shattering news.
Several teams should also be content with the moves.
San Fransisco is watching one of the top passers leave the conference and should receive some profitable return for a quarterback it believed wasn't the long-term answer. Texans general manager Nick Caserio waited, and so long as Watson's cleared of major charges, he'll be able to walk away with a franchise-altering package to hopefully steer Houston back to brighter days.
How ever the rest of the quarterback dominoes wind up falling, the NFL will look vastly different in September because of the blockbuster moves that went down Tuesday.
Franchise tag sets the stage for free agency frenzy
Tuesday's dizzying quarterback news is just the beginning.
In addition to Rodgers and Wilson finding their NFL homes, Tuesday was also the deadline for teams to apply the franchise tag.
Eight players were tagged by their teams; Cleveland Browns tight end David Njoku, Miami Dolphins tight end Mike Gesicki, Dallas Cowboys tight end Dalton Schultz, Green Bay Packers wide receiver Davante Adams, Tampa Bay Buccaneers wide receiver Chris Godwin, Cincinnati Bengals safety Jessie Bates, Jacksonville Jaguars offensive tackle Cam Robinson, and Kansas City Chiefs offensive tackle Orlando Brown.
Many of the tags will merely serve as placeholders as the teams aim to negotiate a long-term contract before the July 15 deadline to do so. Others, keep a star in place for a bargain.
To get a sense for which teams made the best use of the tag, which players might offer the most upside on a long-term deal, and which player who wasn't tagged was the biggest surprise, FanSided spoke to former NFL Executive of The Year Randy Mueller to get his insight on Tuesday's events.
Randy Mueller's takeaways from the franchise tags that were made, and weren't
Chargers were smartly proactive: "I thought the Chargers getting Mike Williams done, they overpaid him a bit, but they saved the tag. I thought that was a pretty good move. They always seem to value their guys more than some."
Miami Dolphins tight end Mike Gesicki (Mandatory Credit: Vincent Carchietta-USA TODAY Sports) /
Gesicki tag foreshadows Mike McDaniel's plans: "I'm not big on tagging tight ends. I just don't know if there's enough value there to pay a guy like that $10 million. But, if you have a quarterback like Tua Tagovailoa, the middle of the field is a big thing, and to offer him a 6-foot-7 target, I can justify that. I don't know about signing Gesicki long-term, which kind of defeats the spirit of the tag, because it's supposed to be the precursor to getting a long-term deal done, but I understand why they did it with the way they're set up. It's a new coach, a new system, they get to see how it goes this year and minimize change for right now."
Harold Landry going untagged is not too surprising: "I think there's a couple of schools of thought when it comes to edge players, maybe I'm old school, but edge players have to be able to play the run. Those are your value guys. I don't think Harold Landry is Nick Bosa, Joey Bosa, or someone of that caliber. But, he serves the purpose of a nickel-rusher, and think there's a cap when it comes to his value if you aren't a great run-defender, as well. Tennessee's up against the cap, it doesn't mean they don't want him back, and I don't know what his market's going to be, I don't think he's going to get crazy money, so they may have a chance to get him back." UPDATE: The Titans signed Harold Landry to a long-term extension Tuesday evening.
How Davante Adams tag impacts NFC hierarchy: "The Packers moves were certainly impactful, but I think they were independent of each other. I just thought there was no way Green Bay would let Davante Adams go. So, they were going to tag him no matter what. I think their goal is still to work out a long-term deal, but I don't think tagging him was tied to Aaron Rodgers in any way. I think they were going to keep Davante, regardless."
Quotable
""That door is never closed. Whenever Tom wants back, he's back. We'll have plenty of money for him.""
– Buccaneers head coach Bruce Arians on Tom Brady's future, via Pro Football Talk
Arians, during his media availability at the NFL Combine in Indianapolis last week, didn't sound like someone who had any issue with or was closing the door on Tom Brady returning.
Multiple high-ranking Buccaneers officials disputed the notion, in conversations with FanSided, that there was any acrimony between Brady and Arians or that the relationship was what drove Brady into retirement.
Tampa Bay Buccaneers head coach Bruce Arians (Mandatory Credit: Trevor Ruszkowski-USA TODAY Sports) /
But, the view from here is that at age 44, while it makes for interesting fodder to plot Brady's next move, it would seem highly unlikely that he would return to the NFL for another season — even after surpassing 5,300 yards with 43 touchdowns to just 12 interceptions last season.
Especially because there might not be a better situation than Tampa Bay for Brady to compete for Super Bowls in the immediate future, in a favorable climate to raise his family, and with a coach as accomplished as Arians.
But, Michael Jordan came back a second time — albeit at age 38, and Brady has made a life of proving detractors wrong.
If Brady pivots, it sounds like Arians and the Buccaneers would welcome him back with open arms. And why wouldn't they.
Final thought
The NFL was absolutely right to suspend Calvin Ridley for at least the entirety of the 2022 season, after an investigation revealed he had made parlay bets last season, including on Atlanta Falcons games, while he was away from the team.
"What Calvin did may be the single biggest thing the league pushes and tells players not to do," a high-profile agent tells FanSided.  "It's just crazy."
Ridley claims to have bet $1,500 on parlays, and as a result of those bets, he's lost $11 million.
That was what Ridley was scheduled to make in 2022, and there are now no guarantees that a team will sign him if and when he becomes eligible to return as early as 2023.
There have been a lot of arguments made across social media that the NFL swiftly handing down tough justice on Ridley is somehow hypocritical because of the league's multi-million dollar endorsement deals with multiple sportsbooks. But, those arguments are flawed.
Ridley placing a bet on an NFL game calls into question the integrity of the game, much like the allegations in Brian Flores' lawsuit that Dolphins owner Stephen Ross pushed for Flores to fix games when he was Miami's head coach. Both of those acts are wholly different from fans or even media betting on games. And as the sports betting slice of the NFL's revenue pie becomes even bigger, so too will the impact on players' salaries thanks to a higher salary cap in coming years, so players will ultimately benefit from the partnerships.
If anything, the NFL risked the floodgates opening if players saw that Ridley got off easy for wagering on games.
Over the past two decades, there have been myriad legitimate reasons to criticize the NFL.
From the league's heinous handling of concussions, the race-norming of dementia assessments as a result of said concussions, to failing to adequately punish domestic abusers, the NFL has shown it is far from perfect when it comes to how it handles player conduct and issues of racial equality. But, Ridley's case is not such an example.
Los Angeles Chargers cornerback Michael Davis (43) breaks up a pass in the end zone intended for Atlanta Falcons wide receiver Calvin Ridley (Mandatory Credit: Robert Hanashiro-USA TODAY Sports) /
If you want to say the NFL seemingly cares more about the integrity of the game than the integrity of character of the people playing it, that is certainly valid.
But the sport ceases to be relevant if the outcomes of its games are called into question because of the bets made by its players, coaches, or owners.
"Once the credibility of the game is gone, it's gone forever," Sportsline's Allan Bell tells FanSided. "Ridley played with fire here. His problem now is even if he comes back, every single time he has a strange drop, critical fumble, or makes a mistake, everyone will start saying he did it to fix the game.
"And the NFL can't answer every week that games aren't fixed, because then the perception becomes that your games are fixed. He's in some real trouble here. It's much easier for the NFL to just say 'bye' than to deal with that all the time, if he comes back, because he isn't worth that to them."
Ridley risked that, and as a result, will serve a punishment that seems commiserate to his actions.