Mets owner Steve Cohen takes shot at other owners with Twitter activity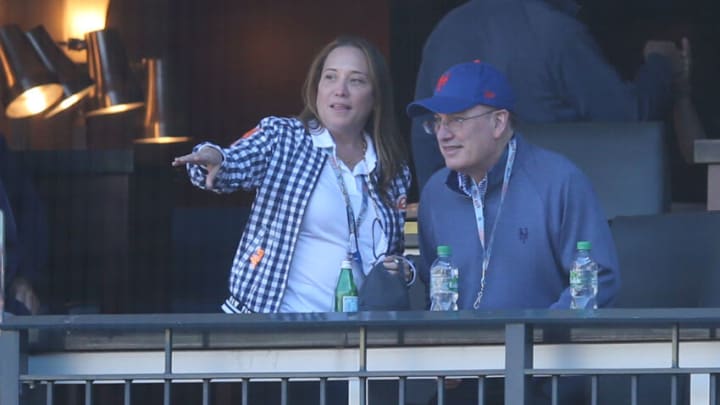 Apr 8, 2021; New York City, New York, USA; New York Mets owner Steve Cohen (right) and his wife Alex watch the seventh inning of an opening day game against the Miami Marlins at Citi Field. Mandatory Credit: Brad Penner-USA TODAY Sports /
New York Mets owner Steve Cohen took a shot at fellow owners Wednesday with his activity on Twitter.
New York Mets owner Steve Cohen caught some attention Wednesday, not for any negotiations regarding the MLB lockout but, rather, due to his social media presence.
Stephen J. Nesbitt of The Athletic documented that Cohen's Twitter activity was, to put it mildly, notable as it pertains to the other owners in baseball.
Cohen hit like on a tweet from David Lesky, who runs the Inside the Crown newsletter on all things Kansas City Royals, regarding ongoing negotiations between the MLB owners and the MLBPA on a new collective bargaining agreement.
Lesky's tweet read:
With Cohen liking the tweet, and the attention brought from Nesbitt and Lesky from the liking, it provided some momentary distraction from the negotiations.
Mets owner Steve Cohen likes tweet criticizing other MLB owners amid lockout
The like could easily be seen as a jab at his fellow owners who many players believe are not negotiating in good faith with the players union. The activity does suggest Cohen agrees with this opinion and is just ready to move forward.
Prior to the lockout, Cohen was quite active in the free-agent market and able to sign Max Scherzer, Starling Marte, Eduardo Escobar, and Mark Canha. By all indications, Cohen still has moves he'd like to make, with Kris Bryant a likely target as well as Michael Conforto.
He's ready to get this lockout over, make some moves, and play ball.
How fellow owners respond over the next few hours will be interesting to see. The simple like won't push them over the edge. It will likely make them think about the optics of it all. The closer we get to April, the more everyone will be ready for baseball action.
As the day progresses, will the point be proven and owners keep the upper hand over the players? Or will the owners actually negotiate with the players to get a deal in place and players can get to work?
Hopefully, baseball fans get some resolution to this frustration very soon.