F1 practice live stream: How to watch Saudi Arabia Grand Prix practice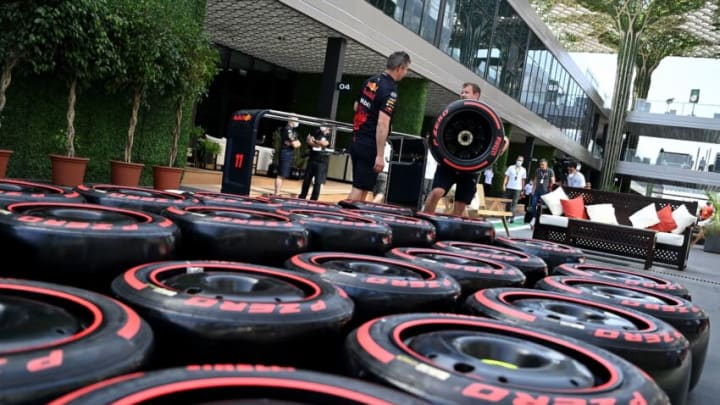 Red Bull's mechanics at the F1 2022 Saudi Arabia Grand Prix. (ANDREJ ISAKOVIC/AFP via Getty Images) /
The Saudi Arabia Grand Prix brings cars and drivers back to Jeddah for another round of F1 practice. Here's all you need to know to tune in.
Formula 1 returned last weekend with a thrilling Bahrain GP that put Ferrari on top of the standings, had McLaren in shambles, gave Lewis Hamilton a surprise podium and sent Red Bull into a late tailspin.
Of course, in racing, what happened last week can be undone this week. For teams like McLaren and Red Bull, that's a good thing. For teams like Ferrari and Haas, it's all about keeping up the pace.
It all starts on Friday with practice sessions that will set the tone for the weekend. Who will turn up in Jeddah ready to race? Who will be left pulling out their hair? It's almost time for more Formula 1 action.
F1 schedule: Practice sessions for the Saudi Arabia Grand Prix
Free Practice 1: Friday, Mar. 25 at 9:55 a.m. ET on ESPN 2
Free Practice 2: Friday, Mar. 25 at 12:55 p.m. ET on ESPN 2
Free Practice 3: Saturday, Mar. 26 at 9:55 a.m. ET on ESPN 2
F1 practice live stream: How to watch Saudi Arabia GP practice
All three practice sessions for the Saudi Arabia Grand Prix will air on ESPN 2, which should make it easy enough for viewers on television to find.
What about those who aren't watching on TV? Don't worry, you can find live streams of each practice session on Watch ESPN, though you must use your television service provider log in. If that's no an option for you, tune in to the ESPN2 feed via Fubo TV using their free seven-day trial.
For those who want more from their viewing experience, F1 TV is a good option if you're willing to pay a bit extra for a subscription.