"Dad, we did it"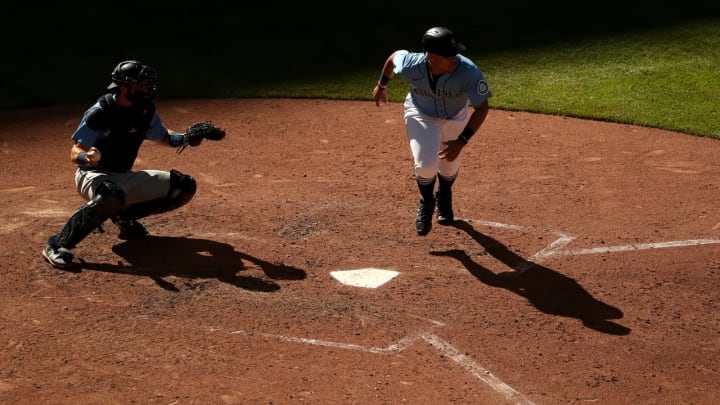 (Photo by Steph Chambers/Getty Images) Credit: Mark J. Rebilas-USA TODAY Sports /
Julio Rodriguez Sr.'s phone was blowing up, with two missed calls from an American number.
He had set it to silent mode so that he could focus on his job working as an agricultural engineer in Dajabon, 30 minutes from the family's hometown of Loma de Cabrera.  As he looked at the notification from the two missed calls, his phone buzzed again with the same number, and he answered.
"Papi, lo logramos," said a familiar voice on the other line.
Time froze, just like in a movie.
Cut to a father throwing the ball to his young son.
Cut to a family in poverty struggling to support their young boy's dream of being a ballplayer.
Cut to Julio Jr. being consoled by his father upon the realization his dream may never come true.
Cut to that boy wowing MLB scouts, and then leaving for America to chase his dream.
Cut to Julio Rodriguez Sr. answering his phone that morning to hear his son tell him that the Seattle Mariners had added him to their Opening Day roster. Those three words translate to "Dad, we did it", and they had never sounded more beautiful and cathartic than at that moment.
"I just thought about all the struggles we've been through to get here," Julio Sr. told FanSided. "This hasn't been easy for Julio. He's fought for this. We all have. Five years ago it felt like this dream was so far away for us. I thank God. We went through hard times, but we never lost hope. Each bump only drove us to keep going forward."
Nearly 3,000 miles separated father and son that morning, but love broke the laws of physics: Julio Jr. was in that room with his father in the Dominican Republic as much as Julio Sr. was in the Mariners Spring Training facility with his son. The strength of love between a father and son bent time and space so that they could be together at that moment of celebration.
"The most important call of my life was received [Monday] at 10:50 in the morning", the elder Rodriguez recalled of the phone call.
Despite already knowing the news was coming — Julio's reps had tipped him off the day before — Julio Sr. was still in tears when he heard his son say those three magical words to him. The tears were more than just those of joy, they washed away years of hardships and struggles.
Struggles don't even begin to describe how life was for the Rodriguez family.
Julio Sr. remembered the early days of his son's journey when he couldn't afford to buy the Mariners phenom a bat, cleats, or even a glove. The family struggled financially and it brought hardships for everyone, especially Julio Sr., who was trying to support his son's dream with what little money he had.
"I think about that now and I just don't want to see other children be in that spot either," Julio Sr. said. "Here, a new glove costs 10,000 pesos (around $180). I had to choose between buying his gear or putting food on the table. That's not easy for a father. Thankfully, my brother lived in the USA and he would find cheaper stuff to send. We still have the first bat. That will always be special to me because it shows how far we've come in this journey."
The centerfielder's journey started back home in the Dominican Republic, where he caught the attention of scouts when he was only 12 years old. By the time he was 13, Julio joined the MB Academy in Tamboril (a small city in the province of Santiago) which is about three hours away from Loma de Cabrera.
Just like that, Julio left home and had to learn to live on his own as a teenager. He spent nearly three years with the MB Academy, working closely with Quico Pena (now a great family friend of the Rodriguez clan) before eventually signing his $1.75 million deal with the Mariners as a 16 year old in 2017.
"From a young age the interest came in for Julio," the elder Rodriguez said. "But I always wanted to make sure he was around the right people and didn't just get handed off to someone who wanted to use him. We had offers of $20,000 to take my son. We needed the money bad and times were tough, but I wasn't going to let anyone just walk away with him.
"Here, people use kids and their families to try and get rich. That scared me. My main interest was to have my son work with people who had strong values and actually wanted to help him achieve his dreams and get better. No amount of money could lead to someone having my son just like that."
In the end, everything worked out and Julio Sr. says he and his family are blessed with how things have transpired. It now has him headed to Minnesota to watch the culmination of his son's dream — one he lived and battled for with him — come true.
Funny enough, this trip almost didn't happen, as Julio Sr. was planning on making the voyage from the DR to the U.S. next month instead. Julio Jr. wasn't having any of it.
"I told him a few months back, 'mijo (son), I'm going to go sometime in May for my vacation and hopefully you're called up by then,'" Julio Sr. said. "He replied, 'papi, don't even get started with me. I want you there from Opening Day because I'm going to make it.'"
Julio Sr. finalized his trip last week, with his boss giving him the green light to take an extended vacation, despite company policy requiring 15 days notice. How in the world could he say no, though?
And as for Julio, that confidence he showcased to his dad doesn't come as a surprise to anyone. With his outstanding bat and ways in the outfield, the 21-year-old stud is being looked at as the future of Seattle sports. With that, however, comes a ton of pressure.
The Mariners haven't been to the playoffs since 2001. People in the city have suffered for a long time and last year's impressive run late in the campaign had the club on the verge of grabbing a Wild Card spot, only for the season to end in heartbreak.
Julio is being looked at as the savior.
The stats back up the prophecy: He hit .419 with three homers and eight RBI in Cactus League play, becoming only the third position player 21 years or younger to make it through camp and make the Opening Day roster (stat via Kelly Munro of the Mariners). He joins legends Omar Vizquel and Ken Griffey Jr. on that list. The pressure can't be measured, but the support the fanbase is showing him is something Julio Sr. and the entire family are so appreciative of.
"I see how much they love him and it's something that's so special," Julio Sr. said. "I went to the series vs. the Angels to close out last season and a boy asked to take a photo with him. I took that picture and later that same kid wrote Julio on Instagram. He said his father was very sick and bedridden, but the photo lifted his spirits.
"That's why Julio tells me he'll always stop and take a picture with a fan, because you never know what they're going through. He just wants to bring joy to people and make Seattle fans happy. That's just his humble self, which will never change."
Come Friday, those same Seattle fans will get their first taste of Julio in the bigs. After an impressive spring training, it's made people all over Washington even more excited to see what he can do for this team.
Again, Julio Sr. knows the high expectations will be there, but he's also ready to see his 'mijo' live up to the hype and show everyone who's been watching the wait has been worth it.
"I'm ready to see his first hit against Minnesota, but there's no pressure on him," Julio Sr. said with a laugh. "I'm not sure how I'm going to react if that happens. My wife thinks I'm going to cry and she's probably right. I just hope he does a good job for this team this week and moving forward.
"I've always told him to put the team first and never think about his individual stats. He's got to play for the other guys on the field, and the people in the dugout as well. That's all I want for my son – to help his team and bring joy to the fans. We want the fans' wishes and hopes for my son to come true."