Tigers: Monmouth law class tries to rectify Armando Galarraga's near perfect game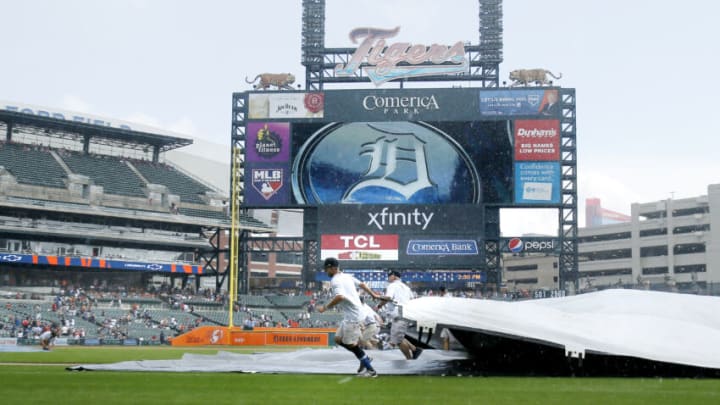 DETROIT, MI - AUGUST 29: Comerica Park ground crew covers the infield as rain falls during the fifth inning of the Detroit Tigers game against the Toronto Blue Jays on August 29, 2021, in Detroit, Michigan. (Photo by Duane Burleson/Getty Images) /
The debate over a mistake that happened in MLB over a decade ago still remains a popular topic among many fans across the league.
In 2010, Detroit Tigers pitcher Armando Galarraga was working his way toward a perfect game against the now-Cleveland Guardians. He kept an impeccable streak up until the ninth inning with two outs recorded when an umpire incorrectly ruled the batter beat a throw to first base.
The case was recently brought up again by Monmouth University's "Law and Society" course. Retired New Jersey Superior Court judge and professor Lawrence Jones came together with his 16 students to put together an 82-page document to MLB commissioner Rob Manfred in support of adding Galarraga to the list of perfect games.
Though the situation is one of the past, Galarraga was still touched when he heard of the class fighting for his spot.
"It's amazing, what they've done. I'm floored," Galarraga said, via Yahoo Sports.
The unfortunate situation Galarraga suddenly faced gained a lot of attention across the country. According to USA Today, "The umpire and the batter both admitted the call was wrong, but Major League Baseball's commissioner refused to overturn the umpire's decision and award Galarraga the 21st perfect game in the sport's 134-year history. Support to overturn came from the White House, the governor of Michigan and all corners of the media."
Tigers: How Armando Galarraga's perfect game came to Monmouth law students' attention
Professor Jones found a perfect opportunity to teach a lesson about the law with Galarraga's case. Though the project focused on helping him earn his spot on the list of perfect games, that was not the main objective. It was a learning moment for the students about how flexible law truly is. Jones explained how the case resonated with everyone, despite whether they were sports fans, and was a perfect case to analyze and study in looking at many aspects of the law.
"This was something, when it first happened, that really resonated with millions of people around the globe — people who are not necessarily sports fans, and that was the point. When you talk about the intersection between legal principles and social principles, it seemed to me this was a classic case for analysis and discussion. You're studying how rules are created, how rules are interpreted, principles of fairness and equality — this situation is analogous to so many areas of law," Lawrence Jones said, via USA Today.
Monmouth University students got to learn a lesson in one of the most unique and beneficial ways possible.