2022 NFL Mock Draft: Edge rushers dominate our final edition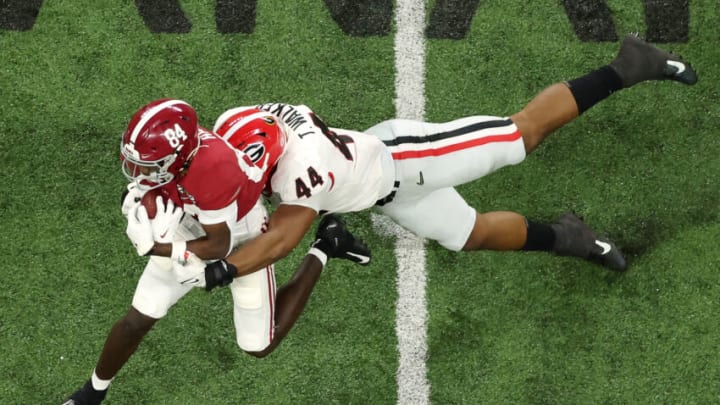 Travon Walker #44 of the Georgia Bulldogs (Photo by Dylan Buell/Getty Images) /
STATE COLLEGE, PA – OCTOBER 31: Chris Olave #2 of the Ohio State Buckeyes celebrates after a play against the Penn State Nittany Lions during the second half at Beaver Stadium on October 31, 2020 in State College, Pennsylvania. (Photo by Scott Taetsch/Getty Images) /
The New Orleans Saints second pick of the first round should focus on a position group that needs to improve if they are going to get the best out of Jameis Winston this upcoming season. The franchise has invested a lot in Winston, and hopefully, he can look like a former No. 1 overall pick, and not an inconsistent quarterback.
With the No. 19 overall pick, the Saints go wide receiver, and they get an excellent one in Chris Olave from Ohio State. This is a kid who is going to be a playmaker right out of the gate, and for New Orleans, could be the next big thing on the outside since Michael Thomas.
It has been a crazy offseason for the Pittsburgh Steelers, who have revamped their roster, saw one franchise quarterback retire, and another tragically pass away. The Steelers should still be a team to beat in the AFC North next season, as they have a ton of talent on both sides of the ball, and here, they plan for the future.
While there will not be a ton of quarterbacks taken Thursday night, one that should go is Desmond Ridder, a guy with a very high ceiling. He led the Cincinnati Bearcats to the College Football Playoff last year, a real testament to the kind of leader he is under center.
The New England Patriots ended their playoff 'drought' this past season, as rookie quarterback Mac Jones led them back to the postseason. Now, they have to start winning some games in the playoffs, as it has been some time since Bill Belichick walked off the field at a playoff game victorious.
In 2022, we fully expect the Patriots to be right back at the top of the AFC East, and while they may not pass the Buffalo Bills, a Wild Card is certainly possible. With pick No. 21 overall, they bolster the offensive line in front of Jones, adding a versatile player in Kenyon Green from Texas A&M.
What can we saw about the offseason so far for the Green Bay Packers, as it started off with a bang by re-signing Aaron Rodgers. From there, it all fell apart, but thanks to them trading Davante Adams to the Las Vegas Raiders, they will hold two first round picks Thursday night.
At No. 22 overall, the pick they got from Las Vegas, they go offensive line, as they continue to stack talent in front of their No. 1 asset in Rodgers. Sure, he wants a first-round wideout, but he also has to want to not pick himself off the ground everytime he drops back to pass.