Six-time Paralympian and 17-time Paralympic medalist Oksana Masters opens up about breaking barriers, winning gold and giving back in America and Ukraine.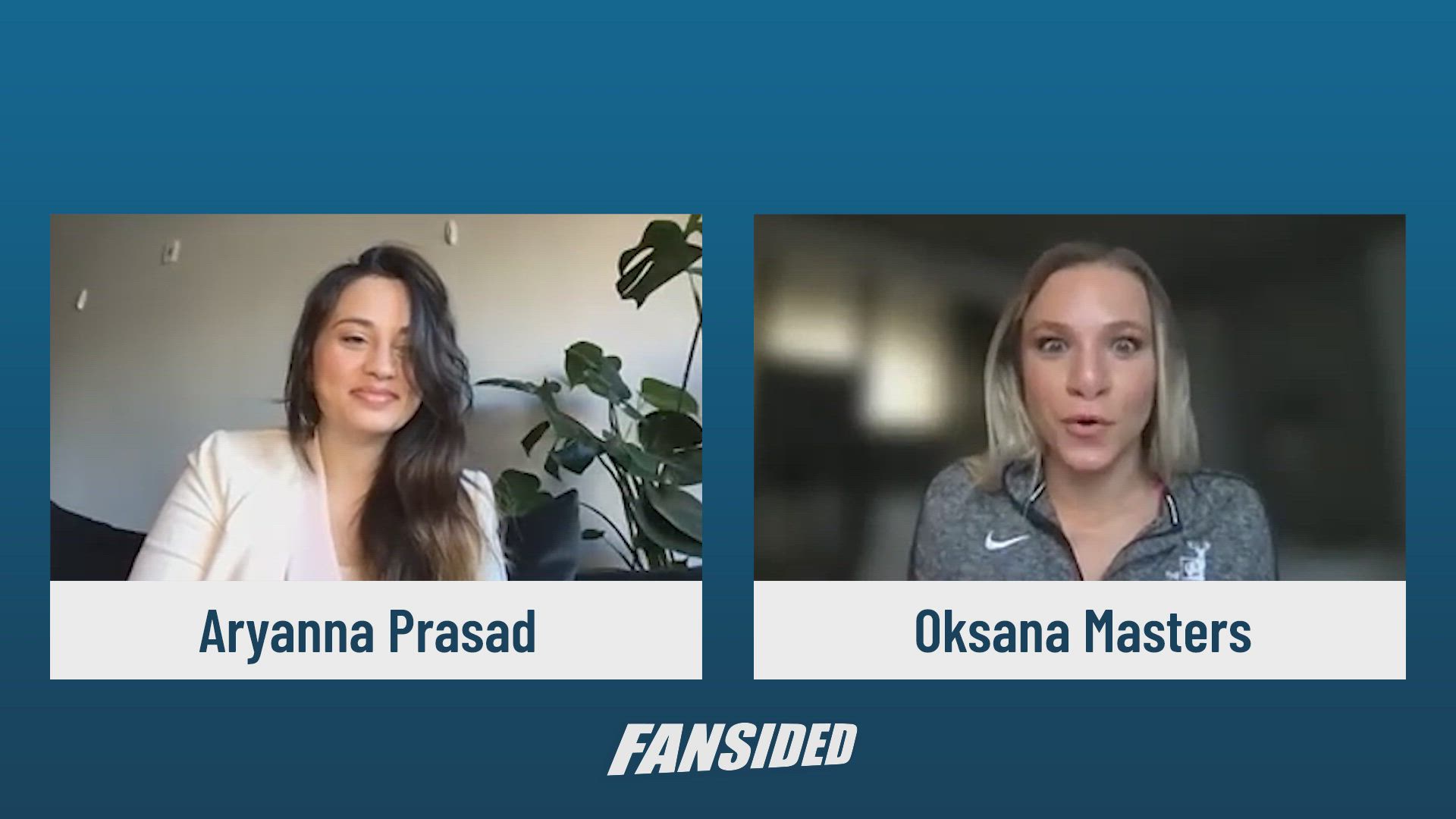 The effervescent Oksana Masters is unbelievably down-to-earth, considering the heights she's reached in her Paralympic career.
This winter, Masters became a six-time Paralympian with 17 Paralympic medals to her name, including the seven medals she took home from the Beijing 2022 Winter Games. Those seven trips she took to the podium make her the most decorated single-game winter Paralympian in history.
But as soon as Oksana returned stateside, her mind turned to what she could do for athletes who aspired to be like her. Because in Paralympic sports, accessibility is everything.
Oksana Masters is dedicated to the mission of accessibility
It's one thing for children to look up to professional athletes and dream of chasing their lofty titles, but for children with physical disabilities, watching Paralympians defeat world records can feel even more distant.
In order to participate in many Paralympic sports, athletes require state-of-the-art equipment adapted to their unique needs. When Masters won bronze in adaptive rowing at the 2012 London Paralympic Games, she rowed in a boat with a specialized seat. When Masters won the first U.S. gold medal in the 2022 Paralympic Games in Para Biathlon, she used adaptive skis that allowed her to glide over the snow during the cross-country skiing portion.
In what Masters describes as a "full-circle moment", 2023 will mark the ten-year anniversary of Masters' illustrious cross-country skiing career — and it all started with The Hartford. The investment and insurance company has a storied history of supporting Para athletes, which is why in 2013, they invited Masters to participate in The Hartford Ski Spectacular. The Breckenridge, CO event was the first time Masters strapped on skis in her entire life. Nine years later, she won three gold medals and four silver medals in cross-country skiing and biathlon events.
"When I sit back and [think about] my life, like 'Oh my gosh,' like everything's just… it was meant to be, and I didn't know it at that time nine years ago," Masters told FanSided when she reflected on that life-changing invitation. "I would one day be able to help give back and bring awareness to my sport with the company that helped me get my start in it."
"I personally thought it was just downhill skiing," Masters continued. "That's what I wanted to do, which I don't know why because I hate speed, so I just wanted to do it for the outfits, to be honest. But I was actually invited to try cross country skiing, and it was the biathlon that I fell in love with. It was everything that challenged me, and I kept failing and falling. And that's what motivated me, because I was determined to figure it out. I wanted to ski harder, ski farther and not fall. Even though I just came off an amazing experience at the Paralympic Games in London, it was starting all over, and I feel like those opportunities when you start all over as an athlete, that you learn something about yourself and you're just so hungry and just a sponge that absorbs everything that can be applied to so many different areas."
What amplifies this full-circle moment for Oksana is that after she proved to the world that she is the ultimate Para cross-country skier, she partnered with The Hartford to give other Para hopefuls the same opportunity. It was Oksana who presented the two lucky recipients with brand-new adaptive equipment through The Hartford's Ability Equipped Program.
According to The Hartford, "the surprise donation is a part of a $35,000 grant from The Hartford to Adaptive Adventures, a non-profit organization based in Westminster, Colorado, with a satellite program in Chicago, Illinois, and a member of the Move United Network. The grant enables Adaptive Adventures to purchase adaptive sports equipment, allowing them to expand their mobile adaptive rock-climbing program to underserved areas in Chicagoland and the Midwest."
"Oh my gosh, this is why I do it," Masters said. "My why transitioned from when I first started in sports going to the highest level to now where I am in my career. It's for what companies like The Hartford are doing for the next generation, and not just necessarily in Paralympic sport, but also in the adaptive sports community. [They're] bringing awareness to adaptive sports and making the adaptive equipment that comes with it accessible, because I did not have that growing up, and it wasn't accessible to me. I didn't get to try a lot of sports because I had no idea that they even existed or where to get the equipment for it."
"And yesterday I got to [present equipment] with The Hartford, which is why I love being a Team Hartford athlete, because I believe in the same mission that they're doing, which is bringing awareness and giving [equipment to] these amazing two individuals who just love sports. One was Amanda, who had to drive an hour just to use the equipment because she didn't own it. And so to be able to give her monoskis, she got to go home and could just ski whatever she wanted. That was hers. It was amazing. And for Peter, getting a handcycle to just ride for hours like he loves to do. [It was amazing] seeing their smiles and what it meant to them and the door of opportunity through adaptive sports that was just opened because of this incredible grant that was made possible through The Hartford and Move United."
Masters knows exactly what this moment meant to them because she was once in their position. Initially, she wasn't interested in trying adaptive sports, but the moment she gave sculls a shot, she felt she was meant to glide over water and ice.
"First of all, I didn't want to try adaptive sports because I didn't like the fact that I had to be put into this bubble," Masters explained. "But it was just because I wasn't aware of what adaptive sports was and I didn't get to see the power of it because it wasn't accessible or visible, and that is part of it."
"When I got onto my first sport, which was rowing, I've never felt like I belonged somewhere more in my life," Masters continued. "And that is so important when you look so different and you're constantly adapting to society to be included. And when you have the right equipment, adaptive equipment, you don't have to adapt to it. It's made for you, and you can just live and compete and just be an athlete and push your body and see the strength and power that you have, regardless of if it looks different."
"And it empowered me and it empowers hopefully all the Paralympic athletes. That's the one thing I'm just so passionate about: the accessibility and the ability to try it. Everyone deserves that, whether you're adaptive or not, to have the power and should have the ability to get into sports because it transforms your life and it teaches you teamwork. It teaches you about setting a goal and that you can set a goal and achieve a goal and set new ones."
Even though Oksana has competed in four different Paralympic disciplines — Para cross-country skiing, Para biathlon, Pararowing and Para-cycling — there are still athletic opportunities on the horizon. When asked if there are any other disciplines she'd consider competing in, Masters lit up as she described a new challenge in her thirties: learning how to run.
"Before, I didn't have the ability to get the funding or anything for equipment, and one of the things I've always wanted to do was run," an elated Masters said. "And I recently got running legs and oh my gosh, I'm like a 30-year-old woman trying to run — 32 now, but when I got them, I was 30 and not cute! I don't know how to do it because I've never done it, really. I hyperventilated, I was trying to figure out how the breathing goes so… I would be lying if I said I wasn't thinking about a Paralympic Games that had something to do with running legs, but that's me. I like to set the bar high, regardless if I get there or not. It just gives me that extra thing to work for and really, like I said before, there's something that I'm gaining physically with training, but there's also just the pure love and joy of discovering something new and learning more about myself and how to use my body in a way that I've never used it. [I'm] seeing more gifts that I do have and not what I'm missing, or that I look different."
Able-bodied individuals fail to remember their first steps, but the moment Masters put on running legs was life-changing. She quite literally jumped up and down in joy and wonder for ten minutes. Masters went on to describe what her first moments running were like.
"First of all, I've never jumped before, so I was jumping up and down for 10 minutes," Masters said. "Because I'm an amputee above the knee, so I can't squat. I can't bend my knees. I don't have the feet. And so just, this feeling of jumping… Ah! It was so much fun. And then running, I felt so, so fast. I've never felt being propelled in air like that, and it's just your body, and I mean… The running legs, the springs are propelling me, but to be able to do it in that way. It was just like when I got my first hand cycle and biked — once again, when I was twenty-something — and it's just things that everyone does that has fully-functioning limbs without even thinking. Growing up, you get a bike, and that's just such a part of your childhood. Everyone remembers their first bike and that monumental moment of going from training wheels to two wheels and running. Everyone runs. It's a mode of transportation and it's something that every single human has the ability to just do, but [we] have access too if we're given the opportunity through the equipment that allows us to do it."
While Oksana was empowered to win it all in Beijing, she was also deterred from one particular activity: showing solidarity for her Ukrainian kin. Oksana, who is originally from Ukraine, wanted to simply put a Ukrainian sticker on her skis. Because there is a strict policy on political activism at the Olympics and Paralympics, Oksana's sticker was removed.
"It was heartbreaking. It was heartbreaking, honestly, to go into the Games. I'll never forget — we were in Los Angeles doing our team processing when everything happened, and I went from, within two hours before that happened, from being so excited. This is my full-circle moment. This is the city that I learned about the Paralympics [in 2008]. I wanted to make it and didn't make it, and now, I'm gonna be able to go and so excited for that opportunity.
"Then that happened on [February] 24th, the invasion in Ukraine, and honestly, I didn't want to go," Masters admitted. "I just felt like it was so selfish of me to compete in a sport. And then not only compete in a sport, but know I'm going home after that somewhere safe. And that's what really was hurting me the most."
"And I have family in Ukraine. I have been so proud to be Ukrainian, whether it's now, but also I have been so proud from day one. Coming to America, that's what I said: 'I'm Ukrainian, I'm Ukrainian.'"
"It was heartbreaking competing under those circumstances, but also not being able to represent where I come from. Because it's not just me, wanting to show my support for Ukraine, which I do, but it's me showing where I come from, and that girl who's watching, if she was adopted, she can represent those two places and know where she came from. It's powerful, and it gives me strength."
"To be able to have my stickers, without any reason, be covered up and taken off multiple times, it was… it hurt, it hurt so much. But what didn't hurt and what helped make me smile more in those moments was when I got back to the [Paralympic Village] and I saw that The Hartford had lit up their tower in Ukrainian colors. And that just melted my heart because they care more than just what I do in Beijing. They care more than me as an athlete. It's as a whole human, of where I come from, and they respect that and are standing in solidarity and supporting and bringing awareness to this really dark moment. When we all stand together, we can make it bright, and that's just the power of sports, and that's why it's so important that everyone has the ability to be in sport. Because you can be united, and that's what, on the starting line, I wanted to show the power and the strength, and that's what the outlet of sport helped me do."
In Oksana's full-circle moment, she won more medals than any Winter Paralympian, became more decorated than ever, and reflected on what it means to be Ukrainian-American while a global tragedy takes place. And in that moment, she did everything that makes her an unparalleled champion: she meditated in gratitude for all that she has, thought about how she could give back to others with her platform, and started thinking about the next Para sport she could sprint towards in 2024.
Why We Play features stories about the power of sports to bring us together, overcome obstacles, make positive change and reach everyone. Read more here.