Overhead view of Rich Strike winning Kentucky Derby is absolutely insane [Video]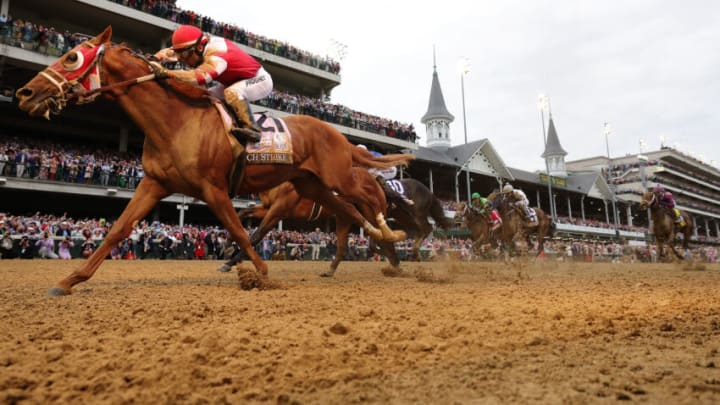 LOUISVILLE, KENTUCKY - MAY 07: Rich Strike with Sonny Leon up crosses the finish line to win the 148th running of the Kentucky Derby at Churchill Downs on May 07, 2022 in Louisville, Kentucky. (Photo by Rob Carr/Getty Images) /
You may have seen the broadcast view of Rich Strike winning the 148th Kentucky Derby, but check out this overhead view.
Rich Strike was an alternate for the 148th Kentucky Derby. Sure enough, it got the call after Ethereal Road was scratched on Friday, May 6, the day before the big race. With 80-1 odds, Rich Strike pulled off the second biggest upset in history of "The Race for the Roses," as it ran past Epicenter down the stretch to win.
You may have seen the regular television angle of the victory, but it's got nothing on this overhead view provided by NBC Sports. You can see just how quick the horse was running down the stretch to take the late lead.
This overhead view of Rich Strike's Kentucky Derby win is insane
https://twitter.com/nbcsports/status/1523104042427334660?s=21&t=c4P2bcorwnjWFt_oTgzfLg
Just an incredible camera angle on perhaps the biggest upset in recent memory. As mentioned earlier, there was only one horse with longer odds to win the Kentucky Derby, and that was Donerail all the way back in 1913.
How did Rich Strike celebrate the huge victory? Well, by biting the guide ponies immediately following the race.
If you wanted to know the full finishing order for the Kentucky Derby, you can do so by clicking this link.
The second leg of the Triple Crown is not that far away. The Preakness Stakes takes place on Saturday, May 21.