David Benavidez bulldozes David Lemieux for round 3 KO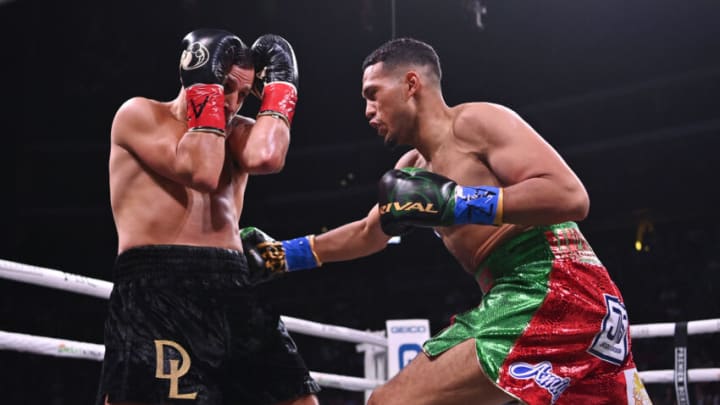 GLENDALE, ARIZONA - MAY 21: David Benavidez (R) throws a right at David Lemieux during their WBC Super Middleweight Interim Title fight at Gila River Arena on May 21, 2022 in Glendale, Arizona. (Photo by Kelsey Grant/Getty Images) /
David Benavidez performed as expected against David Lemiuex, stopping Lemiuex in round 3 of their WBC interim super middleweight title bout.
David Lemieux was a heavy underdog against undefeated super middleweight David Benavidez, but he brought the right strategy to the ring at the Gila River Arena on May 21.
Unfortunately, Lemieux's strategy couldn't slow down Benavidez.
Benavidez had his way with the smaller Lemiuex, dropping him once and forcing a corner stoppage in round 3 of their Showtime WBC interim super middleweight title boxing bout. Lemieux displayed heart, but he took too much damage.
At over 6-feet tall, Benavidez had over a 3-inch height advantage over Lemieux. Lemieux tried to eliminate Benavidez's height and reach advantages by getting inside on Benavidez.
It worked to a degree as Lemieux delivered some power shots, but the calm Benavidez mostly blocked them. The other problem was that Lemieux had to eat Benavidez's arsenal on his way in, which was too tall of a task.
In the closing seconds of round 1, Benavidez bludgeoned Lemieux with a combination ending with a left hook that sent Lemieux tumbling against the ropes, which kept him upright.
David Benavidez dispatched David Lemieux in round 3 and hopes to fight Caleb Plant before the year's end
The referee looked like he was stopping the fight as he interjected a second or two before the bell rang, but he allowed a groggy Lemieux to stumble to his corner and continue fighting.
Lemieux kept trying, but Benavidez kept landing.
About 20 seconds into round 2, Benavidez had Lemieux down on the canvas. His left hand sent Lemieux partially through the ropes on the ring's outer edge.
Lemieux got up and kept fighting to finish the round, to everyone's surprise.
Lemieux entered round 3 but again took a lot of punishment from Benavidez. His face was bloody, and he offered less resistance, which forced his corner to stop the action.
To Lemieux's credit, he protested the stoppage and wanted to continue fighting. However, there was no point. This fight was only going to end in a Benavidez victory.
After his round 3 KO of Lemieux, Benavidez is looking for a significant fight. Canelo Alvarez is the undisputed super middleweight champion but is likely to fight Gennadiy Golovkin or Dmitry Bivol.
Benavidez told FanSided leading up to the fight that he felt former IBF champion Caleb Plant would be next before the end of 2022. Let's hope he's right, as that would be an epic grudge match.