Paige announces imminent departure from WWE, vague on future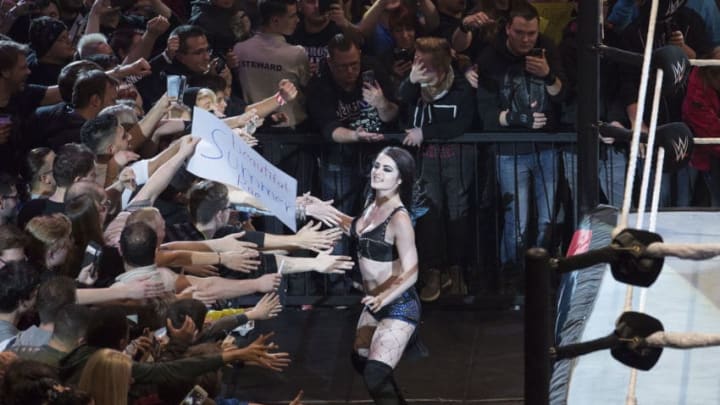 COLOGNE, GERMANY - FEBRUARY 11: Paige during WWE Road to WrestleMania at the Lanxess Arena on February 11, 2016 in Cologne, Germany. (Photo by Marc Pfitzenreuter/Getty Images) /
Former WWE Diva's Champion Paige announced when her contract with the company officially expires.
Former WWE Diva's Champion Paige has not competed in the ring since 2017, but was still under contract with the company.
But on Friday, June 10, the superstar released a lengthy statement announcing that her contract with WWE expires on July 7. She took the time to thank the company and the fans, before providing an update on her future in the ring, saying "that day will most certainly come again."
You can read her full statement below:
Paige announces her WWE contract expires on July 7
Paige tried out for WWE back in 2011 at the age of 18, and she received an offer for a contract. She instantly became one of the company's fastest rising stars, as she won the NXT Women's Championship in 2013, a title she held for 308 days.
On the Raw following WrestleMania 30, Paige made her main roster debut during an in-ring segment with then-Diva's Champion AJ Lee. In an impromptu match, she defeated Lee to win the Diva's title at 21-years-old.
Paige's in-ring career with the company was cut short due to neck injuries. She missed time in 2016 before making her return in 2017 as the leader of Absolution alongside Mandy Rose and Sonya Deville. However, she re-injured her neck during a tag team match with Rose and Deville against Sasha Banks, Bayley and Mickie James. In early 2018, Paige announced her retirement from in-ring competition.
Even after retirement, Paige remained on television, notably being the general manager of SmackDown in 2018. She then became the manager of the Kabuki Warriors (Asuka and Kairi Sane) in Apr. 2019, a role that would last until the team turned on her that fall.
It will remain to be seen if Paige joins another wrestling promotion in hopes of resuming her in-ring career. But all we know is that she will no longer be a part of WWE come July 7.
Be sure to stay tuned to FanSided for all your WWE, AEW and Pro Wrestling coverage from unique analysis to fun angles, to viral content and much more.