The Ukrainian surf community still hangs in the balance of world events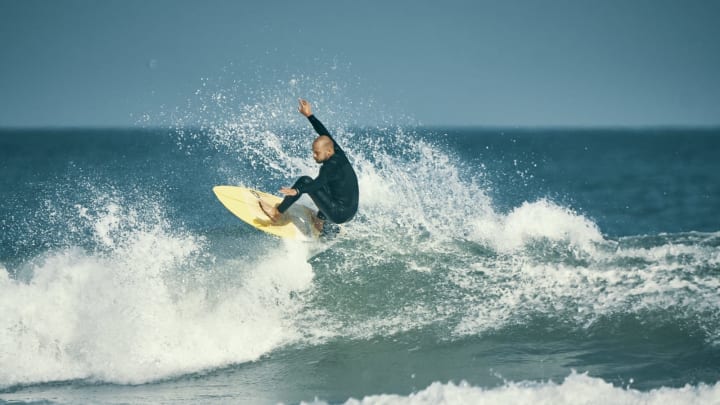 The Ukrainian surf community was growing, on the verge of making their presence felt on the world stage. But the Russian invasion has changed everything.
Located on the coast of the Black Sea, the city of Odesa is known as a summer destination during peacetime for Ukrainians. Surfing is relatively new but has become an increasing part of the city's spirit. The surf community comprises a small yet close-knit group of hardcore cold water surfers, braving freezing temperatures with 6.5 mm wetsuits, hoods and boots to paddle out to fickle breaks along their coastline.
"Honestly, it's hard to surf here," says Vasiliy Kordysh, President of the Ukrainian Surfing Federation. "Sometimes we have good waves but only in the wintertime and it's pretty cold outside and the waves are not for beginners. They are pretty fast and come from windswell rather than groundswell. So most surfers have to first learn outside of the country at other places like Sri Lanka and the Canary Islands."
Vasiliy himself had learned to surf on the shores of Odesa at the age of eight, having been exposed to wave riding by his father, who is a windsurfer. "When I was young, I didn't have enough power to pick up a sail," explains Vasiliy. "So instead, I tried surfing. In the beginning, I was scared of the water, but as I got more comfortable, I became addicted to surfing, and now it's just a part of who I am."
In recent years, the Ukrainian surf community had begun to build momentum. Vasiliy's work involved taking Ukrainians on surf trips to other countries. "Year by year, the surfing community began to grow, so my friends and I helped to develop national surfing competitions and decided to register the Ukrainian Surfing Federation before anyone that didn't know the first thing about surfing here could."
In 2018, Vaisily registered the Ukraine Surfing Federation with the International Surfing Association (ISA). Then in In May 2021, Ukraine's debut at an ISA World Championship was hailed as a milestone that was hoped to "immediately affect the development of surfing in our country." As the ISA's 109th member nation, the country sent three surfing athletes to the World Surfing Games last year in El Salvador. It was hoped that this event would help inspire a new wave of Ukrainian surfers to join their growing community.
Photo Credit: Vasiliy Kordysh /
Then the following year, the unthinkable happened. Shockwaves were sent around the world as Russian troops invaded Ukraine, forcing a mass exodus of civilians into neighboring countries. Ukraine is currently under martial law, prohibiting men between the ages of 18 and 60 from leaving the country. Many of the close-knit Ukrainian surfing community have hung up their wetsuits and committed to helping defend their home, including Vasily Kordysh, who remains in his hometown of Odesa, a south coast port city facing the Black Sea.
"The situation is constantly changing," says Vasiliy. "In the beginning it was shocking, but after a while, it became about trying to live a normal life, which is hard because we're in a pretty bad economic situation. But you get used to it. I'm still skateboarding and working from my laptop. For the past month, it was pretty calm, but the last few days have been active again. This morning, I woke up to the sound of bombs in the distance, but thanks to our air defense system, the rockets aimed for Odessa ended up in the sea. It has been happening for the past four days now, and every day we hear the alarms warning people to go into bomb shelters."
The Russian invasion could disrupt surfing on the Ukrainian coast for years
Vasiliy can still see his local surf break, but he's unable to paddle out. Even if the war ended tomorrow, life couldn't go back to normal — especially for the surfing community. There are now live mines in the sea that will prevent surfers from paddling out for years to come. For the Ukrainian Surfing Federation to continue towards its goal of getting more Ukrainians surfing, they will have to set their sights on breaks in other countries, by organizing surf trips and hosting national competitive surfing events on the shores of other nations.
"No one tries to surf because it's pretty dangerous," says Vasiliy. "No one knows how many mines there are. The day before yesterday, one guy was outside of the main city and walked along the shore, where a mine detonated and killed him. It's too dangerous to be in the water now."
"In the future, we hope to host a national competition outside of Ukraine. Somewhere like Portugal for example, because it's easier to predict the swell. But right now, our surf community is focused on the victory of Ukraine. We volunteer where we're needed and when we have the opportunity to make money, we send it to the military forces to help however we can."
Photo Credit: Vasiliy Kordysh /
Despite martial law, Vasiliy hopes that with the Ukrainian Ministry of Sport's blessing, he can send the best Ukrainian surfers to fly the flag for their country at this year's ISA World Surfing Games in Huntington Beach, California in September of this year.
"Focusing on the sport helps us to think of something other than the war, and live our lives with some normalcy," says Vasiliy. "We have to live with it, and we have to do the best we can in the competition to bring as much glory to our country as we can. I'm trying to get the documents together to get our surfers to the World Surfing Games this year, but I'm not sure if the Ministry of Sport will give me the opportunity."
"We're trying to work more closely with the Ministry of Sport and the National Olympic Committee, but everything is still in development. Even if not, we have some athletes outside of Ukraine that left before the war started, and we're trying to motivate them to participate. It's a tricky process because we're in a war, and it's a new reality, but even with just the Ukrainian athletes that live in other countries, I'm confident that we can and should still represent Ukraine at this event to show dedication to our country."
The only female Ukrainian competitor at the 2021 ISA event was Anastasiia Temirbek, who entered heat 8 and finished with a score of 3.07, finishing fourth. Originally from Mariupol but currently based in Bali, Anastasiia is fiercely passionate about representing her country. Having learned to surf on trips to surfing hotspots like Indonesia and the Maldives, her high-level surfing skillset earned her a place on the Ukrainian surfing team.
"Ukraine is a seaside country. We have no ocean, so to qualify to represent Ukraine, I just needed to catch the right waves. Then at the ISA event, our main goal for the Ukraine team was to represent our country, to show other people what could be achievable. Again, my goal was just to catch waves, and I did that. But next time, I will aim higher. Maybe our country doesn't have the same surfing experience as Australia or the United States, but with this first event, we have opened doors to let more Ukrainian surfers enter the world stage of surfing and compete against the best in the world."
Anastasiia made history by becoming the first-ever female surfer to represent her country. Then during the pandemic, she moved to Bali to continue her surf training, unaware of the devastating events that were about to unfold back home.
"I have been in Jimbaran for over a year now," says Anastasiia. "After the invasion, surfing was hard. I found it difficult to find any joy knowing what was happening back home. I remember that first session back in the water, I was there for an hour paddling around for waves and eventually found myself focused on surfing instead of constantly thinking about trying to solve problems at home with my family. The ocean helped to heal me so much. I'm not sure how I'd have handled all of this stress and hard news without being able to come back to the water to witness the waves breaking. When you see the beauty of the ocean after feeling sad for so long, something beautiful comes from the sadness. It brought me a sense of hope that this nightmare will end."
Anastasiia's favorite Balinese surf break is Airport Lefts, located just in front of the Denpasar airport runway, which is slightly bigger and more famous than nearby Kuta Reef, but not as hollow. It offers high tubes and a workable shoulder, with two distinct takeoff peaks.
Although the war may have briefly halted the development of Ukrainian surfing, it hasn't faltered the passion held by the tight-knit community of Ukrainian surfers dotted around the world. If we've learned anything from the past few months, it's just how resilient the people of Ukraine can be. Even though the surf breaks are no longer safe, it's clear that Ukrainian surfers are here to stay.
"I believe our Ukrainian surf community will develop," says Anastasiia. "We have shown that Ukrainian surfers can make it to the World Surfing Games, so now the road is open. You just need to train and go represent your country."