NHL Draft Predictions 2022: Top-10 mock draft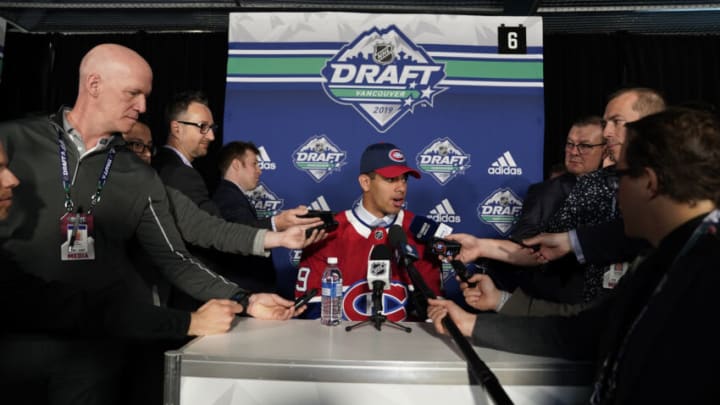 VANCOUVER, BRITISH COLUMBIA - JUNE 22: Jayden Struble speaks to the media after being selected 46th overall by the Montreal Canadiens during the 2019 NHL Draft at Rogers Arena on June 22, 2019 in Vancouver, Canada. (Photo by Rich Lam/Getty Images) /
PETERBOROUGH, ON – MARCH 29: Shane Wright #51 of the Kingston Frontenacs skates against the Peterborough Petes in an OHL game at the Peterborough Memorial Centre on March 29, 2022 in Peterborough, Ontario, Canada. (Photo by Ken Andersen/Getty Images) /
We are just hours away from the 2022 installment of the NHL Draft. Let's dive into what the top-ten selections could look like.
The 2022 NHL Draft will be held July 7 and 8 in Montreal with the hometown Canadiens set to have the very first pick. Round one will be held Thursday beginning at 7pm ET and rounds two through seven will be held Friday beginning at 11am ET.
https://twitter.com/PR_NHL/status/1545063846108434432
The Tampa Bay Lightning, the losing team in this year's Stanley Cup Final, will pick 31st and the NHL champion Colorado Avalanche pick 32nd but they traded the pick to the Arizona Coyotes earlier in the year for Darcy Kuemper, who ended up playing a key roll for the Avs in the playoffs.
All 16 teams that missed out on the playoffs this year took part in a draft lottery for their first two selections. Following the hometown Canadiens will be the New Jersey Devils, who landed pick No. 2. Rounding out the top-ten is the Arizona Coyotes, Seattle Kraken, Philadelphia Flyers, Columbus Blue Jackets, Ottawa Senators, Detroit Red Wings, Buffalo Sabres and finally, the Anaheim Ducks.
2022 NHL draft: Mock draft predicting the top-ten selections
18-year-old Shane Wright is by far the most talented and physically gifted player in this year's draft class. The Montreal Canadiens are likely to draft a position of need first and they will not only land a new center but their newest superstar.
Wright scored 94 points in the regular season last year with the Kingston Frontenacs of the Ontario Hockey League (OHL) and then tacked on 14 more in postseason play.
The top prospect is from Canada and would be an excellent choice for the Canadiens to pick in front of their hometown supporters.
The presence of both Jack Hughes and Nico Hischier mean that the New Jersey Devils don't need to bring another center like Logan Cooley aboard. Instead, the Devils are likely to bring aboard the best available winger in Juraj Slafkovský.
"Slaf" has been regularly labeled as the most NHL-ready prospect thanks to a combination of his size (6'4 220lb.) and speed on the ice.
Look for the Devils to take the best non-center player available so if/when Montreal snags Shane Wright, Slaf is the easiest choice to go No. 2.
It doesn't take long to take a look at the Arizona Coyotes roster and realize that they could use help at pretty much every single position. Enter Logan Cooley, who is the best center available not named Shane Wright. Cooley is a skilled, high-pace player who is regularly regarded as one of the best points-scoring options available in this year's class.
Cooley's most recent tenure in professional hockey was with the US National Team Development Program or the NTDP. There, he was the second-best in points scored, putting up 75 (27 goals and 48 assists) in just 51 games. He helped the NTDP out in the league's championship as well, scoring ten points in six games, helping the team finish second in the IIHF World Under-18 Championship standings.
Šimon Nemec is the perfect choice for the rebuilding/retooling Seattle Kraken. At last year's trade deadline, the NHL's newest team traded away veterans in an effort to accumulate prospects and draft picks, so landing someone like Nemec to shore up their defensive line would help the club immensely.
Nemec isn't likely to be a star right away but with the Kraken in the shape that they are, he will have plenty of time to develop in their system.
Last season, Nemec played in Slovakia, where he scored the most points ever by an 18-year-old defenseman in the IIHF World Championship's history. He is an exceptional two-way player who handles himself well on the ice, making for an exciting addition to this Kraken team's core.
Few in the industry expect Cutter Gauthier to go this high in the draft, but I believe he'll be the first true surprise pick. Gauthier is a very physical player who has put in the work to hone in on his craft and improve his game across the board, focusing on doing more than "just putting the puck in the net".
The young Boston College-bound player is yet another early representative from the US NTDP, where he put up the second most goals (34 in 54 games). Next season, it has been said that he will get an extended look at center with Boston College, adding to his versatility that new Philadelphia Flyers HC John Tortorella has been known to have a soft spot for.
The Chicago Blackhawks were initially set to pick sixth in the NHL Draft before they traded said pick to the Columbus Blue Jackets alongside defenseman Seth Jones in exchange for more draft picks and defenseman Adam Boqvist.
David Jiříček is certainly a candidate to go higher than this, as he has already been linked to the Kraken as a possibility to draft him. Truthfully, he is interchangeable with Šimon Nemec. The two players are likely to end up on the Blue Jackets and Kraken respectively, which one lands where remains to be seen.
Jiříček, like others before him, is a strong two-way defenseman who has been described as "mobile, assertive, and capable of generating offense from the back end". The 18-year-old suffered a knee injury earlier in the season but has been utterly dominant playing in Czechia's top professional league when he's healthy.
Finnish winger Joakim Kemell could easily be a top-five pick in this year's draft but I believe he will fall to the seventh pick and the Ottawa Senators will be thrilled with that. Kemell has a ton of speed and physicality and uses his slightly smaller frame to move swiftly across the ice.
Without the presence of a true star on their team, the Senators make perfect sense in a union with Kemell, who could inject some life into the team and form a dynamic duo alongside Tim Stützle if he is able to capitalize on the potential that so many have seen in him.
Savoie falling to the Detroit Red Wings all the way down to ninth in the draft feels like a steal. He does not come without his fair share of question marks but many players his age do. Scouts have criticized his game because of his lack of separation speed, saying he may not ever reach his full scoring potential, but he seems likely to overcome this in time.
There are certainly positive notes in his player profile, including his work ethic and competitiveness. Savoie has frequently been complimented in the form of scouts saying that "there are absolutely no players in this class who work harder than Savoie", which is certainly saying something.
Marco Kasper, a versatile Austrian who has gradually climbed the rankings ladder over the past year or so, has developed very nicely while playing hockey in Sweden and seems to be NHL-ready.
The Buffalo Sabres are seemingly set for the future with youngsters Peyton Krebs and Jack Quinn representing exciting players on the club, and adding someone like Kasper to the fold would be the cherry on top.
Scouts have occasionally knocked Kasper for already being fully developed and having no real room to grow but others are confident that there's a whole other level to his game, one that teams would luck out big time with if he is able to tap into that potential that some see.
With such a large amount of defensive talent available in this year's draft, the Anaheim Ducks would be smart to draft a more offensive-oriented player first and grab one of the many defenders left in the second round. Enter Jonathan Lekkerimäki who, like Kasper, has gradually climbed the rankings over the course of this past season.
Lekkerimäki is a high-energy player who would fill the void that has hindered the franchise for some time. Lekkerimäki has yet to even turn 18 years old, so he is one of the younger available options near the top of the class but his quick hands and serious star-caliber-potential can and likely will steer him to Anaheim, where he'll pair nicely with centers Mason McTavish and Trevor Zegras.