Fans react to Russell Wilson and Ciara's outfits at the ESPYs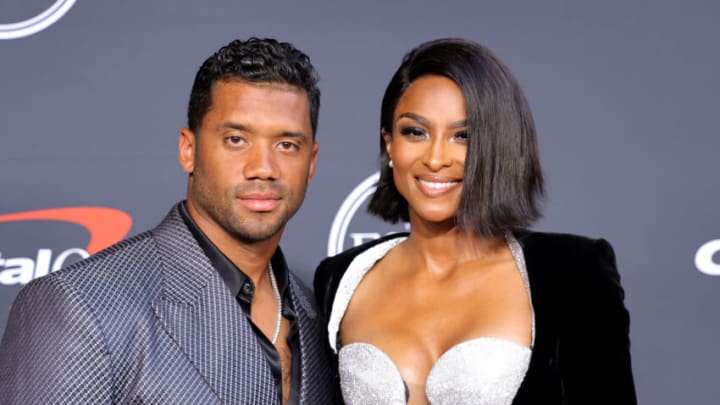 Russell Wilson and Ciara attend the 2022 ESPYs. (Momodu Mansaray/WireImage) /
Fans watching the ESPYs had lots of thoughts about what Russell Wilson and Ciara were wearing on the red carpet and while presenting the Pat Tillman Award.
There were tons of sports stars and celebrities at this year's ESPY Awards in Los Angeles. Few of them made waves on social media quite like Russell Wilson and his wife Ciara.
The power couple appeared on the red carpet in outfits that definitely split opinions.
Wilson was in an unconventional suit, with a coat that was split in half between a black bottom and a silver top.
It was Ciara who really drew most of the attention with a black gown open at the chest to reveal a silver bra.
Fans react to Russell Wilson and Ciara at the ESPYs
Fans on the internet had a lot to say about the fits.
Some made jokes.
Others loved it.
Quite a few really didn't like the look.
https://twitter.com/sparklingworter/status/1549929708812488707
Wilson and Ciara were on stage to present the Pat Tillman Award to Gretchen Evans, a retired Army Command Sergeant Major who formed Team UNBROKEN, a group of veterans and civilians who participate in adventure races around the world.
Wilson is getting ready for his debut season with the Denver Broncos after he was traded by the Seahawks in March. He spent 10 years in Seattle, winning a Super Bowl and notching nine Pro bowl nods.
Ciara, who married Wilson in 2016, just released a single "Jump" ahead of her eighth album dropping later this year.