Wake Forest football 2022 season prediction, preview, awards, 2022 bowl game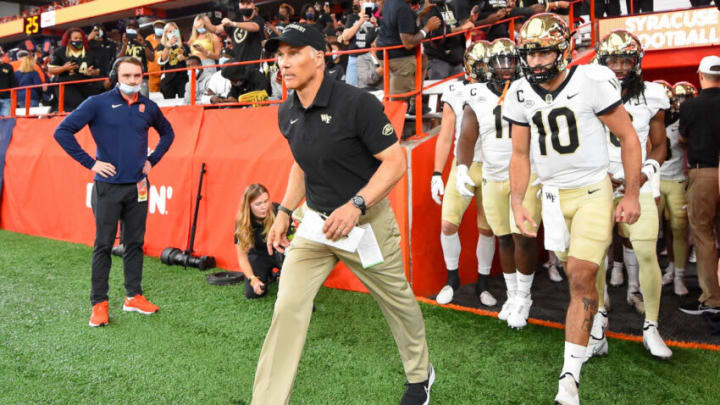 Oct 9, 2021; Syracuse, New York, USA; Wake Forest Demon Deacons head coach Dave Clawson leads his team on the field prior to the game against the Syracuse Orange at the Carrier Dome. Mandatory Credit: Rich Barnes-USA TODAY Sports /
Entering a season with sky-high expectations for Wake Forest football, the Demon Deacons are already up against the 8-ball. 
After an electric 11-win season — a near unheard of feat for Wake Forest football — Dave Clawson was set to enter the most highly anticipated season yet for him at the helm of the Demon Deacons in 2022. Unfortunately, things have already gone off the rails with the news that star quarterback Sam Hartman is out indefinitely to start the season with a medical issue.
That limits the ceiling for the Deacs and, frankly, it'd be hard to put them inside the Top 20 of our preseason rankings if we'd had that news prior to compiling our Top 50. But alas, Hartman will return this season and, perhaps, allow Wake Forest to live up to that billing.
Coming at in No. 16 on FanSided's Preseason Top 50 Rankings, the Wake Forest Demon Deacons!
Wake Forest football 2021 season in review
Winston Salem ain't never seen ball like this before.
While Wake Forest football has been impressive for such a small school in the ACC at times under Clawson, last year was a masterclass. The Demon Deacons surged behind a prolific passing offense to being one of the most exciting teams in the country and one of the more successful as well.
After an 8-0 start and a run through some lesser teams in the conference, Wake got clipped in a shootout against North Carolina — the odd non-conference game against a conference opponent — where there were 113 combined points scored. But they bounced back on Tobacco Road to knock of NC State the following week. And even a loss to Clemson still didn't stop the Deacs from punching their ticket to the ACC Championship Game, an unfortunate but thrilling loss to Pitt.
Even still, Clawson got his team to 11 wins with a victory over Rutgers in the Gator Bowl, which raised the bar for what this team is capable of, particularly with all of the returning talent on the roster.
Previewing Wake Forest Demon Deacons offense for 2022 season
Returning starters (9): QB Sam Hartman*, LT DeVonte Gordon, RT Je'Vionte' Nash, LG Sean Maginn, RG Loic Ngassam Nya, OC Michael Jurgens, RB Christian Turner, WR A.T. Perry, TE Blake Whiteheart
Newcomers: 4-star RB Demond Claiborne, TE Jaeger Bull (Rice)
Impact player: A.T. Perry
Looking at the offense is one of the primary reasons that the loss of Sam Hartman to start the year is so devastating. This is one of the most experienced units in the ACC with a 7-deep roster of offensive linemen who have been in the program for several years and made starts and an experienced and talented group of skill players.
Despite the loss of Jaquarii Roberson, A.T. Perry had over 1,200 receiving yards last year and figures to be a start at the position in 2022 no matter who's at quarterback. He's joined by a returning Donovan Green, who flashed in 2020 but missed last season due to injury. Moreover, a deep and productive running back room led by Christian Turner and Justice Ellison now adds the highest-ranked recruit of the Dave Clawson era, Demond Claiborne. And then Blake Whiteheart is a team captain who could be one of the best tight ends in college football.
But the real question is what redshirt sophomore Michael Kern gives this team for as long as Hartman is out. A former 3-star recruit, we simply haven't seen enough of him on the field to know what he's capable of. There is reason to have faith in Clawson's skills with talent development, but it's a massive unknown that could make or break the early-season slate in Winston Salem.
Previewing Wake Forest Demon Deacons defense for 2022 season
Returning starters (7): DE Rondell Bothroyd, DT Tyler Williams, DT Dion Bergan Jr., LB Ryan Smenda Jr., CB Caelen Carson, S Nick Andersen, S Coby Davis
Newcomers: DT Kobie Turner (Richmond), S Brendon Harris (Vanderbilt)
Impact player: Ryan Smenda Jr.
Even if there are only seven proverbial starters returning, the Wake Forest defense is set up nicely to improve from where they were a year ago. Rondell Bothroyd is the anchor on the defensive line but he hs a couple of talented cohorts on the end with Jasheen Davis and JaCorey Johns rotating in. The interior of the line is stout and eep as well.
There is some talent to replace int he secondary but there is also a wealth of experience with Carson, Andersen and Davis in the fold along with guys who have seen their share of snaps in recent years filling in the margins around that core trio.
Linebacker is the biggest concern but the return of leading tackler Ryan Smenda Jr. should help that quite a bit. He's an extremely talented and experienced player in the middle of the field who could help to cover up any warts from players around him stepping into larger roles for the 2022 campaign.
Wake Forest football players awards watch for 2022 season
Sam Hartman was arguably the best awards candidate on the Wake Forest roster but, with his absence, we're going to shine the spotlight on a trio of other players who made preseason watchlists.
A.T. Perry, Biletnikoff/Maxwell
You do have to wonder if Perry's production is going to take a major hit with Hartman not tossing him the pigskin early in the season, but the wide receiver is an elite talent and should overcome that and singlehandedly give the offense a boost that, in turn, also raises his own profile.
Blake Whiteheart, Mackey
Wake Forest doesn't exactly make tight ends the focal point of the offense but the team captain had a career-high 185 yards and three scores last season while being a terrific blocker as well. He's probably not taking down the bonafide stars at tight end in the country for the Mackey, but he deserves his flowers for being on the watchlist.
Michael Jurgens, Rimington
The longtime pivot on the experienced offensive line, Jurgens is the anchor who will keep the engine turning in the trenches and should get serious consideration if the Demon Deacons front lives up to its potential this season.
Wake Forest football biggest game on 2022 schedule
If we knew Hartman would be back on the field by Week 4, then Clemson's trip to Winston Salem would be the easy target for the biggest game of the year as the Demon Deacons trying to pull off that upset is a huge game.
But my best guess from the way that things have been talked about regarding the quarterback (and to be clear, this is merely conjecture) is that he will be out until at least the open week on Oct. 15, so essentially half of the season. As such, I'm looking later in the season when this team will need to pick up wins.
Should that be the timetable for Hartman, there's a real chance that they come into the back-half of the season sitting at 4-2 or even 3-3 and needing to make up some ground across a tough slate. As such, the trip to Raleigh on Nov. 5 to play NC State will be pivotal. That's a game Wake Forest captured last season but the Wolfpack figure to be one of the ACC's best this season, meaning a hopefully healthy Demon Deacons squad will need to stave off a revenge game and pick up a crucial victory.
Wake Forest football best-case scenario
Again, the Hartman factor complicates things for the Demon Deacons. The good news, however, is that Wake Forest isn't tested by the best teams on their schedule outside of Clemson to start the year. Even without their star signal-caller on the field, it's hard to see this team losing to VMI, Vanderbilt or even Liberty, a team that should be much less daunting without Malik Willis on the field.
I don't see the Deacs beating Clemson, but their experience could very well propel them past Florida State and Army to start off at 5-1. That leads us to the true best-case scenario with Hartman returning after the open week, which gives Wake a distinct advantage against Boston College and at Louisville, even if those aren't easy wins.
With that, Hartman's return and a couple of games to get his legs back under him could lead to an exciting upset over the Wolfpack. Then things ease up as UNC could be good again but has a ton of questions while Syracuse and Duke should be surefire wins to end the year.
All of this being said, it depends on Hartman's return. But in this scenario, we're going with an 11-1 regular season for Wake Forest football, continuing to build on last season's monumental campaign.
Wake Forest football worst-case scenario
Here's where things could get a bit dire. I still don't foresee VMI, Vandy or Liberty giving the Deacs a problem but Wake Forest then reeling from three straight losses going into the bye week isn't out of the question as Clemson is almost a sure loss while Florida State could be a sleeper and Army gave them fits with the triple-option even last season.
That would leave the team at 3-3 entering the off week and in a tough spot. Moreover, if we're talking worst-case scenario, then you have to imagine the world where Hartman doesn't return until later in the year, if at all. That would make losses to BC and Louisville likely with their offenses, which is also the case at NC State, giving the Deacs six consecutive losses and a 3-6 start.
My doubts about the Tar Heels and then the state of Syracuse and Duke still lead me to believe that Wake Forest could get to 6-6 and a bowl game, but that'd be a highly disappointing outcome given what this group could be capable of if their quarterback is on the field.
Wake Forest football 2022 season prediction
The fact that Dave Clawson has stated outwardly he still expects Hartman back gives me optimism about the overall outlook for Wake Forest. In the first half of the season, I do believe the team can start 5-1 without their quarterback if he is eased back onto the field as there are warranted doubts about Florida State and the defense should be better prepared for Army.
With the uncertainty around Hartman's potential return, the tough stretch with BC, Louisville and NC State is likely going to result in two losses for the Demon Deacons with my best guesses being the two road games at Louisville and at NC State. But again, that leaves a relatively soft finishing stretch for Clawson's team to take advantage of.
Even with the wrench that the Hartman news threw into the equation, I'm still marking Wake Forest down for a 9-3 regular season finish. It likely won't be enough for a repeat trip to the ACC Championship Game but, given the circumstances, that would be a massive victory overall for this program.
Wake Forest football 2022 bowl game prediction
Bill Bender of Sporting News has Wake Forest projected to play in the Tony the Tiger Sun Bowl on Dec. 30, a game that would pit them against the Oregon State Beavers.
Up Next: No. 15: Cincinnati Bearcats
Other articles in this series:
For more NCAA football news, analysis, opinion and unique coverage by FanSided, including Heisman Trophy and College Football Playoff rankings, be sure to bookmark these pages.