2022 Rip Curl WSL recap with champions Stephanie Gilmore and Filipe Toledo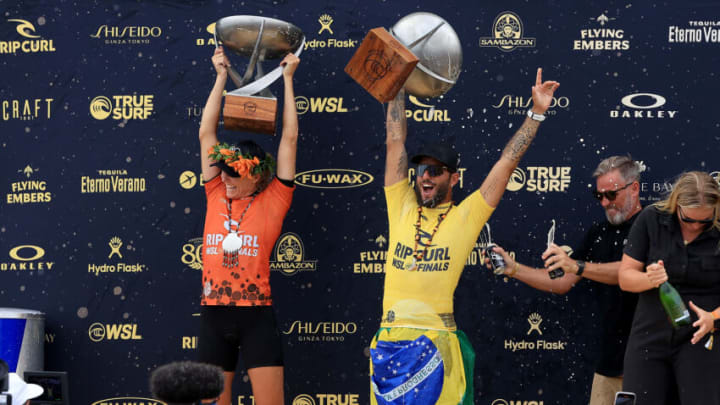 SAN CLEMENTE, CALIFORNIA - SEPTEMBER 08: Stephanie Gilmore of Austrlalia and Felipe Toledo celebrate after being named World champions after finishing first place in the Ripcurl WSL Finals at Lower Trestles on September 08, 2022 in San Clemente, California. (Photo by Sean M. Haffey/Getty Images) /
The Rip Curl WSL Final was filled with amazing action that saw champions Stephanie Gilmore and Filipe Toledo crowned.
The surfing season for the athletes of The World Surf League has come to a close and the 2022 champions have been crowned. After months of traveling around the world and surfing some of the biggest waves on the planet, Stephanie Gilmore and Filipe Toledo have secured the title of WSL champions. This is the eighth world title for Gilmore who came into the contest in the number five spot, and the first-ever world championship for the number one ranked Toledo. The contest went down at a California surf spot called Lower Trestles with hundreds of fans watching on to witness history be written in the ocean.
The format of the WSL final changed up last season. Prior to the 2021 season, the surfer who accumulated the most points on tour was the winner. So mathematically a surfer could win with enough points before the last event, and possibly when they were not even in the water at the time. To make things more impressive, the top five now compete in a one-day event to decide the champion. The number five seed must win all day, defeating each surfer ahead of them up until they get to the number one seed, whom they must defeat in two out of three heats. This is just what Gilmore accomplished on Thursday.
Stephanie Gilmore and Filipe Toledo are your WSL 2022 World Champions
Gilmore stepped foot in the water at around 8 am local time where she was met with the number four ranked Brisa Hennessy. It was a close back and forth throughout the entire heat. With only a few minutes left Hennessy was ahead in the score and in control of the priority, but a costly foul called for blocking sent the ball back in Gilmore's court. She scored one more big ride that pushed her past Hennessy and set the tone for the rest of the day.
SAN CLEMENTE, CALIFORNIA – SEPTEMBER 08: Stephanie Gilmore of Australia reacts after finishing first place in the Ripcurl WSL Finals at Lower Trestles on September 08, 2022 in San Clemente, California. (Photo by Sean M. Haffey/Getty Images) /
"I just remember, at the start of the heat, I made multiple mistakes. I was flustered, nervous, I was basically repeating what I did the year before and I was just like, is this for real? Then I just said, 'No, it's not happening like that today.' I'm not losing to Brisa in the first heat. I'm not going to embarrass myself like this. I think it was about the 20-minute mark that I thought 'okay, I got 20 minutes, that's a whole heat,' 20 minutes is a lot of time. There's plenty of waves, and I just thought, okay, just get active, make it happen," Gilmore said. "I know, this is heat one but my plan was to conserve energy and build it as I go. I really felt like it was the perfect shake-up that I needed to kick me into gear. There was like three minutes left and I just thought, Okay, I really have to push Brisa into a wave, I gotta get priority off her and I made it happen. Then I was able to luck into that wave and that was a really defining moment in the day where myself and a lot of people around me were like, I think you can do it, seems like things are lining up."
As Gilmore was working her way up the heats, taking out her competitors one by one, Toledo was home waiting for his heat. San Clemente has been Toledo's home base since he relocated from his native Brazil, and he is said to be one of the best surfers at Lower Trestles. When his time came he showed this to be true, taking out second-place finisher Italo Ferreiro in two straight heats. This was the first world championship for Toledo after nine years on tour. He attributes his recent success to having such a great support system.
"I feel like the biggest difference for me, it was my family, having my family behind and supporting me and making me feel comfortable to go do what I want to do and what I love to do, which is surfing," Toledo said. "I went through a lot, you know, last few years. Lots of ups and downs. But, I felt like I needed to go through that to be here today, more mature, and learned a lot from life and I felt like that was really important to me. Now I'm really happy. It was really hard times but I felt like I needed to go through to have this trophy right here."
Filipe Toledo of Brazil celebrates after winning the Rip Curl WSL Finals at Lower Trestles beach in San Clemente, California on September 8, 2022. (Photo by Apu GOMES / AFP) (Photo by APU GOMES/AFP via Getty Images) /
Both Gilmore and Toledo put in the work throughout the 2022 season. Long periods of time on the road along with hard, taxing sessions in the water all led to their special moments in San Clemente. The beauty of this new Rip Curl WSL Final format is that the championships are won in the water. Gilmore and Toledo surfed their hearts out and were met with drones of family, friends, and fans as they made their way back to the beach to accept their title. The moments were electric.
"It's pretty crazy because I feel like everything happened so fast yesterday that I did not have time to understand what was going on," Toledo said. "I'm still trying to figure it out. Because it took me nine years to do it, and I feel like it's gonna take a few extra days for me to really digest and understand the whole thing."
For Gilmore, this was her eighth world title and in her own words, probably the best performance of her career to date. Having the opportunity to be up against another multi-time champion in Carissa Moore and surfing her very best was a moment unlike any other. Gilmore is still in awe of how it all played out but admits the fire is stoked for next season, there is still more to do.
"I'm so lucky that as an athlete, I get to experience these moments in my life and I get to test myself and see if I can prepare myself correctly for these situations," Gilmore said. "Sometimes you win, sometimes you don't, but you learn a little bit of something from all of it. So winning an eighth, yeah, it's pretty awesome but I've already thought about how I would love to win a Pipe Masters, a Pipeline championship, I'd love to win a Tahiti event like I didn't perform well, at Sunset, either. There's so many places that I'm yet to really put on great performances and if you want to be one of the greatest ever, I think you have to perform the best in all of these different waves."
Both Gilmore and Toledo will have some time off to enjoy the fruits of their labor. The 2023 WSL season will begin in the winter of next year and they get to do it all over again. This time the great of the field will be chasing them.