Cubs: Tom Ricketts sounds cheap as ever in latest offseason comment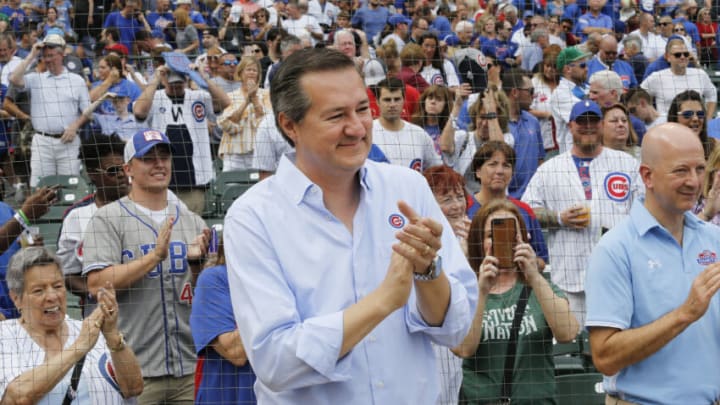 CHICAGO, ILLINOIS - SEPTEMBER 21: Chairman of the Chicago Cubs Tom Ricketts smiles prior to a game against the St. Louis Cardinals at Wrigley Field on September 21, 2019 in Chicago, Illinois. (Photo by Nuccio DiNuzzo/Getty Images) /
The Chicago Cubs have an important offseason ahead of them. While Tom Ricketts acknowledges this, he won't commit to spending more money.
Ricketts gave the media an important lesson on deflecting in his latest comments about the looming offseason.
The Cubs chairman was asked about offseason spending, and rather than a simple "yes" or "no" he merely deflected that responsibility onto Jed Hoyer. While Hoyer is a key member of the front office, he doesn't cut the checks.
"The ball is in Jed's court when it comes to how and where he puts financial resources to work. He's gotten a lot of flexibility. Let him decide what he wants to do," Ricketts said. "You can't buy a championship team in baseball. You have to build it. That's what we're doing."
Yet, Chicago refuses to call the teardown a rebuild.
What should Cubs fans expect this offseason?
Chicago ranks 14th in overall team spending. By no means are they as cheap as, say, the Pittsburgh Pirates. But considering they're in a major media market, the Cubs ought to be a little higher on that list.
Ricketts, and Hoyer for that matter, would counter that they spend when necessary — as in when the competitive window is open. After trading away all of their star players minus Ian Happ and Willson Contreras the last two seasons, that window is glued shut.
That was the choice of the Cubs front office. It's also their choice how quickly they want to reopen that window and truly go for it. This offseason, like many, will feature a number of star players who will demand large contracts.
Will the Cubs be a potential landing spot for Carlos Correa or Aaron Judge? That feels unlikely.
Ricketts can continue to deflect, and counter concerns about low spending with the important of player development. Eventually, though, Chicago must produce results.