25-under-25: Trae Young is putting in the work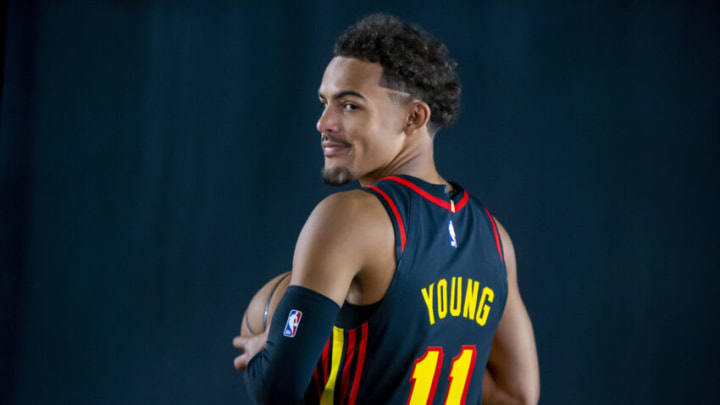 Brett Davis-USA TODAY Sports /
Trae Young has the potential to take the Atlanta Hawks to heights they've never reached in the modern era. He just has to keep doing the work.
Dominique Wilkins was an incredible basketball player hardly anyone outside Atlanta ever thinks about because his teams never won anything. That wasn't his fault; he was repeatedly brilliant in the playoffs. But when his Hawks met Larry Bird's Celtics, Bird had Hall of Famers Kevin McHale and Robert Parish alongside him. When Atlanta faced Detroit, Isiah Thomas had Hall of Famers Adrian Dantley and Joe Dumars. When it was Chicago, Michael Jordan had Hall of Famer Scottie Pippen and an All-Star in Horace Grant. Dominique had Randy Wittman and Cliff Levingston. Not Hall of Famers.
From 2008-2017, the Hawks made the playoffs all 10 years. These were the Coach Mike Hawks, first Woodson and then Budenholzer, the Hawks who sent four players to one All-Star game. Twice they won 50+ games (once was lockout-shortened 2012; Atlanta finished 40-26, a 50-win pace). Once they won 62. They were talented everywhere and beautiful to watch. But five of those 10 years they ran into LeBron James or the Big 3 Celtics and saw their playoffs end. Al Horford is a first-ballot Hall of Famer. So are LeBron and Kevin Garnett. One of these things is not like the others.
This goes back to the very first year of the Atlanta (formerly St. Louis) Hawks: the 1969 edition nearly reached the Finals before falling to a Laker team featuring Wilt Chamberlain, Jerry West and Elgin Baylor. Whenever this franchise has stepped up to the heavies, they've come out the worse for wear. They've never had the biggest gunslinger on their side. They still don't have the biggest. But they may have the baddest.
Trae Young can give the Atlanta Hawks a talent edge against anyone
Trae Young enters the season with something to prove and everything to gain. After Atlanta's run to the conference finals two years ago, last year was an unexpected step backward. For the first half of the season, the Hawks were a sub-.500 malaise; then they went on a tear, winning nearly two-thirds of their games the rest of the year (perhaps also laying the groundwork for their baseball neighbors, the Braves, who struggled the first few months before going on a magma-hot run the rest of the way). Their disappointing first-round exit against Miami was the final flat note on their 2022. So what about 2023?
Young's $173 million contract extension kicks in this season, raising the stakes on the franchise finding him a Pippen or McHale of his own. They hope they have found that player in Dejounte Murray. The former Spur is a terrific defender and can score and set up others, a luxury Young's lived without in the NBA, given just how often he has the ball in his hands. Even before the Hawks traded for Murray, Young had committed his offseason to improving off-ball, working with Steph Curry and Steph's personal trainer, Brandon Payne.
Last year Young's stated goal was to improve his midrange game. The result? He and Kevin Durant were the only two of the 10 players with the most midrange attempts to make more than half. A similar leap this year by Young off the ball would add diversity to an offense about as single-star-centric as any outside of Dallas. In last year's playoffs vs. Miami, the Heat were able to disrupt Atlanta by having a sort of floating point-of-attack zone hanging over every move Young made. Can't do that when there's another All-Star guard in Atlanta's backcourt.
Speaking of hanging over Young, some have wondered if the relationship between him and coach Nate McMillan isn't a bit fraught. McMillan flew to Young's home in Oklahoma last summer to work on that bond. Their quotes since then are not troubling, per se, but also not exactly declarations of love and loyalty.
"One of the big areas that I feel we need to improve on is the connection between the two of us," McMillan said, " . . . be better at communicating with each other and what we want to do and how we want to go about doing it . . . He's the face of the franchise and it's something that he has just inherited. He will have to work at it and become better."
Young seemed to defuse any hint of tension, telling the media "I think you're trying to reach for something that isn't there. The relationship isn't rocky." But then he digressed to the kind of expansive generalities people use when they're not ready to explode but are very much aware something isn't going the way they want: "We can all be better in areas. We're all trying to get better. We're not trying to stay the same."
Trae Young is an incredible player, one who's already secured a special place in Atlanta Hawks history: two years ago the team that can never take down the big baddie dominated New York, sent Philadelphia spinning into an existential crisis and nearly knocked off Giannis Antetokounpo's eventual champion Bucks. As long as Young is hitting halfcourt logo backbreakers and diming teammates, Atlanta can beat anybody. If Young is half the player off-ball that he is off the dribble, they may sooner than later beat everybody.