Lions CB Saivion Smith carted off field in an ambulance after frightening injury (Video)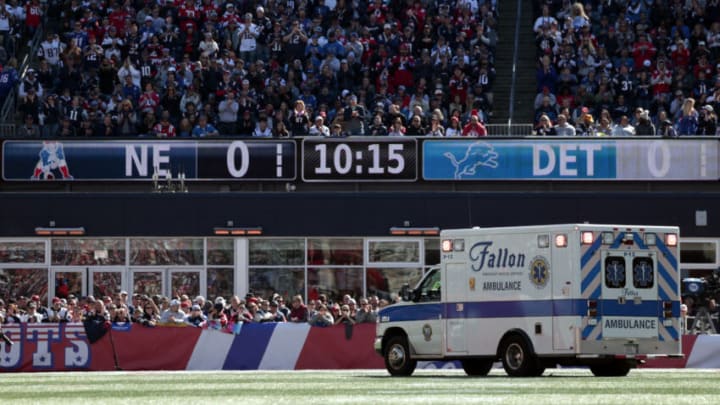 FOXBOROUGH, MASSACHUSETTS - OCTOBER 09: Saivion Smith #29 of the New England Patriots is taken away in an ambulance after suffering an injury during the first quarter against the Detroit Lions at Gillette Stadium on October 09, 2022 in Foxborough, Massachusetts. (Photo by Nick Grace/Getty Images) /
In a scary moment during the Lions vs Patriots game in Foxborough, Saivion Smith was take off the field in an ambulance.
Smith is a third-year player out of Alabama. He was originally undrafted in 2019 before signing on with the Dallas Cowboys. In 2021, he was released by Dallas, and then spent some brief time with the San Francisco 49ers before becoming a Lion.
Needless to say, Smith is an NFL journeyman, living out his dream one way or another.
Against the Patriots on Sunday, Smith received an opportunity thanks to Detroit coach Dan Campbell. The Lions are a team full of so-called no names the league gave up on a long, long time ago. That's much of what makes them so easy to root for.
Lions: Saivion Smith injury update
Unfortunately for Smith, his chance came at a cost.
Smith suffered some contact on the play — as he was hit across the middle of the field. A missed jam at the line of scrimmage on tight end Hunter Henry by Smith is what appears to have led to the incident.
A family member was brought out of the stands to ride alongside Smith in the ambulance.
Per the Lions PR department, Smith was taken to a local hospital to be evaluated for a neck injury.
We'll have more on this story momentarily.