Brett Favre defends his innocence in wake up welfare fraud scandal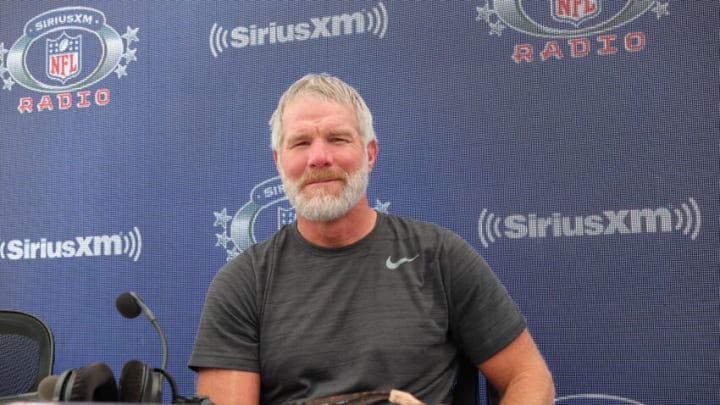 LOS ANGELES, CALIFORNIA - FEBRUARY 11: Former NFL player Brett Favre attends day 3 of SiriusXM At Super Bowl LVI on February 11, 2022 in Los Angeles, California. (Photo by Cindy Ord/Getty Images for SiriusXM ) /
Former NFL quarterback Brett Favre was recently caught in the middle of a welfare fraud scandal, and he's broken his silence to defend his innocence.
Former NFL quarterback Brett Favre has been under scrutiny as the center of a welfare fraud scandal that used $1.1 million of welfare money toward the construction of a volleyball facility at the University of Mississippi.
Favre has stayed silent since being exposed, but he's finally broken his silence with a less-than-favorable statement. He's defended his innocence, stating he wasn't aware that the funds were from welfare.
He told Joe Morgan of Fox Sports, "I have been unjustly smeared in the media. I have done nothing wrong, and it is past time to set the record straight. No one ever told me, and I did not know, that funds designated for welfare recipients were going to the University or me. I tried to help my alma mater USM [University of Southern Mississippi], a public Mississippi state university, raise funds for a wellness center. My goal was and always will be to improve the athletic facilities at my university."
Though it's possible that Favre didn't know where the money was coming from, there are several holes in the situation that just don't make sense.
There are several grey areas in former NFL QB Brett Favre's welfare scandal
Quite a few things don't add up in the situation. Favre was reportedly paid for speeches that the auditor says were never made, and he still owed interest on the payments.
However, Favre's attorney Eric Herschmann told Fox that Favre "never got paid for a 'no show' appearance. Anyone who has claimed otherwise, does not know the true facts, and he "got paid for doing every radio spot that was requested." This directly contradicts the contents of a state audit and a civil lawsuit.
Favre also seems to be extremely cautious of his transactions. According to Lorenzo Reyes of USA Today, he texted Mississippi Governor Phil Bryant and asked, "If you were to pay me is there anyway the media can find out where it came from and how much?" If the money was justly earned, why would such a question be asked?
According to ESPN's Anthony Olivieri, Favre "continued to press for money even after being told by then-Gov. Phil Bryant that misusing public funds could be illegal, texts show." What Favre and his lawyer have stated directly contradicts what investigative journalists and public officials have unearthed in this devastating political scandal.
Things aren't seeming to work in Favre's favor, and only time will tell what the final verdict will be.