Astros, Chas McCormick make Yankees open roof comment look dumb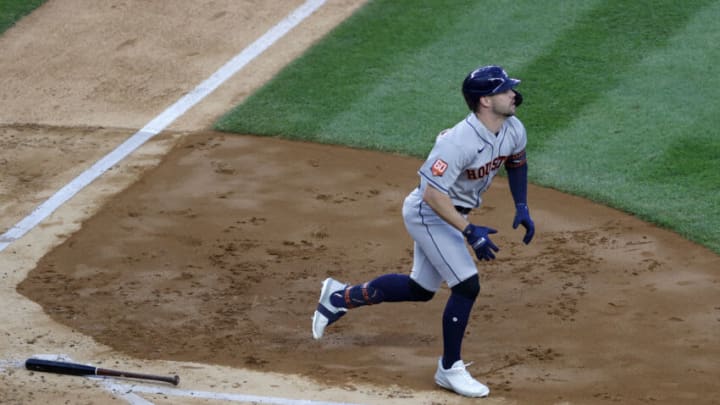 NEW YORK, NEW YORK - OCTOBER 22: Chas McCormick #20 of the Houston Astros hits a two-run home run against the New York Yankees during the second inning in game three of the American League Championship Series at Yankee Stadium on October 22, 2022 in New York City. (Photo by Sarah Stier/Getty Images) /
Don't dish out the heat if you can't take it, too. The Yankees complained about Minute Maid Park. Yet, even at Yankee Stadium, the Astros took full advantage of the dimensions. 
Yankee Stadium is well-known for its short porch. Upon its construction in 2009, the dimensions in right field were a hot topic, and it remains that way today.
After Game 2 of the ALCS, Yankees manager Aaron Boone complained about the open roof, which he believed aided Houston in keeping Aaron Judge's home run in the yard.
"I think the roof open kinda killed us. I think it's a 390 [feet] ball," Boone said after the game.
That open roof wasn't an issue at Yankee Stadium. Luis Severino doubled down and even called Houston 'lucky'.
Well, what of all that chatter now?
Astros didn't need an open roof to take Yankees, Gerrit Cole deep
Playing at their home park, New York is out of excuses. Perhaps they can come back and make this a series, but early on in Game 3, Chas McCormick made the Yanks look silly with a two-run shot into the short porch.
Maybe the scenery doesn't mean so much, after all. With Gerrit Cole on the bump, McCormick — near the bottom of Houston's lineup — took New York's ace deep on a line drive to right field.
Astros and baseball fans had plenty to say about the Yankees, who previously complained about the open roof in Houston. Words can come back to bite sometimes.
Love to see it.
Open roof or not, New York is in serious trouble. A 3-0 deficit is nearly insurmountable, despite what the Boston Red Sox did back in 2004.
At this rate, the Astros won't have to play in Houston again until the World Series.