Astros fans embrace Yankees rain delay conspiracy theory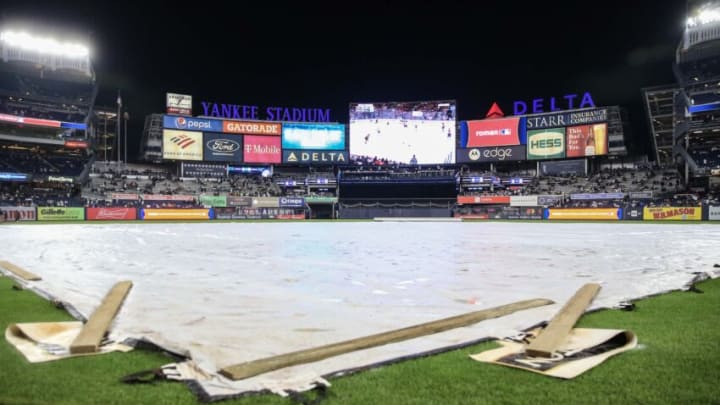 Oct 23, 2022; Bronx, New York, USA; General view of home plate with during a weather delay before the game between the New York Yankees and the Houston Astros during game four of the ALCS for the 2022 MLB Playoffs at Yankee Stadium. Mandatory Credit: Wendell Cruz-USA TODAY Sports /
Some Houston Astros fans are screaming "conspiracy" after Game 4 of the American League Championship Series was delayed due to rain.
The Houston Astros are one victory away from reaching the World Series for the fourth time in six years. The odds are in their favor, as the New York Yankees have looked lifeless through the first three games of the American League Championship Series. In fact, Yankee Stadium is not exactly home field, as fans walked out of Game 3 early, and ticket prices for Game 4 are insanely low.
Game 4 did not start at the scheduled 7:00 p.m. ET time, however, due to a rain delay. Chris Gordy of Sports Talk 790 was at Yankee Stadium, providing an update prior to the eventual weather delay, while saying at the time that there was no rain.
This was a regular update, but Gordy did ask "conspiracy theorists" for their thoughts. They provided.
Astros fans scream conspiracy at ALCS Game 4 weather delay
https://twitter.com/1stColonel/status/1584324817058078720
After fear of the game being postponed and rescheduled for another date, MLB provided another update, saying that the game will start at 8:30 p.m. ET on Sunday night.
The Astros have yet to lose a single game this postseason run. They earned a first-round bye, swept the Seattle Mariners in a tough series, and took the first three games of the ALCS against the Yankees.
New York has had two postseason games postponed so far. They were Games 2 and 5 of the ALDS against the Cleveland Guardians.
With a win on Sunday night, Houston will meet the Philadelphia Phillies in the World Series. That is, unless, the Yankees find a way to win Game 4 to extend the ALCS.