Patrick Mahomes joins more NFL stars calling for safer fields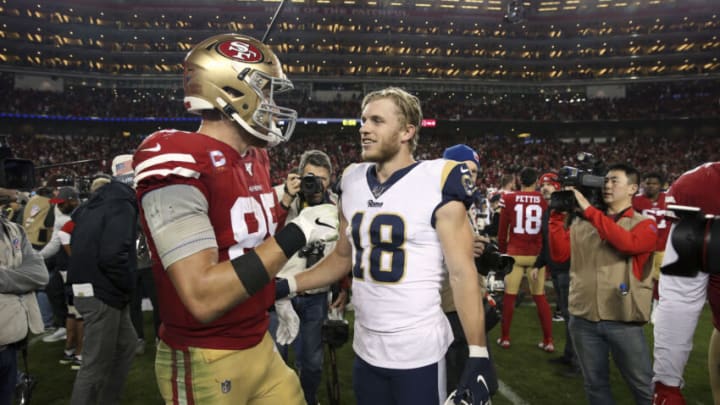 Dec 21, 2019; Santa Clara, California, USA; San Francisco 49ers tight end George Kittle (85) meets with Los Angeles Rams wide receiver Cooper Kupp (18) after the game at Levi's Stadium. Mandatory Credit: Cary Edmondson-USA TODAY Sports /
Kansas City Chiefs quarterback Patrick Mahomes joined Los Angeles Rams wide receiver Cooper Kupp and San Francisco 49ers tight end George Kittle in demanding the NFL implement safer fields.
The use of turf fields has come under scrutiny of NFL players this season. To be specific, slit film turf, which is used by seven different teams. On Nov. 12, NFL Player's Association president J.C. Tretter wrote a lengthy column, calling for the league and owners to stop using slit film turf, citing how it has increased the number of injuries during games.
After the release of Tretter's statement, Los Angeles Rams wide receiver Cooper Kupp and San Francisco 49ers tight end George Kittle each sent out tweets calling for the NFL to implement safer fields. Kupp specifically mentions having all teams playing on grass fields.
Kansas City Chiefs quarterback Patrick Mahomes retweeted both messages.
Patrick Mahomes joins Cooper Kupp, George Kittle in call for safer NFL fields
Earlier this week, Green Bay Packers De'Vondre Campbell took to Twitter to call out the NFL for the use of turf fields after teammate Rashan Gary tore his ACL at Ford Field when they played the Detroit Lions. Campbell called on the NFL to use grass fields while describing  the turf field as  "literally like concrete."
The Lions are one of seven teams to use slit film turf. The other teams include the Minnesota Vikings, Indianapolis Colts, New Orleans Saints, Cincinnati Bengals, New York Giants, and New York Jets.
Prior to that, the debate on whether to remove turf fields escalated after Los Angeles Chargers cornerback J.C. Jackson suffered a ruptured patellar tendon back in Week 7.
In his letter published on Nov. 12, Tretter listed four things that he wants to NFL to do. They include:
Replace and ban all slit-film turf
Disallowing games to be played on fields with "clear visual abnormalities"
For players to "raise the field standards and test the safety and performance of all field surfaces."
Clear "excess people and dangerous equipments from the sidelines"
Tretter says that there is statistical evidence that slit film turf leads to an increase in non-contact, lower extremity, missed time, and foot and ankle injuries, as compared to other playing surfaces, including grass.
It will be interesting to see how the NFL will respond to the calls to remove slit film turf, especially when big-name players like Kupp and Kittle are the ones calling for them.