Buffalo blizzard could besiege Browns-Bills game with 3 to 6 feet of snowfall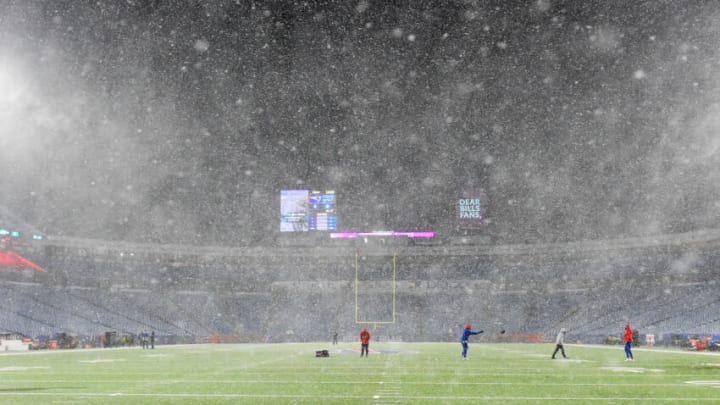 Dec 6, 2021; Orchard Park, New York, USA; Snow falls prior to the game between the New England Patriots and the Buffalo Bills at Highmark Stadium. Mandatory Credit: Rich Barnes-USA TODAY Sports /
The Bills vs. Browns game in Week 11 is going to feature an insane amount of snow that's supposed to hit Buffalo.
The Buffalo Bills took part in perhaps the best game of the year this past week, when they fell short in a thrilling overtime game against the Minnesota Vikings at Highmark Stadium in Orchard Park. Their Week 11 game will also be worth following due to the weather.
This Sunday, the Bills host the Cleveland Browns. According to Accuweather's Matt Benz, Buffalo could receive anywhere between three to six feet of snow by Sunday due to a lake-effect event.
https://twitter.com/PFF/status/1592946224013144065?s=20&t=6eTvRVNg-24GTINEPQCrRQ
Bills vs. Browns could be affected by insane amount of snow hitting Buffalo
The Accuweather forecast says that the lake-effect snow event will be heading down from the Great Lakes into the Buffalo area. Travel will be "nearly impossible", and snow could fall between two to four inches per hour, according to the forecast. There is also the possibility of thundersnow.
Benz says that the heaviest snow could be between Thursday night into Friday, and Saturday into Saturday night.
In regards to the game, it is still scheduled to take place at 1:00 p.m. ET on Sunday. Of course, that could change as the week progresses and we get a better idea of exactly how much snow will hit the area.
If the game is to go on as scheduled, there is still expected to be snow falling on Sunday afternoon. That, and there are projected wind gusts of up to 35 mph, per Accuweather. If that is the case, that could alter the offense's plans. As in, they'll be running the football a lot.
The Bills have averaged the 10th-most rushing yards per game with 129.9. The Browns, however, rank fifth in the league with 158.8 rushing yards per game.