Listen to Buenos Aires neighborhoods erupt the moment Argentina won the World Cup (Video)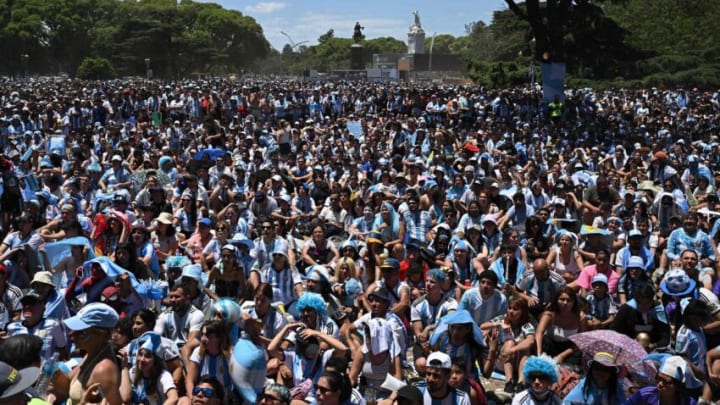 Fans of Argentina react while watching the live broadcast of the Qatar 2022 World Cup final football match between Argentina and France in Buenos Aires, on December 18, 2022. (Photo by Luis ROBAYO / AFP) (Photo by LUIS ROBAYO/AFP via Getty Images) /
Take a listen to fans celebrating in Buenos Aires after Argentina defeated France on penalty kicks to win the World Cup.
There may not have been a better World Cup Final than the 2022 edition between Argentina and France. From Kylian Mbappe tying the game at 2-2 by himself in a matter of minutes in the second half, to Lionel Messi giving Argentina a 3-2 lead in extra time, to Mbappe once again tying the game at 3-3. There was so much drama and emotion in this Final, but only one team could win. In 2022, the World Cup goes to Argentina, after they defeated France 4-2 on penalty kicks.
Fans packed into Lusail Stadium were elated, crying tears of joy watching the team win the title for the first time since 1986, and their third overall. Now, take a listen to fans in Buenos Aires celebrating the World Cup victory.
Buenos Aires celebrates Argentina's epic World Cup victory over France
It was quite the start for Argentina, as Messi scored on a penalty kick 23 minutes into the match. Then, 13 minutes later, Angel Di Maria scored after a cross pass from Alexis Mac Allister on a fast break, giving them a 2-0 lead.
But then, in the second half, Mbappe put France on his back. The Paris Saint-Germain star successfully scored on a penalty kick at the 80-minute mark, then scored another goal one minute later on an assist by Marcus Thuram to tie the game up.
In the second half of extra time, Messi was able to score his second goal of the game in short range, giving Argentina a 3-2 lead 108-minutes into the match. All they needed to do was hold on. But, Mbappe scored his third goal of the Final on another penalty kick.
That then sent the Final to penalties, and the rest was history.
This may have very well go down as the best World Cup Final of all-time, and Argentina fans can say that their team was victorious in it.