Packers' wild run, NFL playoff scenarios, Tua Tagovailoa's health and more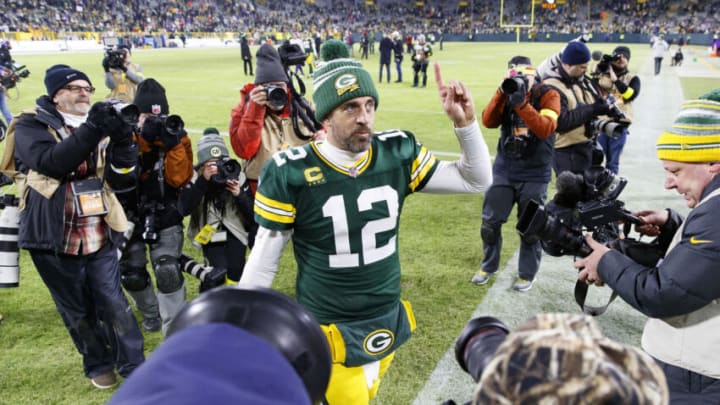 Jan 1, 2023; Green Bay, Wisconsin, USA; Green Bay Packers quarterback Aaron Rodgers (12) walks off the field following the game against the Minnesota Vikings at Lambeau Field. Mandatory Credit: Jeff Hanisch-USA TODAY Sports /
After being left for dead after an ugly loss to the Philadelphia Eagles, the Green Bay Packers are suddenly alive, in control and very dangerous.
It was all but over on Nov. 27.
The Green Bay Packers are humiliated by the Philadelphia Eagles, losing 40-33 in a game nowhere near that close. Green Bay surrendered a comical 363 rushing yards. It watched Aaron Rodgers throw two interceptions before leaving with rib and thumb injuries.
After losing their seventh game in eight weeks, the talk wasn't about a playoff push. It was about capitulation. It was about potentially shutting Rodgers down to evaluate Jordan Love.
Thirty-four days later, a miracle. Green Bay has won four straight, most recently a 41-17 pasting of the Minnesota Vikings.
At 8-8, the Packers control their own postseason destiny. Beat the Detroit Lions at Lambeau Field on Sunday, and Green Bay is the NFC's seventh seed. And, with a victory, the Packers would become the first team to ever lose seven times in eight games and reach the playoffs.
Of course, this has happened in a vacuum. The Packers have needed a legion of good fortune, and they've received it. Green Bay has seen the Washington Commanders lose three straight, including a Carson Wentz interception-fest against the Cleveland Browns in Week 17. The Packers also saw the Seattle Seahawks drop five out of six before beating the New York Jets this past Sunday. The Lions, hot as they've been, were handled by the Carolina Panthers two weekends ago.
Still, none of those favors would've mattered if the Packers had folded. Instead, they've ridden the playoff scenario version of a royal flush to the doorstep of the postseason.
While the easy narrative would be to point at MVP quarterback Aaron Rodgers and heap praise on him, that would be folly.
Instead, Green Bay's success has largely stemmed from a rushing attack averaging 138.7 yards per game over its current win streak. Most importantly, it's been a defense creating 12 takeaways, leading to a +9 turnover ratio. And then there's the offensive line, a rotating mass of humanity this season that has stabilized, permitting six sacks over the same span.
If the Packers beat Detroit and punch their playoff ticket, they'll be a fascinating source of debate all week. Is Green Bay the product of unsustainable turnover luck, bound for harsh regression? Are the Packers going to be exposed for their predictably soft-zone coverage under defensive coordinator Joe Barry?
Or, is Green Bay a team with a punishing offensive identity that also possesses a quarterback able to make any throw? Are the Packers suddenly dangerous to others and not themselves on special teams, with the midseason substation of Amari Rodgers and elevation of veteran corner Keisean Nixon?
We won't know until Wild Card weekend, should the Packers arrive at it.
But the chances are good we'll see Green Bay in the playoffs, alive and well.
Only 34 days after we were holding their funeral in Philadelphia.
Power rankings
Top 10 teams most likely to have new starting QB in 2023
1. Las Vegas Raiders
2. Tampa Bay Buccaneers
3. New York Jets
4. Houston Texans
5. Carolina Panthers
6. Indianapolis Colts
7. Atlanta Falcons
8. Tennessee Titans
9. Washington Commanders
10. New York Giants
Quotable
""We can be eliminated?""
– Commanders head coach Ron Rivera after a 24-10 loss to the Cleveland Browns
It's a brutal look for Rivera, who has had an awful week.
One of the game's most-respected coaches, Rivera benched quarterback Taylor Heinicke and his 5-3-1 for Carson Wentz, who was 2-4 before sitting down. On Sunday, the Washington defense held Cleveland to 301 total yards, but Wentz threw three interceptions and managed only 143 passing yards on 28 attempts.
Then, after being embarrassed at home against a team playing for nothing, Rivera was unaware of the playoff scenarios. Inexcusable for any coach, let alone a veteran one.
Random stat
The Detroit Lions and Chicago Bears squared off in the first postseason game in league history, the 1932 NFL Championship. They've never played another playoff game against each other since.
Info learned this week
1. AFC playoff picture will be bonkers come Week 18
Are you ready for chaos?
On Sunday, the following scenarios will be at play:
If the Patriots beat the Bills, they're the No. 7 seed
If the Dolphins beat the Jets AND the Patriots lose, they're the No. 7 seed
If the Steelers beat the Browns, AND the Patriots AND Dolphins lose, they're the No. 7 seed
Somehow, that's just an appetizer for the other madness.
After 17 weeks, nothing has been decided in the AFC South (more below) with the Jacksonville Jaguars and Tennessee Titans playing a de facto playoff game for the No. 4 seed. Winner in and hosting. Loser out.
The AFC North is also uncertain. If the Cincinnati Bengals beat the Buffalo Bills on Monday night, Cincinnati takes the crown. With a Bengals loss, the Ravens can win the AFC North by beating Cincinnati on the road, which would give them a season sweep.
Finally, without knowing the Bills-Bengals result on Monday night (again, more on that below), three teams remain viable for home-field advantage including the Kansas City Chiefs.
High drama for more than half the AFC in Week 18.
2. NFC playoff picture seems murky, but it's actually clear
The Philadelphia Eagles are going to be the No. 1 seed. Don't fret it.
Philadelphia has the blessing of drawing the New York Giants at home come Sunday, a team locked into the sixth seed. It would be insane for Giants head coach Brian Daboll not to utilize Week 18 as a bye.
Assuming the Eagles win, that means it's very likely we see the San Francisco 49ers and Minnesota Vikings as the second and third seeds, respectively. The Tampa Bay Buccaneers are the fourth seed, regardless of what happens.
For the wild cards, a Philadelphia victory means the Dallas Cowboys are the fifth seed, followed by the aforementioned Giants.
The seventh seed is where the fun begins, as written about in the top section of the column. It could be the Packers, Seahawks or Lions, with each being a frisky opponent in the first round.
So while a litany of different seeding combinations are possible in the NFC, an Eagles win over the Giants essentially locks in the picture, with only the final playoff spot being up for grabs.
3. Buccaneers clinch NFC South, and something notable happened
The Tampa Bay Buccaneers won the NFC South. Cool. But how they did it was important.
After falling behind 14-0, the punchless Buccaneers offense was asked to finally show its mettle. Somewhat surprisingly, it did so, scoring 30 points to beat Carolina, 30-24.
From the time Tampa Bay trailed by two touchdowns, to the start of their last drive when the Buccaneers were trying to run the clock out, offensive coordinator Byron Leftwich called 37 pass plays against 11 runs. This, from one of the most run-heavy teams in the league.
For the Buccaneers, it's only the second time they've scored at least 30 points. The other instance came against the Kansas City Chiefs in Week 4, when they fell behind 21-3 early and only ran three times all night.
While a total lack of balance isn't ideal, those instances should serve as a lesson to the Buccaneers. They need to throw the ball more.
Without putting their fate in Tom Brady's right hand, they're guaranteeing a poor offensive performance, and come the Wild Card round, that likely ends their season.
4. Jaguars, Titans couldn't feel more different going into AFC South title bout
In one corner, the Jaguars. In the other, the Titans.
Jacksonville must feel invincible. The Jaguars have won four straight, including a 31-3 romp over the Texans on Sunday afternoon. Quarterback Trevor Lawrence has been sensational over the past eight games, throwing 14 touchdowns against two interceptions. Furthermore, the defense hasn't allowed a touchdown in two weeks.
Then there's Tennessee. The Titans are riding a six-game losing streak. They're playing journeyman quarterback Joshua Dobbs with Ryan Tannehill injured and Malik Willis completely ineffective. The Titans haven't score 30+ points in any game this season and have only eclipsed 24 once.
Yet, Tennessee and Jacksonville play a classic winner-take-all in Week 18 at TIAA Bank Field, with the victor claiming the AFC's No. 4 seed and hosting a game in the Wild Card round.
Every trend, many matchups and the quarterback battle say the Jaguars roll.
Of course, that's why they play.
5. Bills, Bengals set for colossal clash on MNF
One game could determine three fates come the postseason.
The Buffalo Bills visit the Cincinnati Bengals on Monday night at Paycor Stadium, with massive playoff implications on the line.
For Buffalo, a win means going into Week 18 with the top seed before facing a desperate Patriots team in western New York. For Cincinnati, a win takes the AFC North and vaults it into the second seed, moving past the Bills. And, for the Chiefs, they'd become the No. 1 seed with a Bengals win, and be guaranteed no worse than a second seed with a Buffalo victory.
The winner of this game will come down to the following:
Is the bigger loss Bills edge rusher Von Miller or Bengals right tackle La'el Collins?
Can Cincinnati bait Josh Allen into another red zone interception?
Can the Buffalo corners not named Tre'Davious White and Taron Johnson hold up?
Whoever wins two of those three questions walks away smiling.
Two cents
We now have two head-coaching vacancies.
The Panthers were joined by the Denver Broncos last Monday, when the latter announced the dismissal of first-year man Nathaniel Hackett. This comes as no surprise, with the Broncos being blown out 51-14 by an injury-riddled Los Angeles Rams team on national TV, punctuated by edge rusher Randy Gregory getting into a postgame, on-field fight.
With Hackett out, Denver will start its coaching search immediately. Last year, Broncos general manager George Paton interviewed Kellen Moore and Dan Quinn, the Dallas Cowboys' offensive and defensive coordinators, respectively. Paton also spoke with Kansas City Chiefs offensive coordinator Eric Bieniemy, Patriots linebackers coach Jerod Mayo, Eagles defensive coordinator Johnathan Gannon and Bengals' offensive coordinator Brian Callahan.
All those men are still in those same positions, and each remains an attractive candidate.
Considering the precipitous drop in production from quarterback Russell Wilson, it would make sense for Denver to seek offensive help. If they want an experienced hand, Sean Payton or Michigan's Jim Harbaugh are the names. However, Denver would need to send draft compensation to New Orleans for Payton as he remains under contract. As for Harbaugh, would he leave his alma mater for such a challenging situation, when better offers could arise in subsequent years?
Of all the potential openings this offseason, the Broncos have the biggest anchor in Wilson's contract. The question is who believes they can fix him, and who is willing to take the gamble?
Inside the league
On Wednesday, the Las Vegas Raiders let the world know they'll be attempting to trade Derek Carr this offseason.
Carr, 32 this offseason, will be in demand. After all, he's a three-time Pro Bowl quarterback with three years remaining on his deal at a palatable number, including meager guarantees. Speaking with one high-ranking personnel executive, the return could be similar to what Carson Wentz netted the Eagles when he was dealt to the Colts; first- and third-round picks.
GOING DEEP: Josh McDaniels, not Derek Carr, is the Raiders' real problem
Of the quarterback-needy teams this offseason, a few make the most sense. The Jets have a good, young roster and a clear need. Staying in the Meadowlands, would head coach Brian Daboll see Carr as worth the investment for the New York Giants?
Then there's the Commanders, who desperately need stability under center. Carr would be a clear upgrade over Wentz and Heinicke.
The Raiders won't have a problem dealing Carr, as he'll be a top option.
Replacing Carr, however, may not be as easy.
Panthers +5 at Saints
Both NFC South teams were eliminated from playoff contention in Week 17, and both played some of their best football down the stretch. So why is New Orleans this large of a home favorite vs. Carolina?
I don't know, but I do know the Panthers have more on the line for their current roster than the Saints do. Carolina has major decisions regarding whether to bring back interim head coach Steve Wilks, as well as quarterback Sam Darnold for 2023.
The Saints could start quarterback Jameis Winston in Week 18 to see what's left, and the tank scenario to improve draft position in the later rounds (since they don't have a first-round pick) could always be in play.
Five points in a meaningless divisional game at home is too many, especially given the more significant circumstances for Carolina.
– Ben Heisler
History lesson
In 1959, the Chicago Cardinals and Rams executed one of the biggest trades in NFL history.
The Cardinals, a floundering franchise a year away from relocating to St. Louis, sent future Hall of Fame running back Ollie Matson to the west coast for a staggering seven players and two draft picks. To this day, it's the second-largest transaction in terms of players involved, only eclipsed by the Herschel Walker deal between the Minnesota Vikings and Dallas Cowboys in 1989.
The deal didn't work out for either side. Matson played four years with the Rams and failed to reach a single Pro Bowl while scoring only 13 touchdowns. The Cardinals got virtually no substance in return, and moved one year later.
A side note: For Los Angeles, the general manager executing the Watson deal? Future NFL commissioner Pete Rozelle.
Parting shot
It's time for a serious conversation around Dolphins quarterback Tua Tagovailoa.
In concussion protocol for the second time — although most believe he sustained a third concussion against the Bills in Week 3 — Tagovailoa missed Week 17 and it's unclear when, or if, he'll return.
For Tagovailoa, his health must come first. It's rare to see a player sustain multiple concussions in a season, although it does happen. This season, Steelers quarterback Kenny Pickett has suffered a pair. But to see three, and with the most recent one coming on a routine hit, is deeply concerning.
The Dolphins need to do right by the 24-year-old. Provide him with all the available medical resources. Run every test. Consult every physician. Talk through every scenario. If all involved feel Tagovailoa can resume his career, that's fantastic. If he can't, the responsible decision must be made.
From a pure football standpoint, the situation puts Miami in a brutal spot.
Due to a league penalty for their tampering with Tom Brady and a subsequent trade for edge rusher Bradley Chubb, the Dolphins don't have a first-round pick. If Tagovailoa walks away, Miami will be looking at trying to lure Jimmy Garoppolo or Brady to South Beach, or hope to swing a creative trade for Derek Carr.
Hopefully, Tagovailoa is back, healthy and has a long career. But if that doesn't happen, the Dolphins will be scrambling this winter.