NHL Rumors: 3 potential landing spots for Patrick Kane
Three-time Stanley Cup champion Patrick Kane is weighing his options for where to play in 2023-24 as he continues to recover from hip resurfacing surgery.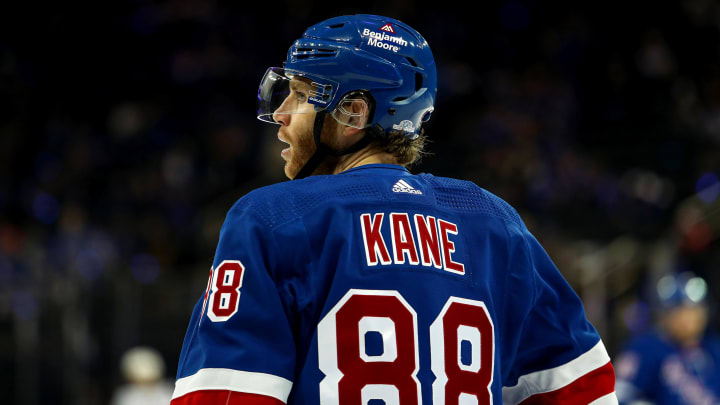 New York Rangers - Patrick Kane / Danny Wild-USA TODAY Sports
2. Colorado Avalanche
Another possible landing spot for Kane is the Colorado Avalanche. Insider Kevin Weekes believes the Avalanche are one of the best fits. Kane is interested in landing with a contender, and the Avalanche certainly fit that criteria. They topped the Central Division last season and are poised to be at or near the top again. They were eliminated in the first round of the Stanley Cup playoffs in 2022 but won the Cup in 2021. They've made the playoffs every year since 2018.
A question regarding this potential landing spot is where Kane would fit in with the lineup since the top six is solid. The Avalanche also bolstered their third line when they picked up winger Tomas Tatar late in the offseason. Tatar joined former New Jersey Devils teammate Miles Wood who signed with Colorado earlier in the offseason. Injuries happen, so there's always a chance a spot can open. Plus, even though the Avalanche have started off the season 3-0-0, their third and fourth lines have not been producing in the first few games. It's early, but if these lines don't pan out, some shuffling around could make room for Kane.
The Avalanche have $2 million in cap space right now. That's enough to make Kane an offer, although a team like the Sabres could offer more. Kane and his agent, Pat Brisson, will consider all the angles. Ultimately, if Kane wants to play for a true contender, he may have to take less money than he'd get elsewhere.