On Sunday afternoon, NASCAR took the Sprint Cup Series to Pocono Raceway in Pennsylvania and it was Dale Earnhardt Jr. who came away with the win after a hard fought 160 laps.
On Lap 118, there was a big 13-car pile up that ended the day for a number of drivers, but the top drivers remained in the race and we were treated to an exciting finish after a yellow flag with six laps to go.
When the action got restarted with three laps to go, Dale Earnhardt Jr. was sitting in first place with Kevin Harvick sitting in second.
Harvick was pressing Earnhardt Jr. as the two drivers began to pull away from the rest of the field, but Earnhardt Jr. was successfully holding off Harvick entering the final lap.
Earnhardt Jr. was able to remain in first as he took the checkered flag, with Harvick in second place — which was his best Pocono finish in a NASCAR Sprint Cup race — and Joey Logano finishing in third.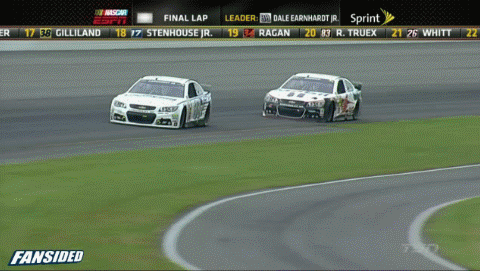 And let the celebration begin.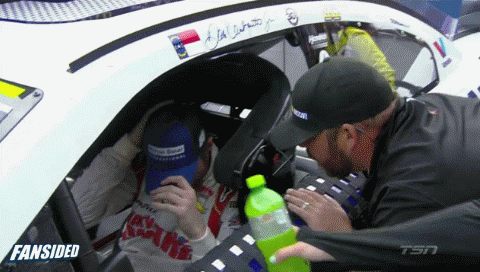 It was Earnhardt Jr.'s third win of the season, and he completed the season sweep at Pocono Raceway.
The full results from Sunday's race can be seen below:
| | | | |
| --- | --- | --- | --- |
| POS | DRIVER | CAR | MANUFACTURER |
| 1 | Dale Earnhardt Jr. | | Chevrolet |
| 2 | Kevin Harvick | | Chevrolet |
| 3 | Joey Logano | | Ford |
| 4 | Clint Bowyer | | Toyota |
| 5 | Greg Biffle | | Ford |
| 6 | Jeff Gordon | | Chevrolet |
| 7 | Jamie McMurray | | Chevrolet |
| 8 | Ryan Newman | | Chevrolet |
| 9 | Denny Hamlin | | Toyota |
| 10 | Kasey Kahne | | Chevrolet |
| 11 | Kyle Larson | | Chevrolet |
| 12 | Casey Mears | | Chevrolet |
| 13 | Kurt Busch | | Chevrolet |
| 14 | Marcos Ambrose | | Ford |
| 15 | Austin Dillon | | Chevrolet |
| 16 | Justin Allgaier | | Chevrolet |
| 17 | David Gilliland | | Ford |
| 18 | Ricky Stenhouse Jr. | | Ford |
| 19 | David Ragan | | Ford |
| 20 | Ryan Truex | | Toyota |
| 21 | Cole Whitt | | Toyota |
| 22 | Michael Annett | | Chevrolet |
| 23 | Brad Keselowski | | Ford |
| 24 | Josh Wise | | Chevrolet |
| 25 | Travis Kvapil | | Ford |
| 26 | Dave Blaney | 37 | Chevrolet |
| 27 | Reed Sorenson | | Chevrolet |
| 28 | Alex Kennedy | | Chevrolet |
| 29 | Carl Edwards | | Ford |
| 30 | Danica Patrick | | Chevrolet |
| 31 | Alex Bowman | | Toyota |
| 32 | Martin Truex Jr. | | Chevrolet |
| 33 | Paul Menard | | Chevrolet |
| 34 | AJ Allmendinger | | Chevrolet |
| 35 | Aric Almirola | | Ford |
| 36 | Tony Stewart | | Chevrolet |
| 37 | Brian Vickers | | Toyota |
| 38 | Matt Kenseth | | Toyota |
| 39 | Jimmie Johnson | | Chevrolet |
| 40 | Joe Nemechek | | Toyota |
| 41 | Landon Cassill | | Chevrolet |
| 42 | Kyle Busch | | Toyota |
| 43 | Johnny Sauter | | Toyota |
Tags: Dale Earnhardt Jr NASCAR