NFL Free Agent Rumors: Dallas Cowboys selling DeMarcus Ware jerseys 75 percent off (Photo)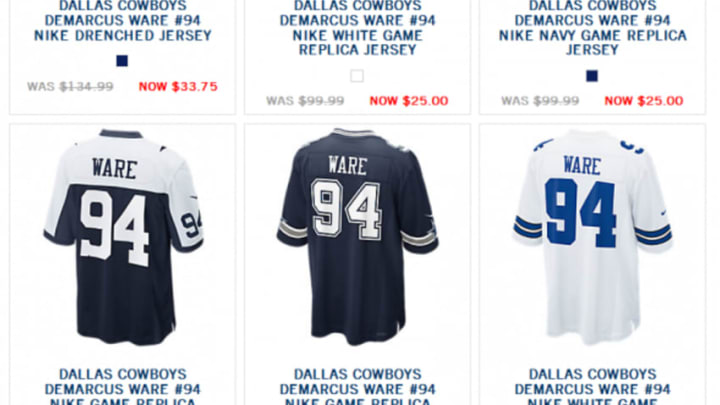 Dec 9, 2013; Chicago, IL, USA; Dallas Cowboys defensive end DeMarcus Ware (94) shakes hands after the game at Soldier Field. Chicago defeats Dallas 45-28. Mandatory Credit: Mike DiNovo-USA TODAY Sports /
The paperwork hasn't even been filed on DeMarcus Ware's release from the Dallas Cowboys and the team has already decided to move on from the talented defender, at least in their team shop.
While Dallas Cowboys owner Jerry Jones said that he's hopeful Ware will return to Dallas (at a lower cost), the team has already dropped the prices of Ware's jersey in their team store by 75 percent.
From the unique Nike 'Drenched' Ware jersey (dropped from $134.99 to $33.75) to the authentic Reebok which plummeted from $199 to $50 dollars, it appears the Cowboys are doing whatever they can to rid themselves of Ware's threads.
Weird thing is – who actually buys these things? Sure – they're a good price – but it's not like they're free. If I'm going to throw down money to pick up an authentic jersey, I'm not going to shell out $50 bucks for a guy who is no longer on the roster.
On the flip side, some seamstress could make a mint by picking these up and re-selling the authentic jersey.
Uniform purchasing options aside, guess that's a pretty good sign Uncle Jerry was blowing smoke on the hopeful return, eh?
warejersey /
H/T BSO