Eagles fan flips out on YouTube over Nick Foles trade (Video)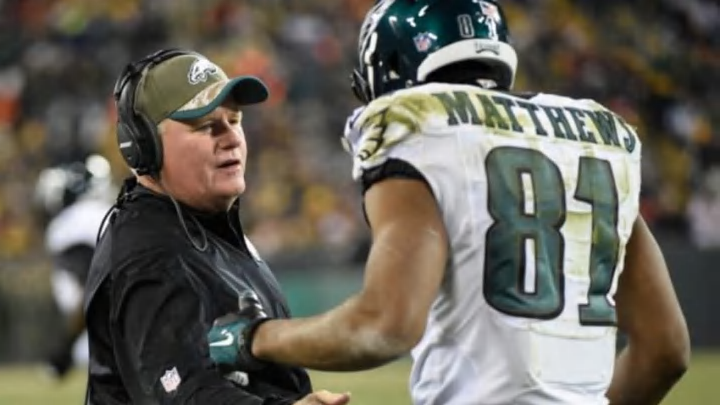 Nov 16, 2014; Green Bay, WI, USA; Philadelphia Eagles head coach Chip Kelly talks to wide receiver Jordan Matthews (81) in the fourth quarter during the game against the Green Bay Packers at Lambeau Field. Mandatory Credit: Benny Sieu-USA TODAY Sports /
The Philadelphia Eagles continued their crazy offseason so far Tuesday trading Nick Foles for Sam Bradford, and at least one Eagles fan wasn't too happy. 
---
Chip Kelly has been a little more than aggressive already this offseason. In less than a week he's traded away the two players most paramount to the Eagles' 2013 run to the NFC East title.
Tuesday he traded quarterback Nick Foles to the St. Louis Rams for Sam Bradford and a second-round pick. They also allowed wide receiver Jeremy Maclin to leave via free agency, where he signed with his old coach Andy Reid and the Kansas City Chiefs.
One fan took to YouTube to express his utter dismay.
The early moments of the 2015 NFL calendar, also known as the start of free agency has left many fan bases in curiosity and dismay.
More from NFL Free Agency
This Eagles fan is not alone, and is certainly not the only Eagles fan not sure what is going on.
But if any fan base should listen, it is wise to wait to see the end results. It is almost certain that Kelly is not intentionally leaving the Eagles completely devoid of talent. It is likely that he has a great feel for the upcoming NFL draft and plans to improve the roster that way.
Then maybe this fan will ease up and want some of the stuff that Kelly is apparently sniffing.
More from FanSided