Rex Ryan: Buffalo Bills going after Patriots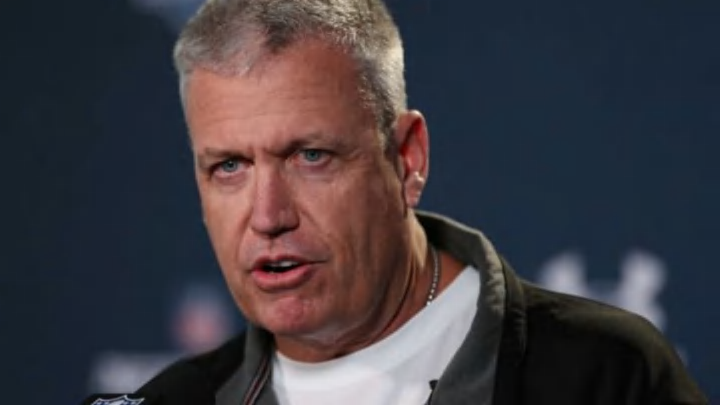 Feb 18, 2015; Indianapolis, IN, USA; Buffalo Bills coach Rex Ryan speaks at a press conference during the 2015 NFL Combine at Lucas Oil Stadium. Mandatory Credit: Brian Spurlock-USA TODAY Sports /
Buffalo Bills head coach Rex Ryan knows the Patriots have been dominating the AFC East for quite some time. Still, that isn't going to stop the Bills from going after them.
---
Rex Ryan has never been shy about his feelings on the New England Patriots. When he was the head coach of the New York Jets, Ryan always had candid things to say about Bill Belichick and his team. Now that he's in Buffalo, Ryan is continuing his rivalry with the Patriots.
More from Buffalo Bills
Via ProFootballTalk, Ryan knows that the until the Bills dethrone the Patriots, the Patriots still rule the division.
"But Ryan acknowledges that until the Bills actually get to the top, the Patriots are the kings."New England is perched up there, they've won like 14 of 15," Ryan said. "They're clearly the team to beat, but we're coming after them.""
While Ryan's numbers are wrong, as New England has won 12 of 15 and not 14 of 15, his point is correct. The New England Patriots have been ruling the AFC East and AFC in general for some time now, until someone knocks them off they will continue to run the division every year.
Even more interesting, the Buffalo Bills are the only team since the alignment of eight four-team divisions not to have won a division title.
However, if anyone is going to knock off the Patriots, it might be the Buffalo Bills.
In 2014, the Buffalo Bills had one of the top defenses in the league and now the team has a defensive guru as a head coach. They've also made improvements on offense adding running back LeSean McCoy and former Patriot Matt Cassel at quarterback.
Ryan may know the Patriots are the dominant team in the division, but that doesn't mean he and the Bills are going to back down from them.
[H/T: ProFootballTalk]
Next: Jerry Jones not worried about securing Dez Bryant
More from FanSided